February 7, 2013 at 5:58 pm
#171940
spinninggold
Participant
@Josephine wrote:
I'd love to start spinning. My mom used to want a spinning wheel, but there was never any room in the house for one. I've been thinking about getting a drop spindle and learning that first. I'm not going to go so far as getting my own sheep. I draw the line there. Watching Rumple spin is a bonus to my knitting love. 😉 Plus, I love all the jaunty caps that Mary Margaret and Emma wore last season.
A spindle is a lot harder to use than a wheel, but you can DIY one quite easily even from a piece of cardboard and a pencil. The important bit is that you get combed wool (or comb wool yourself), because all the fibers need to be in the same direction. I only tried spinning once and it is mesmorizing, I tell you. I must admit that I keep watching Rumpel spin, and I think sometimes he is faking it with prespun thread, whilst in desperate souls he was definately spinning, on a spinning wheel WITH foot paddle I think, where the big wheel he uses most is without. Youtube has some great tutorials.
@TheGoldenKey wrote:
I do paper tole/decoupage (three dimensional pictures). Love the Antoine Peck prints as they are so pretty when done. Birds are always lovely but so much detailed required when doing the feathering. Tiny scissors and so many little cuts. 😮
Do you mean Anton Pieck? There is a Dutch theme park called the Efteling (full of fairy tales) that has quite a few attractions build to his drawings, like the fairy tale forest and land of Laaf. Fairy tales and Anton Pieck, I think you'd love it.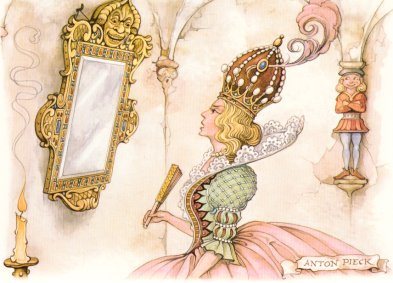 Yes, the Evil Queen 😆
I love knitting, (must make http://www.ravelry.com/patterns/library/once-upon-a-time—once-there-was-a-baby-blanket as well as the hats. I love knitting hats, they make great weekend projects ) but also tailor making clothes. The clothes in FTL make me drool especially the Evil queen's coats are magnificent in that respect… and so is her Storybrooke wardrobe, she is just so stylish.
I don't quilt but I did do some Omiyage, which is basically fabric art, and makes lovely quiltlike pouches
I also make hats. Did you know hatters really use to go mad in the past? The toxins in the glues and starches were so bad, that it was a Mad Hatters disease. Luckily, those toxins are now banned.
Basically I love anything that you can make, so if it can be done yourself I'll give it a go
I also love writing, and growing organic vegtables and fruit.