February 2, 2013 at 11:31 pm
#171399
spinninggold
Participant
It is her name that brings his memory back. He make it that way by himself. In the first episode he says: "Emma what a lovely name." and goes outside with a smile. This is the second he get his memory back.
As far as I know that's a theory, and I don't buy it. Rumpelstiltskin's memory might be vague in parts, but I think he has squirreled away clues for himself throughout Storybrooke, that's why is always digging away in the forrest, looking for whatever he has put there that can further his plan. How else would he know saying please to Regina always works. It has taken him 300 years to perfect the curse and 28 yrs to get ready for Emma's arrival. He's ready.
I said it before, Rumpelstiltskin planned this curse to a ridiculous degree. I think I saw a little clip of OUAT where in Gold says that he threw in a dash of true love (snow&charming's) as an escape clause. That can't be the only one, he has set up everything every second of this curse. He gave it to Regina because he knew she would and could cast it. He goaded her to cast it, helping Snow and Charming to find eachother, knowing this would infuriate Regina.
By getting himself thrown in jail he gets front row tickets to the whole debacle.
In this respect Cinderella's story could be interesting. The cane could also be the fairy godmother wand, I don't think we know what happened to it. As he signs away his power, he would only surpress the Dark One (which would also explain why he is not the Dark One after magic comes to Storybrooke). A wand would still work. He know Regina is gonna use the curse already, she has threatened to do so, and always makes good on her threats (unlike her promises). As the curse grabs hold he changes the wand into a cane, and thus takes it with him, having a little bit of magic if need be.
I still prefer the knife theory though.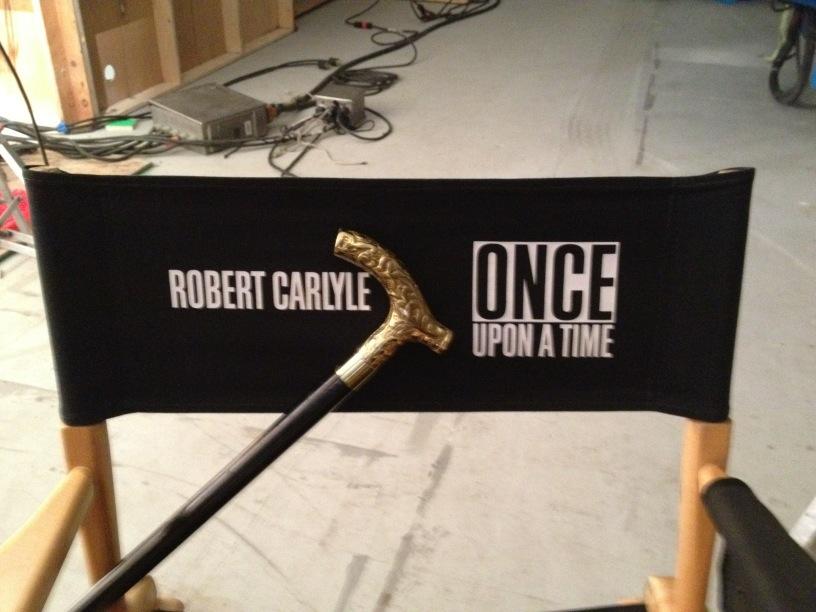 Is it me or are the scrolls on the blade and the handle of the cane similar?
Oh BTW even though Rumpel is an evil master schemer, I STILL love him. Yes he sacrifices the world, but for what? To be with his son. I think that's beautiful.