November 16, 2013 at 10:41 am
#224296
kfchimera
Participant
I've just caught up on the last few posts and I just wanted to say how happy I am to have found this board. (THANK YOU HEATHER!!) It's so refreshing to read all of your posts and I wanted to say how awesome you all are!  

Awww, you are too, and not just for the vids!  I've got a big ol THIS to your last post, but a few things to add in addition to that.

Anyway I wanted to add my thoughts on the latest interview with Jen. …From a SF shipper point of view the only positive thing I could take from her answer was the part when she said 'whether or not it turns into something more.'
That is a good point, that she said that too.  I think Jen was trying to answer within Emma's perspective on Hook within that last episode.   Yet the way things get written up keep sounding like Emma is in the same headspace as Hook about his "good form" but she isn't.   I don't think she really thinks about the world in that fairy tale way of "honorable" people but there are people who are selfish and those who aren't.  People who will help her and people who might hurt her.
Compare these two sentences about Emma's opinion of Hook:
Emma's had such a hard life and such bad experiences, including with Hook, that Hook's really impressing and surprising Emma with how he is acting. VERSUS   Hook's really impressing and surprising Emma.   She's had such a hard life and such bad experiences up until now.
The difference in meaning is huge, and if an interviewer is at all selectively editing what the actress says and how she says it, or is in anyway giving her a bit of a leading question, such as "Can you talk about Emma's current view of Hook in that last episode?" We get this impression that Emma is thinking wow, no one's ever stepped up like Hook (on), no one never took her side like Hook (on), never gave her a sword as a memento like Hook (on),  …as if she'd turned into well….this:
When what Emma is feeling about Hook is more subtle and more like this:
She does appreciate that he's being nice, and she isn't looking to make him her enemy by hurting his feelings.  She isn't as sure as Belle there that Gaston is wrong, but who knows what Belle might have done in the future if the beast didn't come along? Emma's got far more issues than Belle did, so even Hook is being less dishonest than Gaston in his pursuit,  it is going to take a bit more for Emma to really feel she could trust him because they do have a little bit of negative history to overcome too.She's not restrained by feelings for Neal at this point, because she doesn't really want to deal with those feelings.  If anything, that Emma has feelings for Neal will only push her more towards Hook (very unlike how Belle felt about Gaston) because that's easier and a good way to keep her distance from Neal, where some real potential pain might lie.  The thing is, the more serious Hook is and asks her to take him, the less easy that option becomes too.    So if he's approaching her about "fun" versus "winning her heart", that could make some difference on her end too.   Emma isn't a woman who I think would go right for the deep end of the pool in a relationship.  She protects her heart too much.So with Neal, the approach would be friends and co-parents, but with Hook it would be don't think just feel, but now it is obvious that Hook is thinking of more.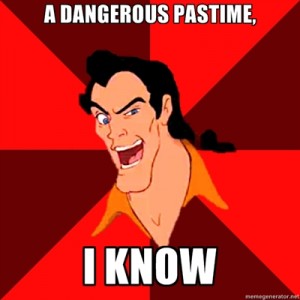 "If I had a world of my own, everything would be nonsense. Nothing would be what it is, because everything would be what it isn't. And contrary wise, what is, it wouldn't be. And what it wouldn't be, it would. You see?" -- Lewis Carroll, Alice's Adventures in Wonderland & Through the Looking-Glass