Podcast: Play in new window | Download | Embed
We think this is the best episode of Once Upon a Time to date! Here's an overview of our conversation about "Skin Deep."
Fairytale Land
We start with Belle and co. during a moment in the Ogre War  … but which one?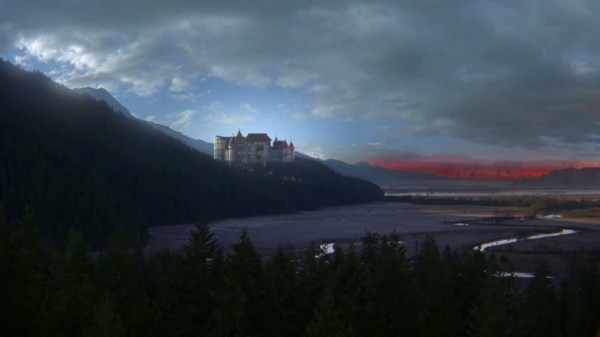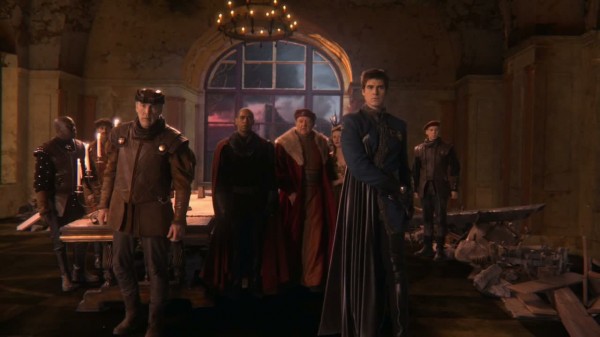 Episode author Jane Espenson was tweeting during the episode, and indicated that this was a different Ogre War (Ogreswar?) than the last one we witnessed:
Centuries. He was in FIRST Ogreswar. @catobie R How many years has Rumple been cursed for at this point? #OUAT

— Jane Espenson (@JaneEspenson) February 13, 2012
Belle's father's tactical map shows two rivers: the Tigelaar River and the Kitsis River (nod to Edward Kitsis, show co-creator and co-writer).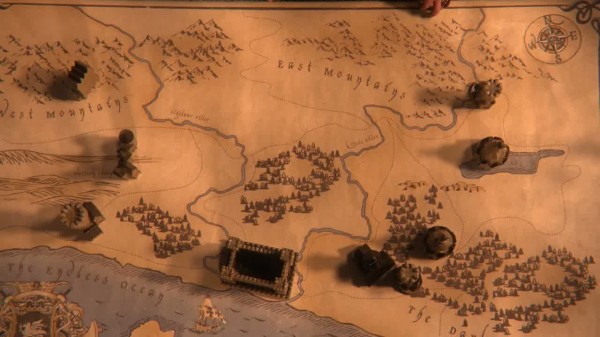 Rumpelstiltskin isn't looking for love, or so he says, but rather a caretaker for his rather large estate.
Belle's father says she can't go with this "beast."
Jenny points out that while in the original story of Beauty and the Beast the beast has something to gain from true love, Rumpel has something to lose.
Belle's father says "Oh my gods." Espenson said in a tweet that this is because many in the land are polytheistic. This phrasing was also used in Battlestar Galactica and its spinoff, Caprica, on both of which Espenson worked previously.
Is the sky already brighter outside the window once Rumpelstiltskin declares that the deal has been struck?
Gaston mumbles.
Rumpel calls his estate "the dark castle."
Rumpel's dining room contains many items. A clock and a candelabra sitting next to each other. A golden fleece? An ax.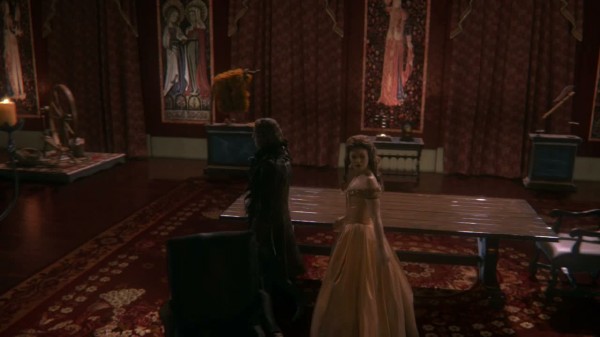 Geppetto's parents. Rumpel's spindle.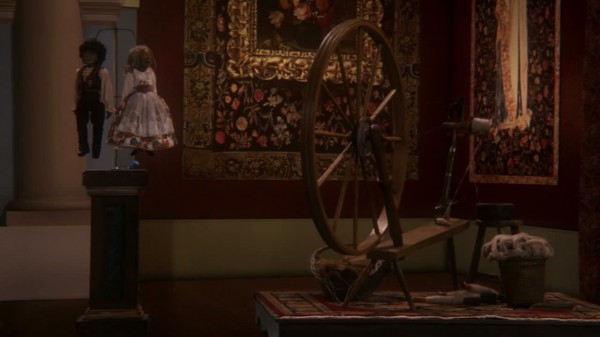 A sword, and many other things in the cabinet.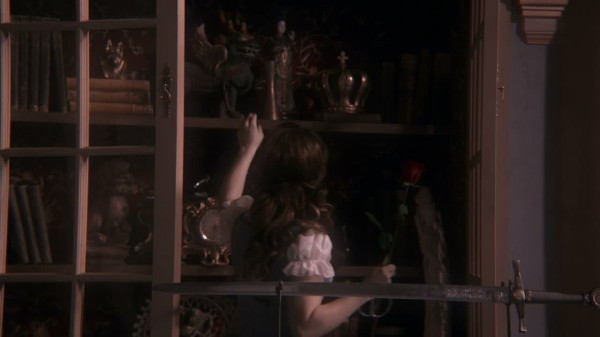 A magical-looking hat. Also, note the drapes.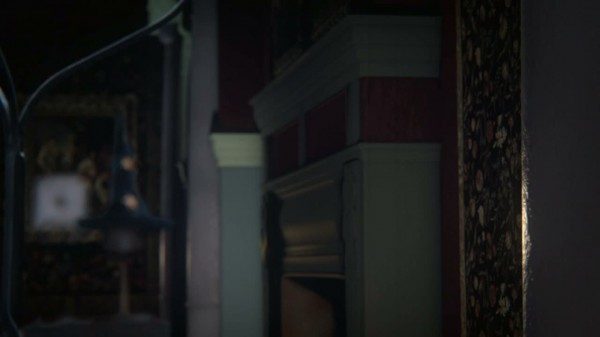 "Chip" is "just a cup."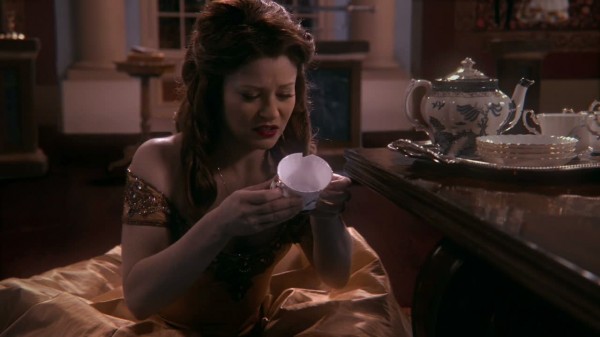 Did Rumpelstiltskin turn Gaston into a rose, or did he transport Gaston somewhere else and turn only his sword into a rose?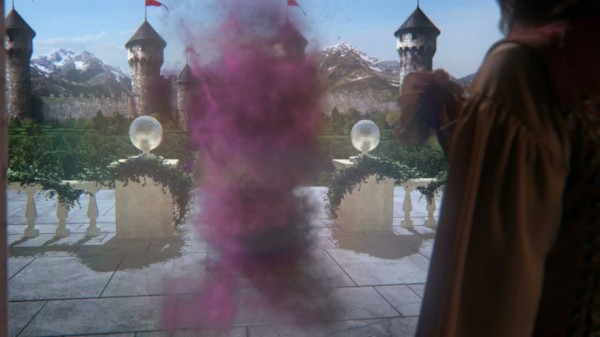 Rumpel had all of his mirrors covered up to, as we later find out, keep Regina from spying. Espenson confirmed via Twitter that other reflective surfaces had to be covered as well.
Regina tells Belle that "True love's kiss will break any curse." We discuss how this works, and why David and Mary Margaret's kisses haven't broken any curses.
Is Belle wearing the drapes?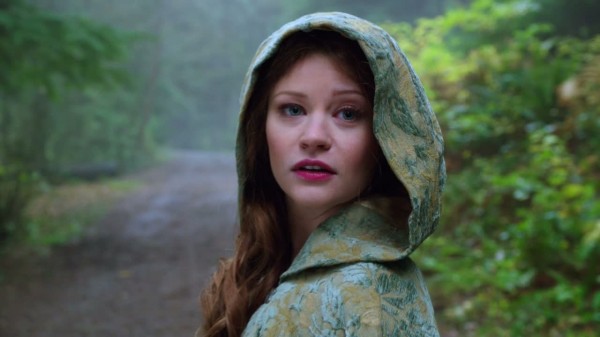 Rumpel spins gold because it helps him forget. Is he trying to forget what happened with his wife and son?
Belle starts to break the curse on Rumpelstiltskin, but Rumpel says no one can ever love him. Is he protecting his power, or is he afraid that this is true?
When we see Rumpel upstairs looking our the window awaiting Belle's return, it appears to be the same room we say Jiminy meet him in many years prior.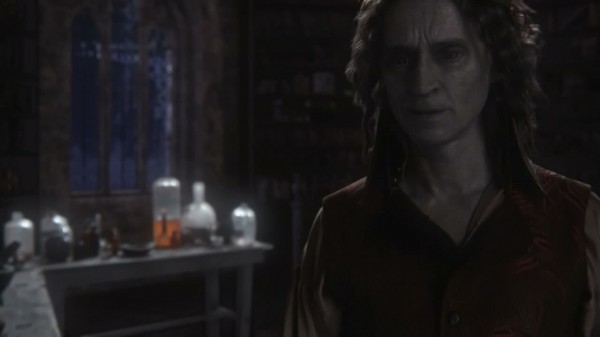 We discuss the show's quality, specifically the excellence of the costuming and soundtrack.
Roses were a running theme throughout this episode, from the dungeon bars to Gaston/Gaston's sword. Rumpel tells Belle the that there had been and old woman at the door selling roses, which is a nod to the original story.
Regina comes to see Rumpel about "a certain mermaid." We'll likely see Ariel eventually! Will Regina fill the role of Ursula as Rumpel took the place of Beast?
As Regina lies about Belle's fate, we see even more that there's still heart capable of love inside the Dark One.
Storybrooke
Moe French, the Storybrooke version of Belle's father, is having his flower-delivery van repossessed by Mr. Gold. His business is called "Game of Thorns," a reference to a book entitled "Game of Thrones," which takes place in medeval times.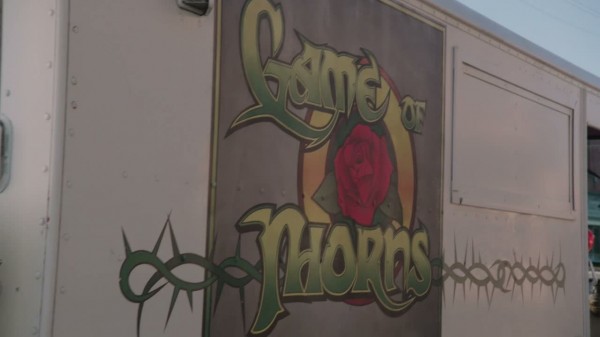 Mr. Gold pulls out the "please" trick on Regina.
Crows or ravens seem to accompany Regina in Storybrooke.
We see Mr. Gold's home for the first time.
When David and Mary Margaret are at the diner "not together," David is reading Leo Tolstoy's Anna Karenina. The book is a story about a Russian family that is torn apart by adultery. Interesting reading recommendation from MM to David.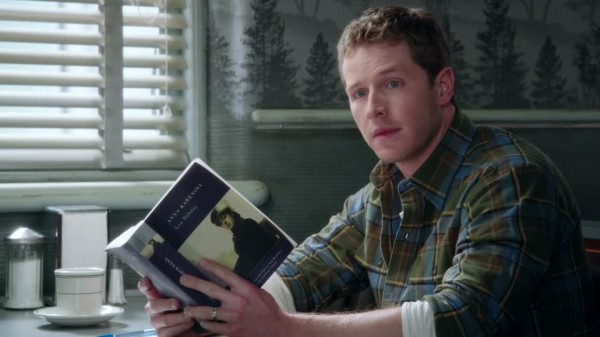 Ashley shouldn't be old enough to be drinking, based on what we've heard about her age before. Continuity error?
Mr. Gold says "I'm a difficult man to love." Similar outlook as he had in Fairytale Land.
Regina orchestrated the entire situation with Moe French resulting in his imprisonment and in her having the cup so that she could have the conversation with him that she wanted to have.
Mr. Gold gives yet another commentary on love: "Love. It's like a delicate flame. And once it's gone, it's gone forever."
Is the cabin that Mr. Gold took French to the same we've seem in the past, or not?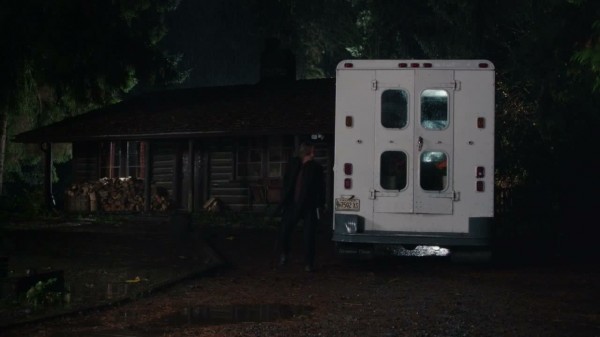 And what is on the cabin door?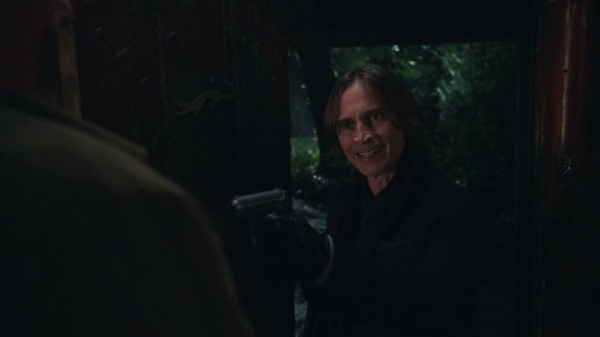 At the end we find that Belle is in, essentially, another dungeon. We discuss what the ward under the hospital is. Listener theories: Hunter thinks the nurse may be the Red Queen from Alice in Wonderland. Rachel and her sister theorize that everyone in the hidden hospital ward, which seems like a psychiatric ward, remember their true past.
What is the full nature of Regina and Rumpelstiltskin's history? Their entire exchange in the Sheriff's office gave us all chills! We finally hear Rumpelstiltskin and Regina speak of their true history while in Storybrooke.
The chipped cup is no longer "just a cup" to Rumpelstiltskin.
Has Rumpel/Mr. Gold always had his true memory while in Storybrooke, or has he remembered since arriving? Also, what is his true agenda?
Does Regina know that Gold's "please" has power over her?
Regina and Rumpelstiltskin are in a power struggle, and have been for some time. Rumpel says "you're never gonna beat me." Is it a simple power struggle, or is there something specific at the center of the fight?
Join our new Once Upon a Time forums!
We'd love for you to join the conversation with our growing community in the forums. It's easy to join: you can login with Facebook, Twitter, or create a username and password. The forums are also available in the Tapatalk mobile app. Join the Once Upon a Time forums now.
Upcoming chat and live initial-reactions show
Join us this Sunday at 8:00 p.m. (ET) to for a live chat during the next Once Upon a Time episode and stick around for live, initial reactions.  Visit the Noodle.mx Network live-streaming page to watch and chat live.
Please share this post!
Use the social buttons or retweet the following.
Listen to theories and discussion about "Skin Deep" in this #OnceUponaTime podcast http://t.co/6Qrru25W #OUAT

— ONCE podcast (@ONCEpodcast) February 18, 2012
What did you think?
Email Feedback@ONCEpodcast.com (audio files welcome)
Call (903) 231-2221
Comment on the shownotes
Visit any page on ONCEpodcast.com and click the "Send a voice message" link to record and send a message right from your computer.
Help us out!
Share this post in your social networks
Follow us
On Facebook:
On Twitter:  echo do_shortcode('[twitter follow="ONCEpodcast"]'); ?>
Daniel J. Lewis:  echo do_shortcode('[twitter follow="theDanielJLewis"]'); ?>
Jeremy Laughlin:  echo do_shortcode('[twitter follow="phlegon"]'); ?>
ErinJ:  echo do_shortcode('[twitter follow="erinjcruz"]'); ?>
Hunter Hathaway:  echo do_shortcode('[twitter follow="travelingpixie"]'); ?>
Jacquelyn / RumplesGirl:  echo do_shortcode('[twitter follow="punk_bunny_87"]'); ?>