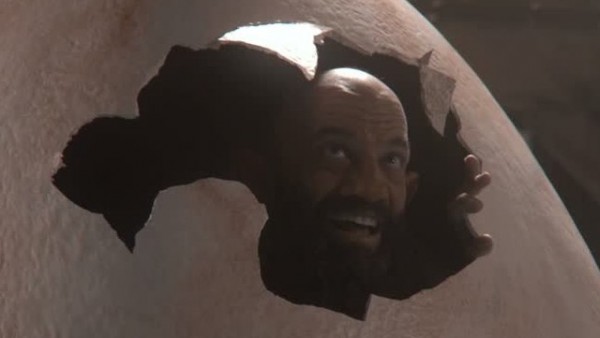 Podcast: Play in new window | Download | Embed
We enjoyed Grumpy's backstory more when we rewatched it and caught more of the small details, which lead to great discussion and sharing theories from our forums and listeners.
Fairytale land
We discuss how fairy dust is made from diamonds mined by dwarves.
Daniel points out that there's a year between the scene of the fairies together in the clouds when nova drops fairy dust at Dreamy's "birth" and when she comes back to the mines for more dust and actually meets Dreamy.
Jeremy dubs Nova, Clumsy.
We think it's odd that Dreamy said he saw Nova in a dream before his hatching when the fairy dust landed on him because fairy dust doesn't actually come from fairies.
Where do dwarf eggs come from if there are no female dwarves? How do male dwarves reproduce on their own?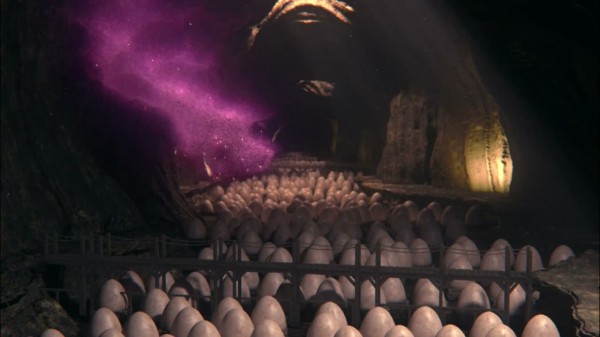 Jeremy and Dan both agree that this episode was written more for children than for adults. There wasn't much in it for adults to enjoy this time.
Original dwarf "Dig Dig Dig" and "Heigh Ho":
http://www.youtube.com/watch?v=-_fF6P_PQqQ
"Diggy Diggy Hole" remix (from Minecraft):
Dan discusses the odd and limited knowledge that Dreamy is born with: ability to speak and knowing what a woman is, yet doesn't know what he himself is. "What am I?" Dreamy asks,"Who was that woman I saw?" and "What do dwarves do?"
Was that the Pied Piper on Dreamy's cup?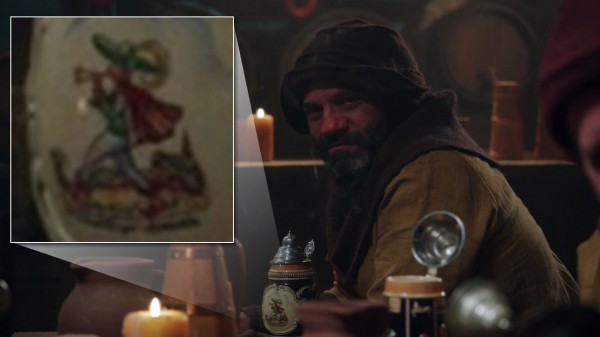 Daniel notices the tavern we see in this episode is the same tavern we saw in an earlier episode when we met the huntsman. It also looks like the same room that was used for the dwarves bedroom.
Dan, Jeremy, and Daniel discuss Belle's part in this episode in terms of the timeline.
We're reminded that Grumpy's story is still incomplete. He told Snow White that he was imprisoned because he was charged with stealing from the diamond mines.
Listener DJfirewolf posted in the forums the scene Nova and Dreamy are looking down on from Firefly Hill looks the same as Disney's animated logo.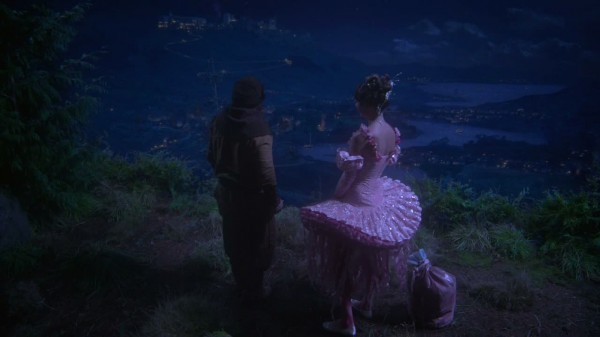 Jeremy thinks the dwarves pickaxes are a bit reminiscent of the Dark One's dagger. "Oh look, another sharp implement that bears someone's name magically." Listener, Obisgirl, said the pickaxes reminded her of the sorting hat from Harry Potter.
Storybrooke
Enjoyable segue: Leroy is eating an egg for breakfast in Granny's diner. He breaks it open and begins to eat it. It's ironic knowing now that he came from an egg.
Daniel notices that Mr. Clark/Sleepy perks up when Mary Margaret makes her announcement in the diner that it's Miner's Day.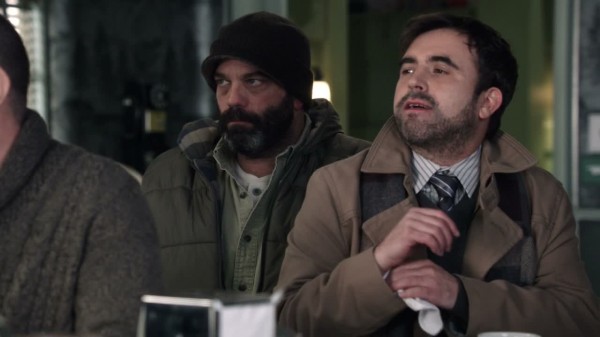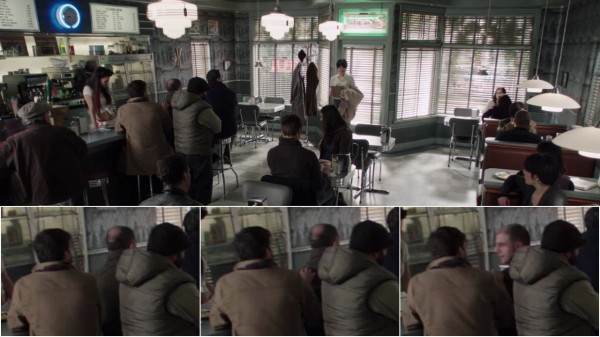 Is mining an oddity for Maine?
Daniel notes that coal mining and diamond mining is a nice crossover from Fairytale Land to Storybrooke.
Dan sees the humor  behind the fact that Astrid accidentally bought too much helium. "Helium to fly away with." "It's her pixiedust."
Daniel points out that it was odd for Emma to wait until the next day, after Katherine's disappearance, to investigate the "crime scene."
Does Emma know that Sidney Glass is lying to her? Here are Kathryn's phone records (enhanced) if you want to look for easter eggs: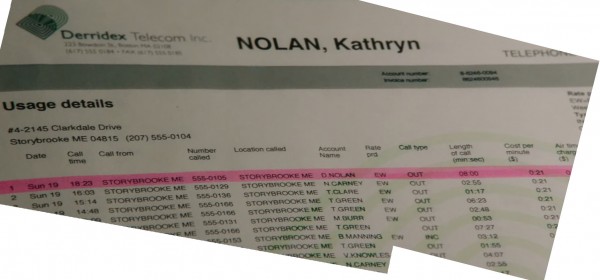 Why was the gym teacher on the road to the city limit on the night that Katherine disappeared?
Dopey was running the ring toss bottle booth at the fair.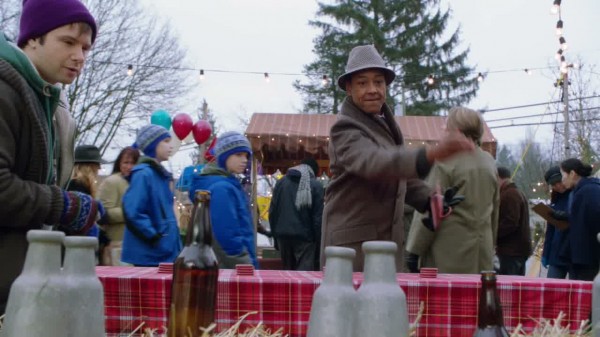 Why does Mr. Gold dislike nuns?
Theory from rumpelgoldfanchristy in the forums on Mr. Gold and fairies:
August W. Booth is Bae, Rumpelstiltskin's son who became miserable after Rumple became the new dark one, and he wished to disappear. His wish was granted by a fairy and he became one of Peter Pan's lost boys and was befriended and protected by Tinkerbell, another fairy. Being a lost boy, he didn't age or die over the course of his father's immortality. Rumpel recorded the stories in Henry's book but excluded parts about himself from it's pages. Bae is somehow spared from the cures. He didn't age until after the curse and he grows up outside of Storybrook as Emma does. He hears about the curse and when he comes to Storybrooke, as August, he comes to revise the story to include the parts about Rumpelstiltskin so that Henry might figure out who Mr. Gold is.
Jenny notices that the nun Astrid answers to in Storybrooke is the Blue Fairy and Nova's teacher from Fairytale Land.
Where did Leroy get the pickaxe to blow the lights in Storybrooke?
Are Mary Margaret and Leroy going to be punished for damaging public property?
Is the skinny guy with the carrot in Storybrooke going to end up being Alice And Wonderland's March Hare?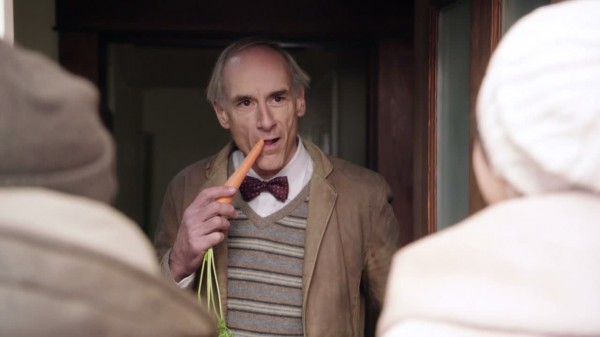 41Rapunzel in the chatroom thinks the skinny guy and fat red head could be from the nursery rhyme about Jack Sprat who "could eat no fat and his wife could eat no lean."
Dan asks "Could the nurse in the basement of the hospital, from the episode called What Happened To Frederick, be Regina's mother?"
Lost easter eggs
42 candles sold last year.
Katherine's phone call with David the night of her disappearance was 8 minutes long.
Talk about "Dreamy" in our Once Upon a Time forums!
We'd love for you to join the conversation with our growing community in the forums. It's easy to join: you can login with Facebook, Twitter, or create a username and password.
The forums are also available in the Tapatalk mobile app. Join the Once Upon a Time forums now.
Please share this post!
Use the social buttons or retweet the following.
Dreamy – #OnceUponaTime podcast #20 http://t.co/2Mu6bgQJ #Team7 starring @leearenberg

— ONCE podcast (@ONCEpodcast) March 8, 2012
What did you think?
Email Feedback@ONCEpodcast.com (audio files welcome)
Call (903) 231-2221
Comment on the shownotes
Visit any page on ONCEpodcast.com and click the "Send a voice message" link to record and send a message right from your computer.
Help us out!
Share this post in your social networks
Follow us
On Facebook:
On Twitter:  echo do_shortcode('[twitter follow="ONCEpodcast"]'); ?>
Daniel J. Lewis:  echo do_shortcode('[twitter follow="theDanielJLewis"]'); ?>
Jeremy Laughlin:  echo do_shortcode('[twitter follow="phlegon"]'); ?>
ErinJ:  echo do_shortcode('[twitter follow="erinjcruz"]'); ?>
Hunter Hathaway:  echo do_shortcode('[twitter follow="travelingpixie"]'); ?>
Jacquelyn / RumplesGirl:  echo do_shortcode('[twitter follow="punk_bunny_87"]'); ?>