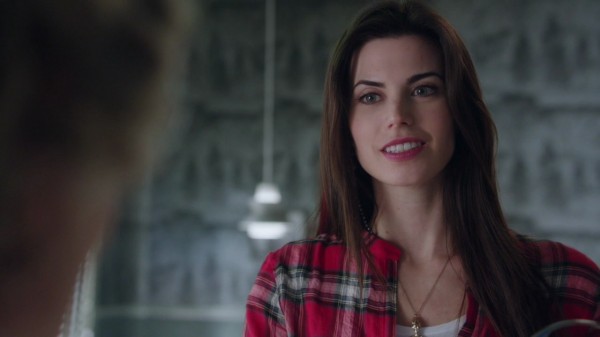 Podcast: Play in new window | Download | Embed
This episode definitely went above and beyond our expectations and satisfied us viewer's hunger for a great story (especially after last week's episode "Dreamy" which we thought was a bit of a let down).
Fairytale Land
We discuss of how we loved this episode and also of the various opinions of the fans.
Finally we got to see the long awaited Red Riding Hood in the opening title scene.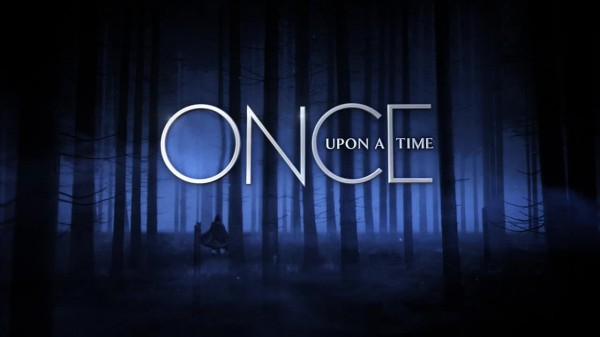 So the Three Little Pigs is mentioned with Peter's "Or I'll huff and I'll puff…" quote. Thankfully we assume there will be no more expounding upon that story and won't be seeing little swines scurrying throughout Storybrooke's dumpsters!
We are also quite pleased that the true identity of the wolf has finally been revealed! She is? Such a great surprise!
Jeremy quote, "…I'm glad Once Upon a Time isn't a musical."
Watching things a second time, third time, or even fourth time help out a lot, such as realizing that Granny was calling for red to make sure she was there safe in the house and not outside with the hunters. A thanks goes out to Tast_E_Cakes who emailed in!
Hi guys,

It just hit me, the reason Granny called Red into the room when the hunters were at the door was to make sure she(Red) was still in the house. Initially I was confused just as Red was, asking myself why did Granny call her into the room? After all It wasn't as if Granny was asking her if she wanted to go, and in all actuality Granny forbid her to go. But it makes perfect sense now, Granny was ensuring the safety of her granddaughter by keeping the hunting party at the door and calling out to Red to make sure she was safe inside the house with the cloak on before she let the hunting party proceed on their way! I just love it when I get a epiphany!

That's all for now, keep up the good work!

Regards
Tasty(Tast_E_Cakes)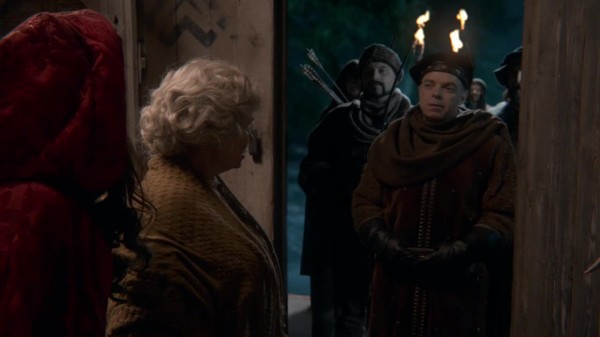 Don't mess with Granny!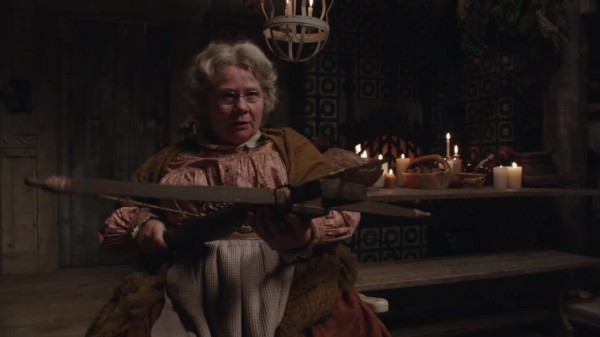 The hunters should have tracked the wolf in daylight as Red figured out, not during the night. Also Red seems to have a lot of power, much different than the "Little Red Riding Hood" stories we were told as children.
We discuss how this episode intertwines Snow's character during the time when she first starts off in the woods. Also how she is caught red handed with the eggs she was taking.
Snow, "Not a lot…"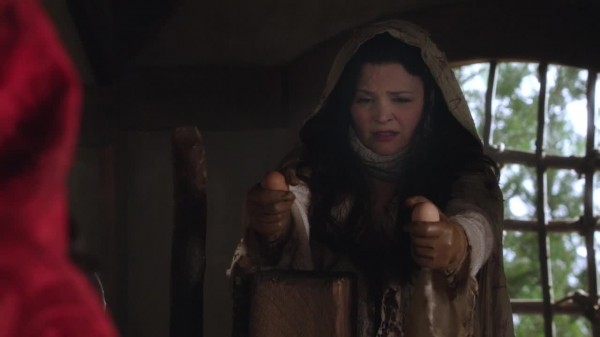 Also what a mess the wolf left! Red what have you done! We talk about how the blood got in the well… yes it was a very interesting discussion.
We then hear Granny's very intense speech on her encounter with the wolf as a child. We find out that there have been at least two Ogre's Wars and maybe even a third or fourth!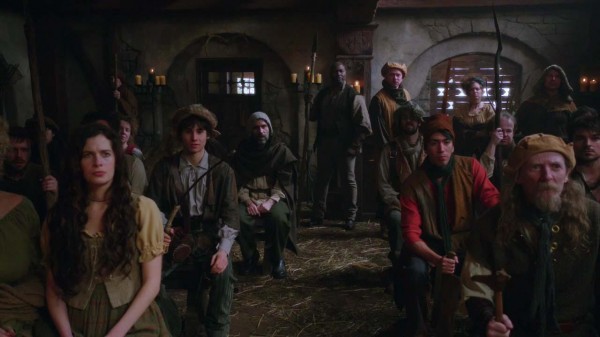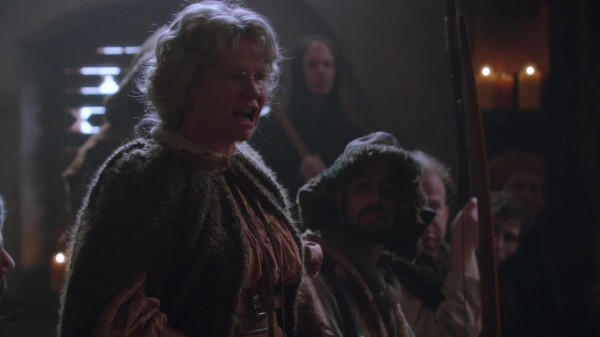 "The wolf came back to her and turned her."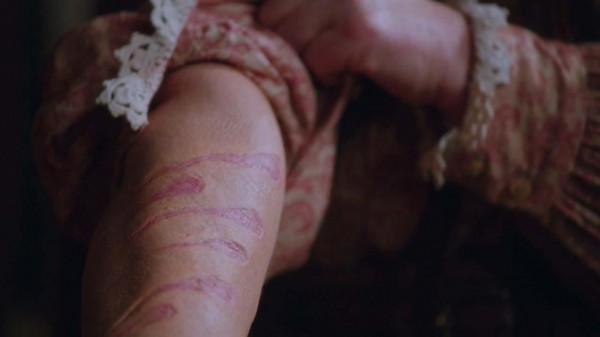 So is being a werewolf hereditary seeing it has been in Red's family? Also Red said, "when there's something I want I'm good at tracking it down." So how much "power" does Red truly possess in Storybrooke?
We notice Snow said that Red can save everyone! So how far can we take that statement?
Peter had chains in his bag because prior to this he had already been prepared to join the hunting party against the wolf.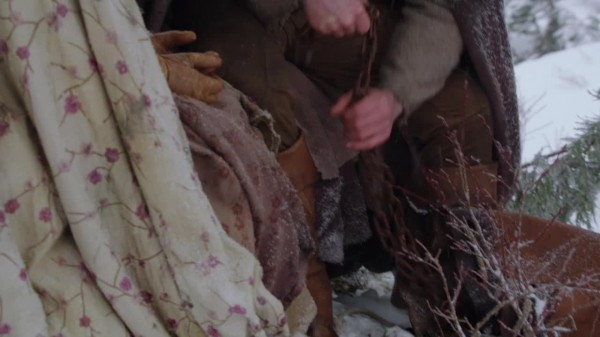 Too bad they didn't help him out!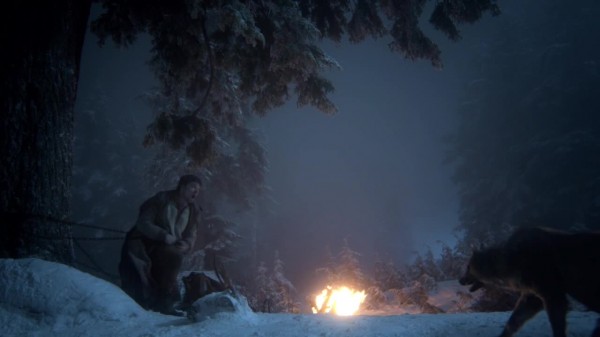 And why did Granny stay behind? Did she become the wolf to cause the hunting party to chase her instead? Why did they run away when no one knew it was a werewolf?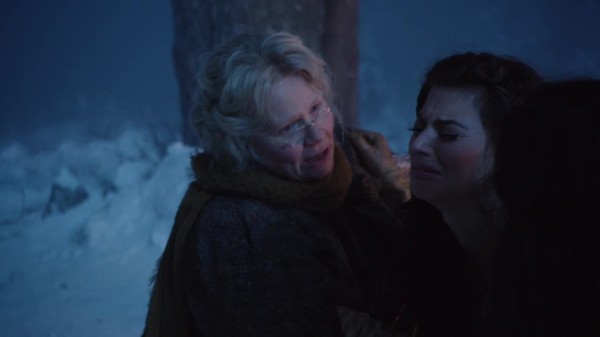 Storybrooke
The episode starts out with Emma having a conversation with David in the office and we see Emma use her "superpower" again.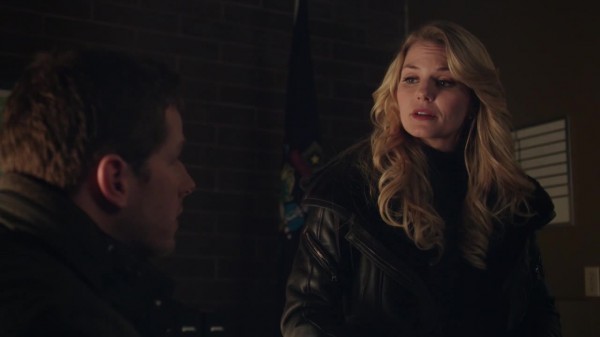 We listen to the clip of August talking about his trip to Nepal and his encounter with lemurs (which Ruby immediately takes a huge fascination to!) An interesting theory begins to develop as we listen to Nick's theory he emailed in to the podcast. Thanks Nick!
Hey guys, Nick here with another theory–this one about how August Booth could actually be Pinocchio.

In the pilot, we see Pinocchio as a "real boy" already, so let's assume for the purposes of this theory that the main events of his traditional fairy tale have already happened by the time the curse is enacted.

In researching my theory, I came across "Fables," the comic book series that shares many of the same fairy-tale-characters-in-our-world story elements as "Once." The following is an excerpt from the "Fables" wiki page: "His conversion to human form had not cured Pinocchio of his wanderlust and the boy repeatedly left on adventures, often disappearing for years at a time, leaving Geppetto behind to wait in lonely solitude for his return."

What did we hear about August this week? Lived a whole year without a roof over his head. Rode off on his motorcycle when he grew tired of a spot. Favorite place: the far-off land of Nepal.

My theory is that the first instance of this "wanderlust" arose just before the curse, and Pinocchio used the fear about the curse as an excuse to run away seeking more adventures–except this time, he didn't hitchhike in a whale. He found a portal to our world, and when he eventually wanted to go home, he couldn't because of the curse. As a result, he's spent 28 years searching the world over for a way back.

As to how he found Storybrooke and what he did to the book? No idea, but that's my explanation of the "August is Pinocchio" theory.

P.S. Elon Bailey, who plays August, is 35. Let's see, a 7- or 8-year-old Pinocchio plus 28 years of the curse…
Great theory! We discuss this and do discover however that Pinocchio had red hair from when we see him in an earlier episode.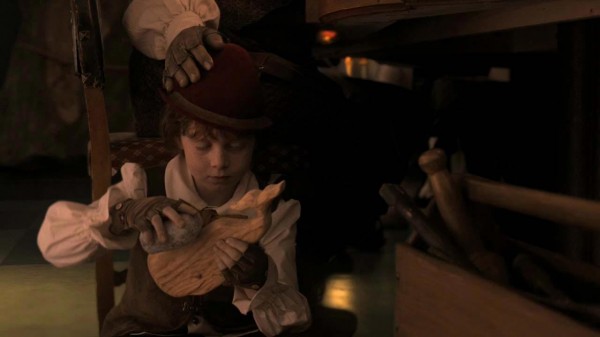 Ok, it may be brown… hmmmmmmmmm.
We then enjoy the little bicker between Ruby and Granny while August just stares and laughs.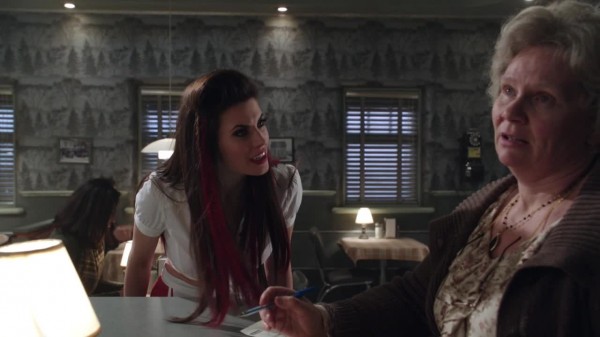 We also discuss who we had thought was the big bad wolf, Dr. Whale whom Ruby had called a "Letch". But who is Dr. Whale really? Captain Ahab? (I hope not!) Pinocchio? (he does lie a lot and Pinocchio was swallowed by a whale. August seems to be very truthful.)
By the way, nice little extra touch adding the full moon to this scene with Emma and Mary right before they meet Ruby.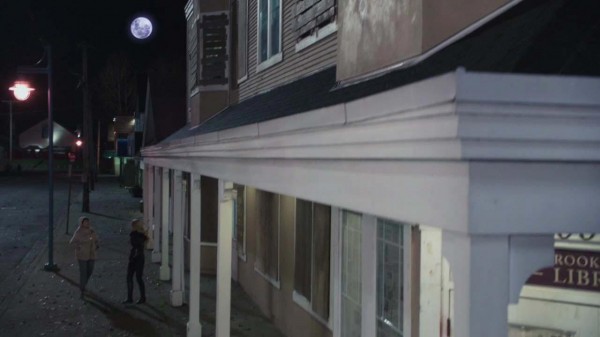 Moving on to David's odd behavior, what has happened to him? Did he have his heart stolen by Regina? And why has he been by the "Toll Bridge" multiple times this season? Is he looking for something, maybe looking for the box itself?
Meghan Ory (Ruby) did a great job in this episode, especially with the way her character behaved when bragging of how she solves crime when all she has done so far is fetch grilled sandwiches for Emma.
Ok, so we finally get to talking about the box!!! We discuss two questions — where did the box come from and who's heart is it really? Also this is a box we have not seen before!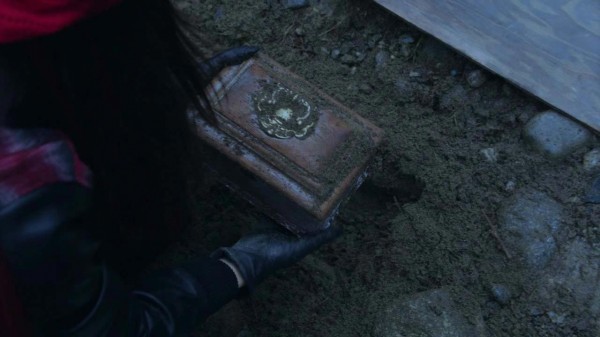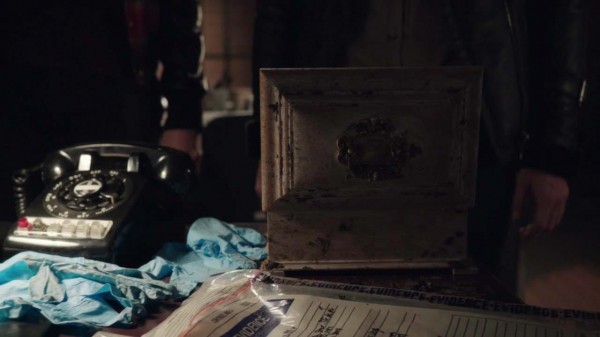 The most popular theories of who's heart it is… either David's or Kathryn's. Who heart do you think it is? Let us know!
Notable forum posts we mentioned:
Ruby/Red Riding Hood Character Analysis
GRANNY – Charater and notations
Where do you think the box holding the heart came from?
Talk about "Red-Handed" in our Once Upon a Time forums!
We'd love for you to join the conversation with our growing community in the forums. It's easy to join: you can login with Facebook, Twitter, or create a username and password.
The forums are also available in the Tapatalk mobile app. Join the Once Upon a Time forums now.
Please share this post!
Use the social buttons or retweet the following.
Listen to "Red-Handed" (with @meghanrory) discussed in this #OnceUponaTime podcast http://t.co/ecW3qne4 #OUaT

— ONCE podcast (@ONCEpodcast) March 15, 2012
What did you think?
Email Feedback@ONCEpodcast.com (audio files welcome)
Call (903) 231-2221
Comment on the shownotes
Visit any page on ONCEpodcast.com and click the "Send a voice message" link to record and send a message right from your computer.
Help us out!
Share this post in your social networks
Follow us
On Facebook:
On Twitter:  echo do_shortcode('[twitter follow="ONCEpodcast"]'); ?>
Daniel J. Lewis:  echo do_shortcode('[twitter follow="theDanielJLewis"]'); ?>
Jeremy Laughlin:  echo do_shortcode('[twitter follow="phlegon"]'); ?>
ErinJ:  echo do_shortcode('[twitter follow="erinjcruz"]'); ?>
Hunter Hathaway:  echo do_shortcode('[twitter follow="travelingpixie"]'); ?>
Jacquelyn / RumplesGirl:  echo do_shortcode('[twitter follow="punk_bunny_87"]'); ?>