Our Once Upon a Time podcast, website, and forums cost a lot to keep running. We wouldn't be able to do this without your support!
Your donation makes you like a coproducer with us by making this community possible. Thank you!
2 ways to donate
1. Pledge to support each episode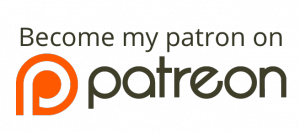 We've partnered with Patreon to give you new options for supporting ONCE podcast. You can pledge as little as $1 per episode and help us reach our goals. Each level of support comes with special benefits.
View our page on Patreon for to pledge your support!
2. One-time or monthly donation
Or mail to:
ONCE podcast
PO Box 739
Burlington, KY 41005
Corporate sponsorship
ONCE podcast has an international listenership of engaged, social, TV-show watchers.
A corporate sponsorship will advertise your product, brand, or service to thousands of loyal listeners every day. Unlike traditional advertising which is impersonal and quickly forgotten, the ads in ONCE podcast will continue to reach new audiences and make new impressions long after the episodes have been published.
Please email Daniel@ONCEpodcast.com to request more information and discuss a corporate sponsorship.