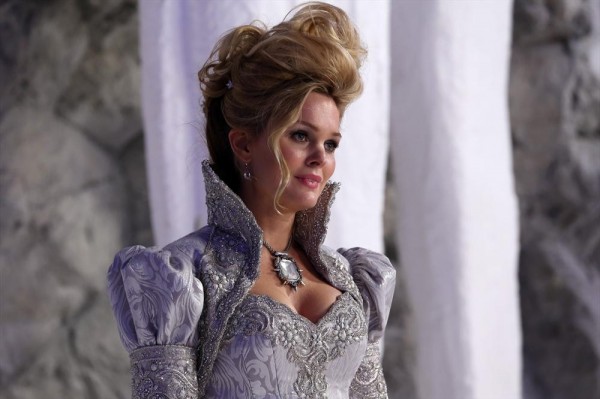 The battle between Wicked vs Evil continues as Regina, Emma, Snow and Charming starts thinking of a way to make everyone believe again. Eight months ago, Snow and Charming passed through the door that leads to where they can find the Good Witch of the South in the hopes of learning how to defeat the Wicked Witch.
Podcast: Play in new window | Download | Embed
Zelena threatens to kill Henry if Hook – whose lips have been cursed by the Wicked Witch — doesn't proceed with kissing Emma, which will drain all of her magical powers away, and things begin to heat up between Regina and Robin Hood. Meanwhile, back in the Fairy Tale Land that was during the past year, Snow and Charming go in search of Glinda, the Good Witch of the South, to see if she can help them defeat Zelena, and the curse that will ultimately send the Fairy Tale characters back to Storybrooke is cast — but from an unlikely source.
These are just our first thoughts about this Once Upon a Time episode. We'll share more about "A Curious Thing" in our upcoming full discussion live on Wednesday April 30, at 8:00 p.m. (EDT/GMT-4).
Initial Reactions
One of the big things that surprised us this episode was Neal was back. We clearly didn't expect to see him in Once Upon a Time ever again. It was really cool seeing him do a big sacrifice yet again.
There was a lot of stuff about sacrifice in this episode. For starters, we thought that it was Snow who was going to take Charming's heart. The reason we thought Zelena needed the baby was because it was conceived in the Enchanted Forest and to be born in Storybrooke turned out to be false. What does Zelena want with their baby?
It's still wasn't clear why Zelena needed all the blood that she was getting from Regina. If they were really related by blood, then why does she still needs it?
This was probably one of our top five favorite episodes this season, if not the entire show. Although there may be some cheesy scenes, everything else was just great. And while Tink and Blue were not in the episode, it was nice hearing that they consulted them regarding what they can do about the Wicked Witch.
It was also great to see Regina happily in love again. The Henry believing thing was genius, which was made even better that instead of Emma, it was Regina who broke it this time. Good job, Erin, for predicting this, by the way.
There were so many flying monkeys in this episode. We hope none of the ones that get incinerated were Phillip and Aurora, though. Who were those flying monkeys that attacked them in the docks?
It was clever of Hook to help Henry escape. There were so many wonderful things in this episode; lots of emotional moments, action, seeing the curse being enact again. It can almost carry a season finale. We were glad to see important developments not just in the story itself, but the character's relationship as well, more especially Snow and Regina's.
The split sharing of the hearts thing was a bit weird. It reminded us of the Dragonheart thing, where the two character's hearts are connected. But unlike the first season, this time the heart to be sacrificed was willingly given, instead of taken.
We were also glad to see the book back and see Henry go through the same process as Emma did. At first, we thought that we were going to finally get a history of the book when they started talking about it, but of course, we didn't. Still, it will be interesting to learn about its origin as well as who wrote the book.
Speaking of the book, was everything that happened in the lost year all in the book? There were so much awesomeness in this episode, and so much quotable quotes, too!
The one other thing that happened in this episode was that Snow is about to give birth. According to tonight's episode, Emma's magic is supposed to be stripped before the baby is born. But with Zelena's plans didn't go as it was, what could happen to them now?
It was interesting to see the curse broke even before the season finale. But with only two more Sundays and three more episodes, what else is in store for us for the rest of the season? Share your thoughts and theories regarding tonight's episode by emailing us, filling in the comment section below, or by joining us over the forum.
What did you think?
Email Feedback@ONCEpodcast.com (audio files welcome)
Call (903) 231-2221
Comment on the shownotes
Visit any page on ONCEpodcast.com and click the "Send a voice message" link to record and send a message right from your computer.
Help us out!
Share this post in your social networks
Follow us
On Facebook:
On Twitter:  echo do_shortcode('[twitter follow="ONCEpodcast"]'); ?>
Daniel J. Lewis:  echo do_shortcode('[twitter follow="theDanielJLewis"]'); ?>
Jeremy Laughlin:  echo do_shortcode('[twitter follow="phlegon"]'); ?>
ErinJ:  echo do_shortcode('[twitter follow="erinjcruz"]'); ?>
Hunter Hathaway:  echo do_shortcode('[twitter follow="travelingpixie"]'); ?>
Jacquelyn / RumplesGirl:  echo do_shortcode('[twitter follow="punk_bunny_87"]'); ?>