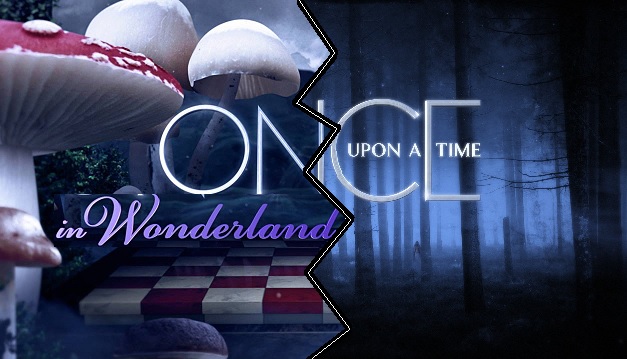 As the wait continues for season three of Once Upon a Time and season one of Once Upon a Time in Wonderland, we had been given an official air date for the two. Once Upon a Time will air Sunday night, September 29 8/7c and Once Upon a Time in Wonderland will air Thursday night, October 10 also at 8/7c. With these dates we are moving out of the dark, well very slowly, maybe a light turned on at the end of the corridor.
To summarize: #OnceUponATime premieres 9/29 at 8/7c and @WonderlandOUAT premieres 10/10 at 8/7c — both on #ABC — hope you check 'em out!

— Adam Horowitz (@AdamHorowitzLA) July 16, 2013
Minor spoilers
We only know a few things what is coming in season three (OUAT) and the very first season of OUATIW. In Once Upon a Time we will be seeing Giancarlo Esposito, who played Sydney Glass and the Genie of Agrabah. As of yet we don't know if he is coming back as Sydney or in a flashback as the magic mirror or the genie. I'm thinking as Sydney, because now that Regina is out of Storybrooke maybe Belle might be going back to see if anyone else was in the hospital basement with her.
Speaking of Belle, Emilie de Ravin has been given the thumbs up to be playing a regular in season three. A lot of fans were worried about Belle's future now that the main cast have set sail to Neverland, but Adam Horowitz has reassured fans a number of times, saying there is still a lot happening in Storybrooke and Belle has an important role in that.
Another actor that has been signed on for a regular is Michael Raymond James (Neal/Baelfire) a lot of fans weren't that worried about his future as a regular because the last time we saw him was being washed up on shore in fairy-tale land with Mulan, Aurora and Prince Phillip, and it's a basically a given that the creators are going to follow that storyline.
Filming for season three has just recently started with some of the actors going back to work and others still enjoying their break. The first day back of filming, Lana Parrilla tweeted saying she was filming with green screen; I'm guessing some Neverland or Ship sailing work.
As other websites have already reported, we are looking forward to forward to 22 captivating episodes of season three. The episode schedule will be in two parts, almost like two mini seasons. Adam and Eddy have said that both parts will have a beginning, middle and an end and there will be about a three month break between the two. As for Once in Wonderland it was originally given 13 episodes for the first season, but because it is getting talked about a lot it might order more episodes ranging between 13-19 episodes.
We look forward to more information about the new season and what is to come and hopefully the cast and creators will answer some questions about both OUAT and OUATIW in the San Diego Comic Con on the 20th of this month.
Please retweet this!
#OnceUponaTime returns on September 29, @WonderlandOUAT premieres on October 10! http://t.co/VRIs7dUNOt

— ONCE podcast (@ONCEpodcast) July 17, 2013
---
ONCE podcast is the #1 unofficial podcast for ABC's TV show Once Upon a Time. The podcast is hosted by Daniel J. Lewis, his wife Jenny, and Jeremy Laughlin. ONCE podcast was a finalist for best TV/Film podcast in 2012.
For more in-depth reviews, theories, easter eggs, and talk about Once Upon a Time, subscribe to ONCE podcast for free in iTunes or your favorite podcast directory; visit the ONCE podcast website for screenshots, shownotes, and blog posts; and join the Once Upon a Time forums to talk with other fans.