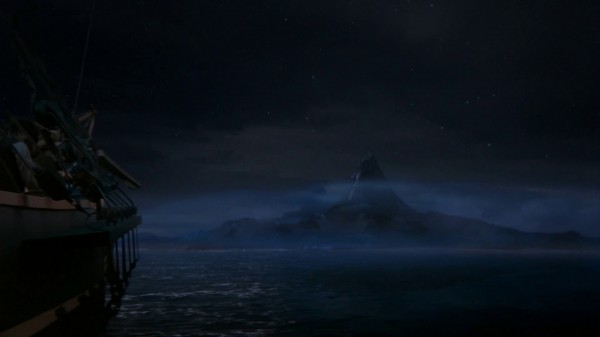 Podcast: Play in new window | Download | Embed
Did Rumplestiltskin test the curse? Was OUAT inspired by Peter Pan and the Starcatchers? Jenny mentions Hooked fan fiction. And we share news (and later spoilers) about Wonderland and the third season.
Not as many questions
The first season finale left us with many questions about which direction Once Upon a Time would go. But the second season finale seemed to give us a really good idea of where the story is going. So there doesn't seem to be as much to discuss or theorize between seasons two and three.
Yes, those are flashbacks
Daniel, I am directly addressing you because it is you who has the problem with the term "flashback." … the recent batch of episodes that I have listened to have featured you stating your disapproval of the word "flashback" because during season 1, the events from the Enchanted Forrest that we see are not remembered by the characters.

Well, I just wanted to correct you on that. I am an English major, and the literary term "flashback" refers to the writer showing his/her audience a time prior to the present time. Although this usually is recounted by the character(s) via a memory, dream, story being told to (an)other character(s), etc., this is not always the case, and the event does not necessarily need to be experienced by the character in the present via memory. It could be for the sole purpose of informing the audience of past events.

The point is that the events of the Enchanted Forrest happened before the events of Storybrooke, which means that they technically are flashbacks. Besides, in season 1, past events that involved Regina or Rumple obviously were remembered by the characters because they remembered who they were. Plus, the way I see it is that Mary Margaret, David, Ruby, etc. have always been their Enchanted Fairytale counterparts; they just didn't know it.

Chris
Has Rumplestiltskin been in Neverland?
So, we know that Peter Pan and his shadow know Rumplestiltskin, that time works differently in NL, and that people can't leave Neverland, kind of in the way that people initially couldn't leave Storybrooke. Maybe Rumplestiltskin knows Peter Pan, because he did a trial run of the dark curse in NL, which is why Peter Pan holds a grudge against Rumplestiltskin. Peter Pan probably has access to someone who can see the future, and that's how he knows what Henry looks like, but since Peter can't leave, he has to send his shadow. Peter Pan probably wasn't originally bad but we know the affect Rumplestiltskin can have on people.

Omar
Enchantacon on November 22–24
Check out the Once Upon a Time convention and see what cast members are already coming!
David Anders (Dr. Whale)
Michael Coleman (Happy)
Faustino DiBauda (Sleepy)
David-Paul Grove (Doc)
Tony Amendola (Geppetto)
Chad Michael Collins (Gerhardt)
Raphael Sbarge (Jiminy)
Beverley Elliott (Granny)
Keegan Connor Tracy (Blue Fairy)
Peter Pan and the Starcatchers
It seems that [Adam Horowitz and Edward Kitsis] may be taking elements from the series of prequels that were written [by Dave Barry & Ridley Pearson] for the Peter Pan story called the "Starcatcher" series. ["Peter and the Starcatchers" and the second book is called "Peter and the Shadow Thieves". They are best-selling children's novels published by Hyperion Books, a subsidiary of Disney, in 2004.].

In those stories, Peter is an orphan that ends up on a pirate ship, and doesn't directly fly to Neverland, kind of like Baelfire.
There is a character named Lord Ombra that can steal people's shadows.
Also, the source of magic in the stories is "starstuff", which is a different take on fairy dust, and obviously comes from stars, and not fairies, in the books. However, the important thing is that Peter Pan tries to keep the starstuff from getting in the wrong hands. Maybe the parallel is that he wants to keep magic out of worlds that aren't supposed to have magic and that's why he is orchestrating whatever organization for which Greg and Tamara work.

Omar
Thank you for supporting us!
Kristin Schmidt
Bobby Polasek
Dena81 (subscriber)
Neil from Western Kentucky
David Neuland (subscriber)
Callie Foster (subscriber)
LaurieAnne (subscriber)
Chris Ziegler (subscriber)
You can sponsor an episode or more of ONCE podcast, too! Email Daniel@ONCEpodcast.com if you would like to arrange a corporate sponsorship of our podcast for the upcoming third season.
Fandom highlight: "Hooked"
Over the hiatus between season 1 and season 2 I got to enjoy reading a really great Once Upon A Time themed fan fiction. I was informed by one of the authors that the detailed outline for this story was completed before season 2 even began. So nothing that has occurred in season 2 has influenced this story.
"Hooked" is a collaborative fanfiction novel written by NarrowBridge and Warrior717.
An Alternate Universe story set in Neverland that picks up right after the Season 1 Finale, "Hooked" sweeps its readers off their feet in a whirlwind of swashbuckling pirates, mischief-making Lost Boys, and the timeless battle between good and evil. In this memorable tale of love, romance, tragedy, and sacrifice, one can expect only the unexpected. Follow Belle and Rumplestiltskin as they set out on an epic quest to find his son in a land that will challenge them in ways even the most gifted seers cannot foretell. The infamous Dark One will be forced to make the most important, and most costly, deal of his life. Will he choose love, or power?
"Hooked" won third place in the Once Upon a Fans multi-chapter fan fiction content. See all the winners.
Preorder season-two DVD/Blu-ray set!
You can now preorder the complete second season of Once Upon a Time on Amazon.com! For a limited time, save $10 off the DVD set and $15 off the Blu-ray set!
Preorder the second season today!
Third season (no spoilers)
3×01 was written by Eddy and Adam, so we expect this to be an epic episode to kick off the third season.
3×02 was written by Chambliss and Vazquez, who also wrote "Selfless, Brave, and True." We're expecting a slower episode that will move the story along with some unexpected details or character development.
OUAT Wonderland
ABC ordered more episodes than the original short-run. Could this lead to other short-run series in different worlds?
I was just reading that the creators of the show (whose names are just too exhausting for me to type..ever v_v) were saying that OUAT in Wonderland was orignally intended to be a short hiatus fill-in during the winter but now thats changed and in the future they could tell entirely new stories should it be picked up for a second season. So could that mean that in the future we could possibly see maybe "Once Upon A Time In Oz or Once Upon A Time In Narnia OR Once Upon A Time in Atlantica, maybe? It'd be cool if for every season we got a different story set in a different world….

thewatcher in our Once Upon a Time and Wonderland forums
Several cast at Comic-Con San Diego on July 20
Thank you for the Apple Podcasts reviews!
Your reviews encourage us and help others find the podcast!
Please rate and especially write a review for us on Apple Podcasts.
What did you think?
Email Feedback@ONCEpodcast.com (audio files welcome)
Call (903) 231-2221
Comment on the shownotes
Visit any page on ONCEpodcast.com and click the "Send a voice message" link to record and send a message right from your computer.
Help us out!
Share this post in your social networks
Follow us
On Facebook:
On Twitter:  echo do_shortcode('[twitter follow="ONCEpodcast"]'); ?>
Daniel J. Lewis:  echo do_shortcode('[twitter follow="theDanielJLewis"]'); ?>
Jeremy Laughlin:  echo do_shortcode('[twitter follow="phlegon"]'); ?>
ErinJ:  echo do_shortcode('[twitter follow="erinjcruz"]'); ?>
Hunter Hathaway:  echo do_shortcode('[twitter follow="travelingpixie"]'); ?>
Jacquelyn / RumplesGirl:  echo do_shortcode('[twitter follow="punk_bunny_87"]'); ?>
Spoilers
3×01 is called "The Heart of the Truest Believer," which we think will focus on Henry.
Ruby won't be back, but Belle will be.
The third season will pick right up from where the second season left off.
We'll still see Storybrooke.
Neal is a regular cast member now.