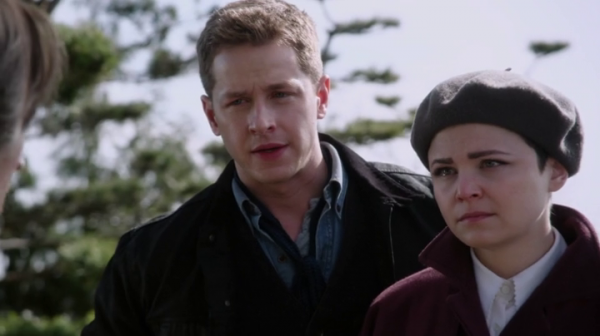 Podcast: Play in new window | Download | Embed
As imminent peril hovers, we may all be surprised by unlikely alliances.
The inhabitants of Storybrooke brace themselves for the end when Greg and Tamara detonate the trigger Regina had placed within the curse, with the annihilation of the town and its residents imminent; and Mr. Gold mourns the loss of his son, Bae/Neal. Meanwhile, back in Neverland of the past, Hook discovers his connection to a young Bae after he rescues him from the sea and soon realizes that the Lost Boys are in hot pursuit of the boy.
These are just our first thoughts about this Once Upon a Time episode. We'll share more about "And Straight on til Morning" in our upcoming full discussion live on Wednesday, May 15, at 7:00 p.m. (EDT/GMT-4).
Thanks for supporting us!
David Neuland (subscriber)
Peter Pan & TheWendybird
James K III
Bobby Polasek
Kristin Schmidt
Arjan
You can sponsor ONCE podcast, too! Please consider a one-time or automatic monthly donation of any amount.
Initial reactions
Some of our interesting discussion points (in no particular order)
Two exciting announcements: Once has officially been renewed for a third season, and Once Upon a Time in Wonderland has been officially picked up. 
This was a pretty different finale compared to last season.
Jeremy felt this whole year was different because there was a lot of foundation last year, this season set up a bigger picture.
The show now has a chance to mature.  Having a third season might have more of a confidence in what they are doing.
This finale answered a bunch of questions and raised more questions.
One of Jenny's theories was correct… Belle woke up with the Blue Fairy's help.
Seeing Leroy give the potion to Rumple was also endearing.  A lot of relationships were made right in this episode: Emma and Regina made nice, Emma called Mary Margaret and David "Mom" and "Dad"
Will Regina remain good from this point on?
Both Regina and Rumple had redeeming moments.  Regina was sacrificing herself for the second time this season:  "People know me as the Evil Queen, let me die as Regina".
The beginning was unsettling with Gold was trying to made Henry's swing crash on the rocks.
Two things were answered: Hook, Bae and the dagger.  Bae knows how Milah died, even though he still blames Hook for this.
Does Bae mean something to Hook?
Mermaids were referred to as "accursed"
Is the shadow Peter Pan?
They did say when "he" gets angry, "he rips the shadow from you".
Why do they want Henry?
How did they have a picture of Henry in Neverland?
We will be podcasting in the summer, the schedule will just be modified.
Do Greg and Tamara not know who they are working for?
Are Greg and Tamara working for "him" in Neverland?
Is Neverland's time parallel to our world? If he has a perfect drawing of Henry already?
Daniel's prediction that Neal would show up in current FTL with Aurora, Mulan and Philip.
They need to explain how the portals work: How did Neal end up there? Who directed him there?
Hook recognized that it was Neverland on the globe of Gold's.
Is Henry special because two magical beings came here and made a magical being in a non-magical world? (Henry)
How did they know Henry was there?  Is "Home Office" in Neverland?
Crazy theory: What is Wendy made it to Neverland, conquered the shadow, released Bae, and Wendy is still running the home office, but is doing it from Neverland?
Are we now moving away from Storybrooke?  We can still go back there.
Are Greg and Tamara going to want to go back to Storybrooke?
Ivyrod in the chatroom asked: Was all of this orchestrated just to kidnap Henry?  Greg did say that "Henry changed everything"
If you had a OUAT season finale party, we would love to see pictures from it!  Email feedback@oncepodcast.com
Daniel was a little disappointed that Storybrooke wasn't destroyed.  But maybe they accomplished the same thing: They've plucked their core characters and put them separately.  And they are all connected, even kind of Hook.
But Belle is left behind, as is Granny, the Dwarves, Red, etc.
It would have been ridiculous to kill everybody.
We have some cool interviews planned for the summer (still stop secret)
So many things are resolved in this, but also left open.  Like Philip – will we see how Mulan and Aurora saved Philip?
Send us lots of feedback with "Finale" in the subject line please, to help with sorting!
No more Sunday night podcasts until the season starts again in late September/October.
We may also do another rewatch this summer, so check announcements for that!
Favouite part of this season:
Daniel loved finding out Cora was the Queen of Hearts and all the Emma/Neal scenes in Tallahassee, etc.  Also Emma using her magic to overpower the trigger with Regina.
Jenny was when Emma was teaching Henry to kick the door.
Jeremy – Emma body slamming Tamara.
Both Emma and Regina had the emotions of trying to save their families!
The Moms saved the day on Mother's Day!
Thank you for the Apple Podcasts reviews!
Kyrapple
minuetng
teena4
umnrse
Your reviews encourage us and help others find the podcast!
Please rate and especially write a review for us on Apple Podcasts.
Preorder season-two DVD/Blu-ray set!
You can now preorder the complete second season of Once Upon a Time on Amazon.com! For a limited time, save $10 off the DVD set and $15 off the Blu-ray set!
Preorder the second season today!
Announcements
What did you think?
Email Feedback@ONCEpodcast.com (audio files welcome)
Call (903) 231-2221
Comment on the shownotes
Visit any page on ONCEpodcast.com and click the "Send a voice message" link to record and send a message right from your computer.
Help us out!
Share this post in your social networks
Follow us
On Facebook:
On Twitter:  echo do_shortcode('[twitter follow="ONCEpodcast"]'); ?>
Daniel J. Lewis:  echo do_shortcode('[twitter follow="theDanielJLewis"]'); ?>
Jeremy Laughlin:  echo do_shortcode('[twitter follow="phlegon"]'); ?>
ErinJ:  echo do_shortcode('[twitter follow="erinjcruz"]'); ?>
Hunter Hathaway:  echo do_shortcode('[twitter follow="travelingpixie"]'); ?>
Jacquelyn / RumplesGirl:  echo do_shortcode('[twitter follow="punk_bunny_87"]'); ?>