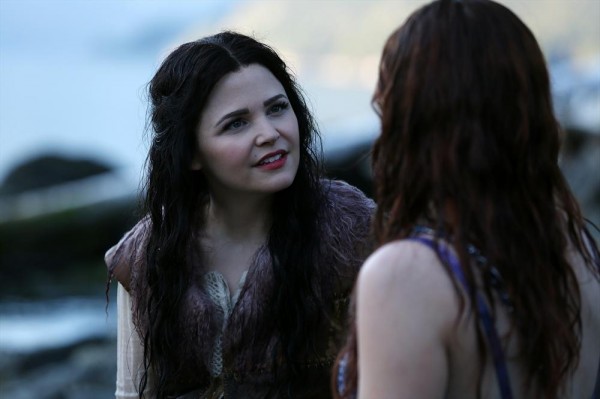 Podcast: Play in new window | Download | Embed
In the hopes of being with her true love, Ariel seeks help from a Sea Goddess that is known to be long dead. In Neverland, Emma, Snow, Charming, and Hook saves Neal in an unexpected way. Meanwhile, Regina bailed the Charmings and Hook and allied with Rumplestiltskin, bursting off his Belle bubble in the process.
Back in the Fairy Tale Land that was, when Ariel (JoAnna Garcia Swisher) saves Snow White from drowning in the ocean's depths, Snow returns the favor by helping her new friend get acquainted with Prince Eric, with whom she has fallen madly in love with. Meanwhile, Emma, Mary Margaret, David and Hook attempt to save Neal, who is imprisoned in one of Pan's encampments, and Regina and Mr. Gold begrudgingly team up to find a way to take down Pan.
These are just our first thoughts about this Once Upon a Time episode. We'll share more about "Ariel" in our upcoming full discussion podcast live on Wednesday, November 6, at 8:00 p.m. (EDT/GMT-4).
We finally met Ariel. It was nice to see her growing friendship with Snow.
Regina made an awesome Ursula. Many have theorized before that she was Ursula, and it was great she just posed as Ursula. The real Ursula, however, sounded a bit like Tamara. Is it Tamara? Are we going to see the real Ursula again?
Although we expected a bit more to this episode, it was still a really good episode. Charming, Emma, Snow, and Hook was forced to spill their deepest darkest secrets in order to save Neal and we thought this really made for a great character development. David finally let out the truth about being poisoned by the dreamshade. It was nice that Emma said I love You to Neal and that she let out all her fears; it seems like we will see more of her struggle. The dynamics with the characters are great!
Another great thing about this episode is that we finally saw what's up with these Belle visions. How did Regina knew that it wasn't the real Belle? We all initially thought it was just in Rumple's head, but it wasn't. But how did Regina knew that it wasn't the real Belle? Did she somehow sensed that something is wrong when she came up to Rumple?
We also learned today that the Shadow can talk. Is that Pan's shadow posing as Belle? Belle's entrance was also a bit shady, but it was nice to get that explained though. What could've happen if Rumple took Belle's hands? Will he die? Be sent home to Storybrooke?
Regina and Rumple working together — Regina said that they were two of the most powerful magical beings ever. Are they really?
It seemed like the past with Ariel happened after Snow met Charming, or is it? The way she's dressed, the way she speaks of love, it seemed like Snow has had her own share of love already.
Merpeople can travel between realms, but how? Does that mean that if you leave in the sea, you can go everywhere? Do they have their own portals?
Are Regina and Rumple the only ones that can summon merpeople? Prince Eric is in Storybrooke. But poor Ariel, looks like Regina has taken not just her voice, but also her prince.
Regina sounded a lot like Ursula in the Disney version of The Little Mermaid.
Thank You for Supporting Us!
David Neuland (subscriber)
Steve (subscriber)
Lisa Slack (subscriber)
Julia Portela (subscriber)
You can sponsor an episode or more of ONCE podcast, too! Email Daniel@ONCEpodcast.com if you would like to arrange a corporate sponsorship of our podcast for the upcoming third season.
David finally told his wife about being poisoned and nearly dying of Dreamshade, leaving a mad Snow. What's going to come from that then? How would they get him off of Neverland? Can he find a way this time to get back home with his family?
The bracelet that Regina handed to Ariel trades legs for tails, sort of like the candle, where a person's death can be traded for someone else's life. Is this how dark magic works, somehow? Besides, Cora was the one who owns the candle, and Regina the bracelet.
Are they going to develop the love story between Emma, Neal and Hook? Hook said that he now realizes that he can find someone else through Emma; that he can move on from Milah and fall in love with someone else. He also realized that Emma helped him move on. Is Hook going to be willing to sacrifice himself to allow Emma and Neal to be together in the end? Their love story surely is like a spaghetti; very complicated!
Prince Eric is in Storybrooke. What's he been doing there all along? Is he working with Sean, Cinderella's Prince Thomas?
Ariel is clearly not the one who's in the box alongside Neal last week. Who is it then? Where is the other box?
We didn't see much of Pan this episode, but more of Rumple. Once again, Pan rubbed that Rumple hasn't forgiven his father. Is it really his father that's inside the other cage?
Send us your feedback, theories, and comments regarding tonight's episode and join us on Wednesday for our full discussion!
What did you think?
Email Feedback@ONCEpodcast.com (audio files welcome)
Call (903) 231-2221
Comment on the shownotes
Visit any page on ONCEpodcast.com and click the "Send a voice message" link to record and send a message right from your computer.
Help us out!
Share this post in your social networks
Follow us
On Facebook:
On Twitter:  echo do_shortcode('[twitter follow="ONCEpodcast"]'); ?>
Daniel J. Lewis:  echo do_shortcode('[twitter follow="theDanielJLewis"]'); ?>
Jeremy Laughlin:  echo do_shortcode('[twitter follow="phlegon"]'); ?>
ErinJ:  echo do_shortcode('[twitter follow="erinjcruz"]'); ?>
Hunter Hathaway:  echo do_shortcode('[twitter follow="travelingpixie"]'); ?>
Jacquelyn / RumplesGirl:  echo do_shortcode('[twitter follow="punk_bunny_87"]'); ?>