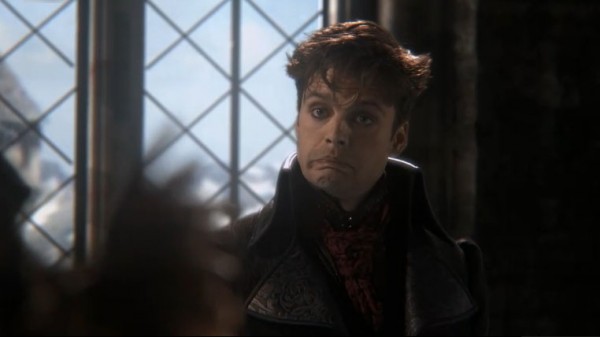 Write your own witty caption in the comments below for this photo of Jefferson (Sebastian Stan) speaking with Rumpelstiltskin (Robert Carlyle) from "The Doctor."
Please retweet this to your friends!
Caption Jefferson's weird face in this #OnceUponaTime photo from "The Doctor"! http://t.co/fYkKdRqF

— ONCE podcast (@ONCEpodcast) October 30, 2012
---
ONCE podcast is the #1 unofficial podcast for ABC's TV show Once Upon a Time. The podcast is hosted by Daniel J. Lewis, his wife Jenny, and Jeremy Laughlin. ONCE podcast was a finalist for best TV/Film podcast in 2012.
For more in-depth reviews, theories, easter eggs, and talk about Once Upon a Time, subscribe to ONCE podcast for free in iTunes or your favorite podcast directory; visit the ONCE podcast website for screenshots, shownotes, and blog posts; and join the Once Upon a Time forums to talk with other fans.