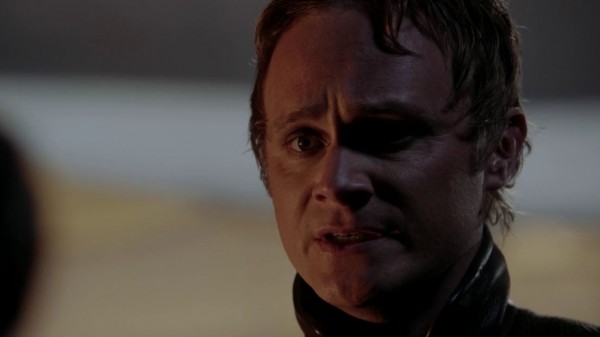 Podcast: Play in new window | Download | Embed
We finally learn the surprising backstory to one of Storybrooke's most mysterious characters! Congratulations to those accurately predicted it!
These are just our first thoughts about this Once Upon a Time episode, and we'll share more in our upcoming full episode.
While Regina continues to try and stop using her magic in an attempt to win back Henry's affections, she begins seeing what she believes is a ghost from her past; and when Mary Margaret and Emma discover a lone survivor from an ogre massacre, Emma begins to question whether or not he's telling the truth. Meanwhile, in the fairytale land that was, Regina finds herself failing at learning the dark arts from a dark master because something from her past is preventing her from using her magic for evil
Big thanks to our sponsors!
Sandra
David Neuland
Bonita Still
You can sponsor ONCE podcast, too!
Initial reactions
Some of our interesting discussion points (in no particular order):
We finally know who Dr. Whale is! Congratulations to everyone who correctly guessed all the clues!
Who is Dr. Victor Frankenstein's brother?
Whose heart was used in Frankenstein's brother and in Daniel?
Was Regina's preservation spell just enough to be able to resurrect Daniel? We're not going to see Graham resurrected, too, are we? Rumplestiltskin did say, "Dead is dead" (also a quotation from Lost).
Could Dr. Frankenstein also be the Wizard of Oz? There were several hints.
Dr. Frankenstein's world is one where science seems more powerful than magic. Could it also truly be a black-and-white world?
Was Cora the force that kept the safe haven in present-day fairy tale land hidden and protected?
Did Cora find a magic bean but use it incorrectly, resulting in the beanstalk?
Is this magic compass a nod to Pirates of the Caribbean, or maybe from the same maker as where Hansel and Gretel's father got his compass?
We gave everything a brief overview and would love to hear your thoughts!
Talk about "The Doctor" in our Once Upon a Time forums
Thank you for the Apple Podcasts reviews!
Elliebell31773
Wb1216
chocolate_love123
Timeisnotaline
Please rate and especially write a review for us on Apple Podcasts. It really encourages and helps us!
Upcoming costume contest!
Start working on your Once Upon a Time costumes because we're going to have a costume contest, voted on by the fans! We'll have more details soon.
Preorder season-two DVD/Blu-ray set!
You can now preorder the complete second season of Once Upon a Time on Amazon.com! For a limited time, save $10 off the DVD set and $15 off the Blu-ray set!
Preorder the second season today!
Join us for the LIVE podcast!
Initial reactions on Sundays at 9:15 p.m. (EDT/GMT-4)—right after the Eastern and Central episode airing.
Full discussion, feedback, and live calls on Wednesdays at 8:30 p.m. (EDT/GMT-4).
On these dates, visit ONCEpodcast.com/live to watch and chat live.
Please retweet this!
Use the social buttons or retweet the following.
Listen to these "The Doctor" initial reactions in this #OnceUponaTime podcast! http://t.co/bfB0wYCl @QuestionAnders

— ONCE podcast (@ONCEpodcast) October 29, 2012
What did you think?
Email Feedback@ONCEpodcast.com (audio files welcome)
Call (903) 231-2221
Comment on the shownotes
Visit any page on ONCEpodcast.com and click the "Send a voice message" link to record and send a message right from your computer.
Help us out!
Share this post in your social networks
Follow us
On Facebook:
On Twitter:  echo do_shortcode('[twitter follow="ONCEpodcast"]'); ?>
Daniel J. Lewis:  echo do_shortcode('[twitter follow="theDanielJLewis"]'); ?>
Jeremy Laughlin:  echo do_shortcode('[twitter follow="phlegon"]'); ?>
ErinJ:  echo do_shortcode('[twitter follow="erinjcruz"]'); ?>
Hunter Hathaway:  echo do_shortcode('[twitter follow="travelingpixie"]'); ?>
Jacquelyn / RumplesGirl:  echo do_shortcode('[twitter follow="punk_bunny_87"]'); ?>