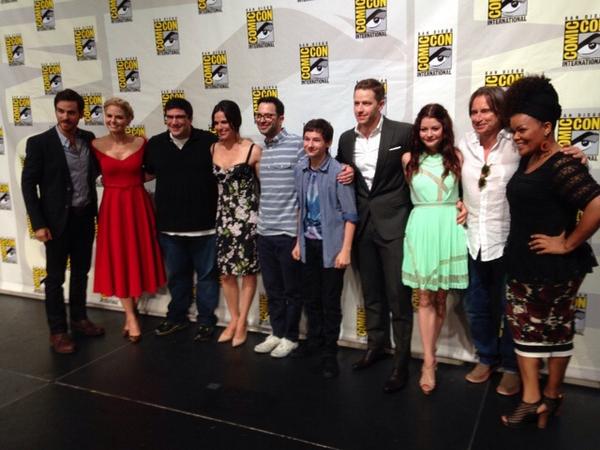 With only sixty days before the much-awaited season four premier, we have an explosion of information about what's in store for us in the next season of Once Upon a Time from the recently concluded San Diego Comic Con.
Podcast: Play in new window | Download | Embed
Spoiler-Free SDCC 2014 Information
So what's exactly the difference between true love and soul mate? Kitsis and Horrowitz both say that true love is when you truly love somebody, while a soul mate is the idea that there's only one for you, but knowing the show, happy endings aren't what they expect so even though you love somebody, if it doesn't work out it's okay to love again. The way it was worded, some fans are wondering which of the two is more important. It was interesting how they finally put the difference between the two. Surely, we're going to get a bigger expansion of what these two are in the upcoming season.
Jared S. Gilmore, who plays Henry, said he loved portraying Pan even for a change even for just a while. Robbie Kay, meanwhile, the actor who played Pan, is currently nominated for Choice TV Villain in the 2014 Teen Choice Awards. The show is also nominated for three other categories — Choice TV Show: Fantasy/Sci-Fi, Josh Dallas for Choice TV Actor: Fantasy/Sci-Fi, and Ginnifer Goodwin for Choice TV Actress: Fantasy/Sci-Fi, respectively. You can click here to vote for them.
When asked why Rumple lied to Belle just as they are about to take on a new journey together, Robert Carlyle said that he considered Rumple an addict (to magic and power). Despite the fact that he really do love Belle, Rumple is still struggling to let go of his bad habits.
Jennifer Morrison, on the other hand, said that Emma wants to really try to keep Regina from turning back in her dark ways, and that she's determined to try to keep her in a good place. But now that Regina's second chance at love was taken away yet again, will it revert her back to being the Evil Queen again? Or is she going to be a little bit more understanding and know that it wasn't Emma's intention to ruin her happy ending?
Colin O'Donoghue, who plays Hook, was also in the panel and said that he would have given up anything for Baelfire, showing a completely different side of Hook from what we have seen before. He also shared that Hook's coat weighed 50lbs.
Yvette Nicole Brown, who was the moderator of the panel and the voice of real Ursula, asked whether we're going to see Neal again in the future episode. Kitsis and Horrowitz said that Neal will always live in our flashbacks. They also added that while characters do can come and go in the show, death may not be the last time you see someone.
So how would Frozen's story arc fair in Storybrooke? Going into season four, it seems that some of the fans are either very excited about it or still on the fence about the Frozen twist that happened at the end of the third season.
Season four is set to premier on September 28 both in the United States and Canada. Like the third season, the fourth season will also be split in two 11 seasons.
Thank you for supporting us!
Lisa Slack (subscriber)
Steve Johnson (subscriber)
David Neuland (subscriber)
Kelsey Hunt (subscriber)
Laura Silva (subscriber)
Laurie Hancock (subscriber)
Tappnbrd (subscriber)
DJ Firewolf (subscriber)
Maryann Livoti (subscriber)
Patreon backers ($17.50 per episode)
You can sponsor an episode or more of ONCE podcast, too! Email Daniel@ONCEpodcast.com if you would like to arrange a corporate sponsorship of our podcast for the upcoming third season.
What did you think?
Email Feedback@ONCEpodcast.com (audio files welcome)
Call (903) 231-2221
Comment on the shownotes
Visit any page on ONCEpodcast.com and click the "Send a voice message" link to record and send a message right from your computer.
Help us out!
Share this post in your social networks
Follow us
On Facebook:
On Twitter:  echo do_shortcode('[twitter follow="ONCEpodcast"]'); ?>
Daniel J. Lewis:  echo do_shortcode('[twitter follow="theDanielJLewis"]'); ?>
Jeremy Laughlin:  echo do_shortcode('[twitter follow="phlegon"]'); ?>
ErinJ:  echo do_shortcode('[twitter follow="erinjcruz"]'); ?>
Hunter Hathaway:  echo do_shortcode('[twitter follow="travelingpixie"]'); ?>
Jacquelyn / RumplesGirl:  echo do_shortcode('[twitter follow="punk_bunny_87"]'); ?>
Season Four Spoilers
Seems like we're going to be seeing a lot of Arandelle and its characters.
Everything will take place after the Disney movie.
The creators aged Elsa and Anna in this version of Frozen.
Season 4 episode 1 is entitled A Tale of Two Sisters, which is written by Adam Horrowitz and Eddie Ktisis; 4×02 is entitled "White Out" which was written by Jane Espenson and 4×03 is titled "Rocky Road", written by David H. Goodman and Jerome Schwartz from Once Upon a Time in Wonderland
Georgina Haig (Fringe) is set to play as Elsa; Anna will be played by Elizabeth Lail; Scott Michael Foster of Chasing Life was picked up to play Kristoff; Prince Hans, meanwhile, will be played by Tyler Jacob Moore (Shameless); John Rhys-Davies, who was famous for his portrayal of Gimli in The Lord of the Rings and Princess Diaries is also set to voice Pabbie.
We're probably going to see Sven as well. Word is they even had a casting of the famed reindeer.
Another Lost alumna, Elizabeth Mitchell has also been cast for an unannounced role. Word is either she's going to be the original Snow Queen or Elsa and Anna's mother.
Olaf won't be included in the Frozen arc for this season.
We've seen two set photos of Hook and Emma running happy from something.
Looks like the show is going to open right where we left off – at Granny's Diner with Regina running out of the diner.
Elsa looks exactly like the adult Elsa from the Disney version.
This Frozen storyline seems like a storyline very much like the Wicked Witch and Neverland story arcs.
Will CaptainSwan's relationship be smooth-sailing? With Emma being guilty of ruining Regina's second chance at true love, Hook and Emma's relationship could be rocky.
Hook is getting a new wardrobe! Colin O Donoghue confirmed that he's going to be donning street clothes in season four.
Henry's on a new journey and is up to taking the family business. He and Rumple may also have an interaction with Mr. Gold, hopefully trying to help each other out with Neal's passing.
Is Regina afraid of Elsa's frozen power? Lana Parrilla said in an interview that with Regina's ability to throw fireballs, she can easily melt Elsa's ice. Parrilla also confirmed that as of the moment, Regina isn't aware of Elsa's presence in Storybrooke, and has nothing to do with her arrival in the city.
RumBelle fans may get ballroom scene.
Despite the fact that Ginnifer Goodwin couldn't make it to the SDCC, she made a Skype call where Will (of Once Upon a Time in Wonderland, played by Michale Socha) was seen making a joke about cheese puffs, but was unfortunately got hit by Snow with a club. He was also dressed in an outfit that looks somewhat the same as how he was in Wonderland. Socha, as they have released after Wonderland's series finale, was set to join the cast in season four.
During the first sneak peek, Regina was seen walking in the hospital and down, where she said that she needs her mirror, showing Sidney Glass. Regina told him that there is someone getting in the way of her happiness, and that she needs her in getting rid of them.
The other sneak peek showed of Elsa and Anna laying flowers in front of two huge stones, probably their parent's grave. Elsa told Anna that she has a surprise for her wedding.
Anna doesn't seem to have the white streak in her hair.
The official poster for season 4 showed the street of Storybrooke being frozen by Elsa.