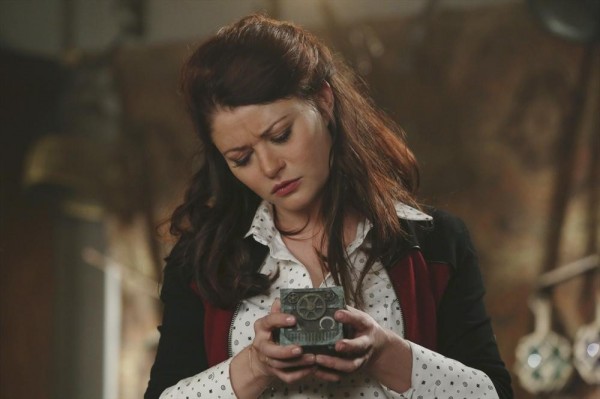 Podcast: Play in new window | Download | Embed
Back in Storybrooke, Belle was left with a task that will allow to protect Storybrooke from the outside world. Five days later, Ariel arrived in Storybrooke to help Belle find the thing that would help Rumple and Regina defeat Pan. In Neverland, Emma, Hook and Neal attempts to capture the Shadow.
Mr. Gold and Regina send Ariel back to Storybrooke with an item that will allow Belle to locate a hidden artifact that could help take down Pan. But unbeknownst to them, two men have broken into the town with the intent to stop them – at all costs. Meanwhile, Emma, Neal and Hook attempt to find Dark Hollow, where Peter Pan's shadow dwells, in order to capture it, and Mary Margaret is upset with David for keeping his poisoning a secret from her.
These are just our first thoughts about this Once Upon a Time episode. We'll share more about "Dark Hollow" in our upcoming full discussion live on Wednesday November 13, at 8:00 p.m. (EDT/GMT-4).
Thank You for Supporting Us!
DJ Firewolf (subscriber)
David Neuland (subscriber) 12x
Lisa Slack (subscriber)
Julia Portela (subscriber)
You can sponsor an episode or more of ONCE podcast, too! Email Daniel@ONCEpodcast.com if you would like to arrange a corporate sponsorship of our podcast for the upcoming third season.
Initial Reactions
Here are some of what we initially thought about tonight's episode, in no particular order:
It was yet again a good episode. It was nice to see Storybrooke again and all the familiar faces we've known – the seven dwarves, Archie, Granny, and Belle, of course. They also did mention Ruby.
Okay so we're wrong about who is in the box. It was Wendy (although, we're pretty sure one of the listeners theorized it to be Wendy during our previous discussions). Even during live chat, karibear09 and catgirlwog on Twitter got it right that that the person in the other box was Wendy. However, some people is already thinking of a shipping name for Henry and Wendy. Got any better ideas?
Anyway, so Wendy isn't really dying and her brothers John and Michael were just forced to go to Storybrooke to hopefully save their sister. By the way, a lot of us initally thought that Wendy is the Home Office. And while we were proven otherwise, we weren't so wrong in a way – Wendy and her brothers did have something to do with the Home Office.
Pan can sense when someone leaves Neverland. Apparantely, Ariel didn't seek permission from Pan to leave the island. And it's cool to see Ariel being in two realms at both present time.
It's great that Emma chooses her son over the distractions of her love life. Well, when two boys fight over a girl, you can expect for weird things to happen.
We also learn that THE Shadow IS Pan's. Although, it still seemed that his shadow has a a life of its own. The shadows also remind us of "Dark Suckers."
Emma was able to light the candle using magic, thanks to Regina.
Pandora's Box contains the world's darkest evil. What exactly could be inside it? A lack of hope? If someone opened it, what would come off it? How could Rumple and Regina use it to defeat Pan?
Henry was believed in a lie, led on to Skull Rock by Peter Pan. What is in Skull Rock? Again, Pan referred to the heart of the truest believer. Pan told Wendy to say that magic in Neverland is dying. What does Pan have in store for him? Does he want to be more powerful? Is Henry going to be sacrificed inside the Skull Rock?
Tink recognized Neal as Bae. The way she looks at him, could Tinkerbell like Baelfire as more than just acquaintances?
Speaking of relationships, it's good to know that she is willing to stay in Neverland with David. She even told her husband, I would happily build a tree house, and spend the rest of my days dodging poison arrows and lost boys as long as I had you by my side. David needed to believe in both of them. In Rumple's words, how nauseatingly romantic!
On the other hand, how is Neal going to use the Shadow to go out of Neverland. Now that they managed to contain it, can they control the Shadow?
What John and Michael have been doing all this time? They said that they know what they are doing. What else did they do to try and save Wendy?
What do you think about tonight's episode? Let us know by sending us your own feedback and theories by emailing or calling us through the details below. You can also use the comment section below regarding tonight's episode!
Thank You for the iTunes Reviews!
caitie578 from the USA
keyb0ardmasterr (Jhack, our show-notes writer) from the Philippines
Your reviews encourage us and help others find the podcast!
Please rate and especially write a review for us in iTunes.
Remember, these are just our initial reactions regarding tonight's episode so please bear with us if we're a bit all over the place. If you have your own thoughts, feedbacks, or theories regarding tonight's episode, however, send them over to us and join our full discussion this Wednesday!
[ndlmx_special]
What did you think?
Email Feedback@ONCEpodcast.com (audio files welcome)
Call (903) 231-2221
Comment on the shownotes
Visit any page on ONCEpodcast.com and click the "Send a voice message" link to record and send a message right from your computer.
Help us out!
Share this post in your social networks
Follow us
On Facebook:
On Twitter:  echo do_shortcode('[twitter follow="ONCEpodcast"]'); ?>
Daniel J. Lewis:  echo do_shortcode('[twitter follow="theDanielJLewis"]'); ?>
Jeremy Laughlin:  echo do_shortcode('[twitter follow="phlegon"]'); ?>
ErinJ:  echo do_shortcode('[twitter follow="erinjcruz"]'); ?>
Hunter Hathaway:  echo do_shortcode('[twitter follow="travelingpixie"]'); ?>
Jacquelyn / RumplesGirl:  echo do_shortcode('[twitter follow="punk_bunny_87"]'); ?>
echo do_shortcode('[ndlmx_shows]');