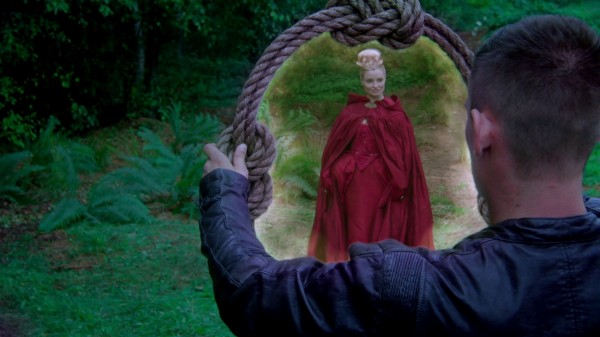 Podcast (wonderland): Play in new window | Download | Embed
With the help of The Knave of Hearts, Alice's quest to finding her lost love continues by finding something that could show them who stole Cyrus's bottle. But before they could even get a hold of it, Alice is revisited with a monster from her childhood that almost killed her. On the other hand, it was later revealed that Anastasia is someone none of us expected.
In the Enchanted Forest
A few years ago in the Enchanted Forest, Robin Hood welcomed Will Scarlett as the new member of his merrymen by testing him to steal bags-full of treasures. Just how long exactly is "a few years"? We think this happened before or after the "Lacey" episode in Once Upon a Time, since Robin Hood is acting kind of like a bachelor in this flashback. Plus, both creator Adam Horowitz and actor Sean M. Maguire also confirmed on Twitter that this particular event happened before Maid Marian got sick. There were also no mention of  Maid Marian and his son, Roland yet.
@RaissaDevereux yes, a sick loved one can change things

— Adam Horowitz (@AdamHorowitzLA) October 25, 2013
@NataliaYank2530 I think so.

— Sean Maguire (@sean_m_maguire) October 25, 2013
After Robin Hood, Will and the rest of his merrymen succeeded in their latest voyage, Robin Hood officially welcomed Will to his circle by cutting his palm using a knife, indicating that Will is now one of his "Merrymen for Life." What does he mean? Is Will going to join them back some time?
Will Scarlett: A traditionally prominent merrymen of Robin Hood, known as the youngest member of the band.
Believing they are not a thief, Robin Hood explained to Will that they are simply helping those in need by thieving. Robin Hood also indicated that a thief only steals for themselves, and that if you steal for personal gain the first thing you lose is yourself. However, before they continue their journey, Will suggested that they go to Maleficent's castle located at the top of the Forbidden Mountain and steal her gold. Robin Hood tried to disrupt Will's plan, indicating that one thing they don't want to mess with is magic because it's too dangerous, that no matter how valuable its wealth will bring, it's not worth it. But because of Will's insistence, he convinced Robin Hood on coming to Maleficent's castle despite the dangers they are heading for. As Robin Hood and his merrymen searches for the gold inside Maleficent's empty castle, Knave searched for something else — a looking glass.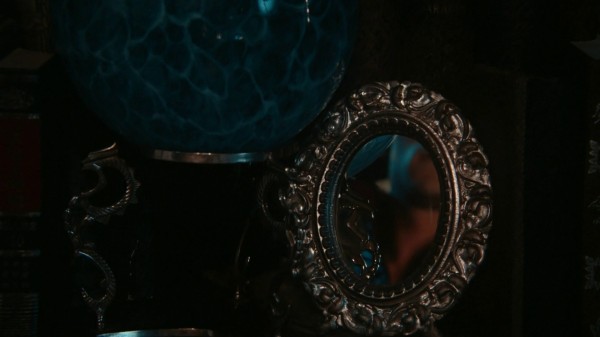 Feeling triumphant, Robin Hood, WIll and the rest of the merrymen went back at the camp. But before their celebration continues, Maleficent's voice was heard, threatening them that they could keep the gold as much as they like, but they must return the other treasure that was stolen. Because while its power is tempting, it will only bring misery to its taker. But why the threat? Did Maleficent have her own share of that misery or was it just empty words?
Despite Will's betrayal, Robin Hood let him go, allowing him to to let his own fate decide for him. Is that what caused his wife to get sick? Did Maleficent curse Maid Marian punishment for letting Will go? For his thievery?
As Will journey back home, it was revealed that the Anastasia he was referring to as his old love was, indeed, The Red Queen. And even before then, it seemed that Anastasia know a lot about Wonderland. Has she been plotting to take over Wonderland all along and is just playing (Will) to do her bidding?
In your podcast of the "Once Upon a Time in Wonderland" episode 'Trust Me,' it was mentioned that you were unfamiliar with the real Anastasia or the one of the animated movie, so here's a brief description:

The Grand Duchess Anastasia Romanov was the fourth daughter of Nicholas II and Alexandra, the Tsar and Tsarina of Russia. She and the rest of her family were executed during the Bolshevik uprising in 1918, though there have always been rumors of Anastasia's survival, since when the grave was exhumed, one of the girl's bodies wasn't found. Over the decades, several women have come forth claiming to be the missing princess, but these have all been disproved. The remaining body was eventually found in 2007, and it is now confirmed that Anastasia was killed with the rest of her family.

The animated film Anastasia was produced and released by 20th Century Fox, which supposes that Anastasia managed to escape the attack of the palace and hit her head, giving her amnesia as to who she really was. The con-man Dimitri is the one who discovers her (at first to get money for reuniting her with her grandmother, and for real once he discovers that she's the real princess), reunites her with her grandmother (who knows it's really her granddaughter thanks to a music box that she gave Ana when she was little), and ultimately, the two fall in love and run away together after defeating the movie's villain, Rasputin. The movie is extremely historically incorrect, but I think fun.

Another movie with the same title was made in 1956 starring Ingrid Bergman and Yul Byrnner. It follows a very similar plotline of the animated movie (without the Rasputin character), though that movie never actually makes it clear as to whether or not she's the actual princess, though there are subtle hints that she is.

I'm not entirely sure how this story would fit in with the Wonderland plotline, though it would be interesting to see. I would like to say that I enjoy your podcast (and the timeline!), and it's helping me get through the week while waiting for the new episodes to air. Keep up the good work!

— Allison
Anastasia also means reborn or resurrection, but arrogance is listed as one of her weaknesses.
The name Anastasia means "resurrection" which I think ties into the RQ's overall story arc, that's she'll be "born again" as Ana at some point in the series, reuniting with the Knave.

— Rumplesgirl
So was it actual love that Anastasia feels for Will or was she just using Will all along? Will's love seemed genuine. He even referred to his love life as a heartbreak and betrayal. Is she already betraying him so he can get the looking glass from Maleficent or just started to after they got to Wonderland? Were they even married or just lived together?
I don't think Will and Anastasia were ever married, even though they seemed to love each other. I think that Will Scarlett became the Knave of Hearts in the royal court of WL, and Anastasia became a Lady in Waiting to the Queen of Hearts. Since Cora did not have Regina in her clutches to mold and shape, Cora might've fanned the flame in Anastasia's heart so that power became increasingly more important to her than her love for Will. When Cora left WL for the EF, Anastasia jumped at the opportunity to fill the power vacuum left by the Queen of Heart's absence. Yet, something happened between her and Will such that Anastasia didn't want to co-rule with him and she grabbed all the power for herself. Since kings often held the power over their queens then, Anastasia might have been like Queen Elizabeth I, deciding not to marry.

— slurpeez108
Love is weakness, according to Cora. Did Anastasia follow the Queen of Heart and decided not to marry Will so she can become the Red Queen? To come in full power and rule Wonderland? Did the Red Queen also took Will's heart to please Cora? To pay homage to the Queen of Hearts and what she was known for, which is taking (and crushing) hearts?
Is it possible that Anastasia was actually Grace, Jefferson/The Mad Hatter's daughter's, mother? Grace's doll have blonde hair and pink dress like Anastasia's. If she is, that would explain how she knows so much about Wonderland Phee shared a comparison between Grace's doll and Anastasia: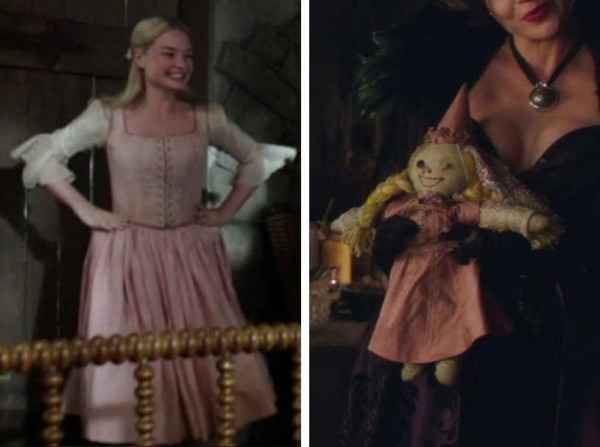 Before Will and Anastasia go to Wonderland, it was shown that she was thrilled that Will got the mirror. When Will asked her as to where are they going, Anastasia told him that they are about to go to a place filled with magic, somewhere beyond their imagination, where everything is possible and be whoever they want to be. So what happened to them when they get to Wonderland? How did they separate?
Wonderland
With nothing to go on except an empty hole on the ground, Alice and Will continues to find Cyrus and in the hopes knowing who their enemy is, Alice said that a thief is exactly what she needs — because who better catch a thief than someone who thinks like one. Alice also grabbed a poster of Will, where it stated what he is wanted for:
Theft
Fraud
Posturing
Imposturing
Gambling
Disturbing the Peace
Public Nudity
Will then suggested Forget Me Knot, an incredibly valuable enchanted piece of rope tied together at one end that allows one to look through it and see what happened in any particular place. However, Will also said that the one who has it was the one who was seeking him — the Caterpillar —  and while it may be a challenge to get Forget Me Knot, the Caterpillar is also known as someone who likes to makes deals, just like Rumplestiltskin in Once Upon a Time. But will he take it?
The Underland
Alice and Will entered the Underland to find and make a deal with the Caterpillar, hopefully to clear Knave's name as well. It was like Jabba the Hut's bar on Tatooine. Inside the Underland, the Caterpillar initially thought that Alice was the form of payment, similar to Princess Leia (of Star Wars) being a payment. But being the smart girl that she is, Alice figured out that the Caterpillar doesn't have the rope and went on to propose their deal: For Will and Alice to get Forget Me Knot for him and all his debt will be erased. Alice and Will then left to go to the Whisper Woods, where the said Forget Me Knot was currently in possession of the Grendel.
Jafar's Lair
Jafar and the Red Queen lowered Cyrus to invite him to a "dinner", showing him a 'centerpiece' which was actually Cyrus's message to Alice that she sent back. Jafar then reminded him that he should know more than anyone else that "magic always comes with a price", a slight nod to one of the famous lines from Once Upon a Time. Jafar also told him that he is not going to 'steal' Cyrus's magic but is 'simply three wishes away from owning' it. He also said that when Alice made her wish, he will feel it. Is Jafar a genie or not? Is Once Upon a Time in Wonderland's Jafar like the one in the Disney version? Is that what Jafar wants? To be more powerful? Because if he gets Cyrus's (good) magic and he possess dark magic, that might make him more powerful, enough to change the laws of magic.
Cyrus is assured that Alice will not make her three wishes, whereas Red Queen is sure that Alice will never come back for him, but Cyrus guarantees them that Alice is stronger than they think. Jafar then motioned for the Red Queen, who reached for a book, looking for things that will force her to make a wish. When the Red Queen is flipping through her book of monsters, she stops and discusses using a Sarlacc, a yet another nod to Star Wars.
When the RQ is flipping through her book of monsters, she stops and discusses using a Sarlacc. [Sarlacc is the pit monsters that Jabba wanted to throw everyone into.]

—  RumplesGirl
Thanks to Cyrus's expression, the Red and Queen and Jafar decided on using Bandersnatch, a rather unique creature that Alice has faced as a little girl and almost died from.
However, in the book versions, Alice didn't really come across Bandersnatch:
Bandersnatch: "Carroll's first mention of a Bandersnatch, in the poem "Jabberwocky" (which appears in Through the Looking-Glass), is very brief: the narrator of the poem admonishes his son to "shun / The frumious Bandersnatch"—this particular portmanteau being a concise way of describing the creature's fuming and furious nature.[1] Later in the novel, the White King says of his wife (the White Queen), "She runs so fearfully quick. You might as well try to catch a Bandersnatch!""
How did the Red Queen knows that Alice has faced the Bandersnatch before? Have they crossed paths when Alice was a little girl? How did she know of her aside from being associated with Cyrus? Alice, on the other hand, didn't have the slightest idea that the Red Queen is Anastasia.
As Alice and Will travel to the Grendel's place, Will told Alice, What if I told you that you could be with Cyrus at the expense of another? Does he know or is considering sacrificing himself in order for Cyrus and Alice to be reunited? After all, Will knows the Red Queen. If he sacrificed himself, would it suffice to save Cyrus and for Alice to find her lost love?
Going back to previous episodes, Will said that he feels ugly for losing his true love. Does that mean that he is still in love with Anastasia? Will did seem repulse, even hurt by her.
With the Red Queen taking the lead, both her and Jafar went into the dungeons to free and order the Bandersnatch to go after Alice. In mentioned of the Knave's name, the Red Queen seems to stiffen, seeming like she must be hiding something from Jafar. Based on how the Red Queen reacted when she found out that Will is helping Alice, it looks like she kept this particular secret from Jafar.
So if the Red Queen didn't know that her old lover is helping Alice, does that mean that The White Rabbit's allegiance is false? Is The White Rabbit reluctantly helping her in order to defeat the Red Queen in the process? What would Alice do the next time she sees The White Rabbit, knowing that her double-crossed her?
As Alice and Will is nearing the Grendel's place, both tried to come up with a plan. Will suggested that he will first create a diversion and once the Grendel's out, Alice will grab Forget Me Knot and run. But just before they can knock the door, they fell through Grendel's trap and got knocked out. Waking up, Alice and Will find themselves strapped inside Grendel's kitchen, seeing the Knot hanging across the table, where the Grendel was seen talking to a woman from the rope. As Will tried to distract the Grendel and asked if it was his woman, Will seemed to relate to him as he can see it in his eyes. He also advised him to leave the past behind him and to let go of the hurt.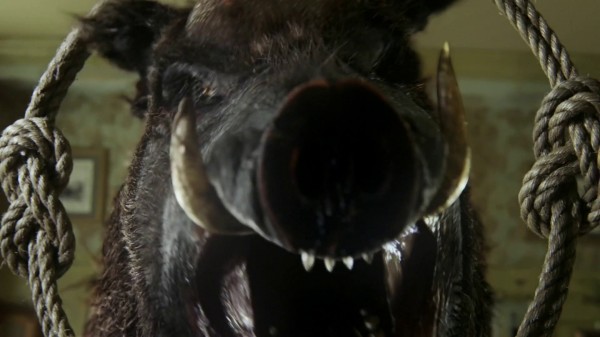 As they make their way out, the Bandersnatch appears and launched forward into Grendel's home, attacking the Grendel then Alice. Terrified but determined, Alice trapped the Bandersnatch by hanging its head in the rope. Will then stabbed the Bandersnatch, vanquishing it to pieces. When Will asked Alice how did she thought of trapping the Bandersnatch, Alice told  him that it was Cyrus who taught her to know who you're up against and that Bandersnatch are dumb creatures and has a blind eyesight. In the end, the Grendel gave them the Forget Me Knot rope because he said that his wife is gone anyway.
Back in the dungeon, the Red Queen recognized when the Bandersnatch's mate was killed, indicating that Alice has made her first wish. However, Jafar figured out that she was wrong, telling her that he will feel it when she did, looking at his serpent staff. How would Jafar know whether Alice has used her wish? Would the serpent's eyes glow? And if the Bandersnatch are linked, would Alice die too if Cyrus get killed because their hearts are already linked together?
Jafar also said that he will learn everything about the Knave, stuff we don't know. Does this include his past relationship with the Red Queen? What would the Red Queen do when Jafar found out that she shared a past with him? Seems like the Red Queen forgot one important detail when she set up the game board.
Let us know what you think about the episode or if we missed anything from last week's episode, Forget Me Not using the comment section below!
What did you think?
Help us out!
Share this post in your social networks
Follow us
On Facebook:
On Twitter:  echo do_shortcode('[twitter follow="WONDERpodcast"]'); ?>
Daniel J. Lewis:  echo do_shortcode('[twitter follow="theDanielJLewis"]'); ?>
Jeremy Laughlin:  echo do_shortcode('[twitter follow="phlegon"]'); ?>
ErinJ:  echo do_shortcode('[twitter follow="erinjcruz"]'); ?>
Hunter Hathaway:  echo do_shortcode('[twitter follow="travelingpixie"]'); ?>
Spoilers
Episode 4 synopsis
Guest stars
Programing not, will not air till November 7
Casting news