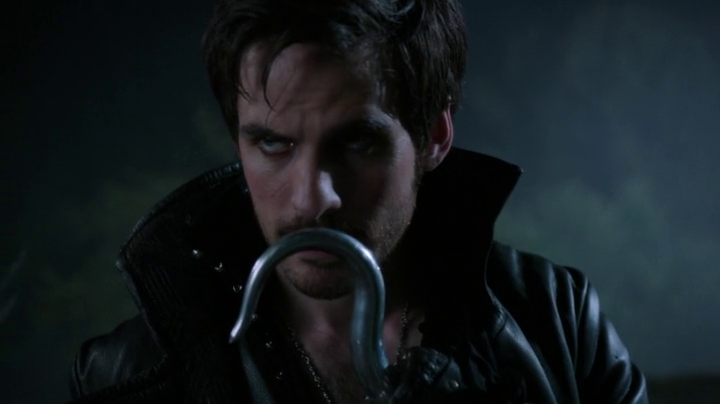 Podcast: Play in new window | Download | Embed
Emma, Mary Margaret and Regina attempt to get a message to Henry; meanwhile, Hook and David set out on a small quest to translate Neal's star map. In the past, we discover what kind of man Killian Jones was.
With the deadly Dreamshade coursing through David's body and close to death, Hook takes him on one last journey to find a sextant that could help them decipher a map that would lead them off Neverland. Meanwhile, in the Fairy Tale Land that was, Killian Jones – aka Hook – and his brother, Captain Liam, sail off under orders of the King to find a powerful indigenous plant on an uncharted land that could help heal any injury.
These are just our first thoughts about this Once Upon a Time episode. We'll share more about "Good Form" in our upcoming full discussion live on Wednesday, October 30, at 8:00 p.m. (EDT/GMT-4).
Thank You for Supporting Us!
Steve (subscriber)
David Neuland (subscriber)
Lisa Slack (subscriber)
You can sponsor an episode or more of ONCE podcast, too! Email Daniel@ONCEpodcast.com if you would like to arrange a corporate sponsorship of our podcast for the upcoming third season.
Initial Reactions
Some points from our discussion, in no particular order:
This is similar to season 1 and 2 when we have a mystery box at the end of the episode
Who do we think is in the box. Is it someone we know, or someone new to us, who would Pan have on the island that he'd like to string up that way. Could it be Killian's brother? Could it be Belle? Could it be Rumple's father? Tinkerbell?
Who has disappeared and not died?
Did Henry really believe that the others had come for him?
What is Henry going to do with the knowledge he has now, about knowing his family is there?
Maybe Henry's personality will change and Pan will notice, or Henry will get more into manipulating Pan, etc.
David cannot leave the island now – that is the price he had to pay for the magic. That isn't something that can be "broken" with true love's kiss because it is a price.
Pegasus – interesting that the ship didn't fly from pixie dust
Big theme of this season is "believe a pirate can be a hero"
Jeremy thinks perhaps the kiss between Hook and Emma might have affected them more than it should have.
Hook now knows about Neal being alive. Now we get to find out what he is going to do with that information.
Peter Pan is a "dirty little manipulating kid…"
Lost connection: The water is the power source of the island.
If they are going to try to destroy Neverland using the water, would they die?
The boat flew from Fictional England (?). Hook didn't seem confused about "other realms" and such.
Please send us feedback and leave us a review on iTunes 🙂
We are finalists in the Podcast Awards: Best Produced. Please vote for us starting Nov 1 through the 15. Please sign up for a daily reminder to vote.
Thank you for the iTunes Reviews!
toetappin from the USA
Saz7878 from the United Kingdom
Your reviews encourage us and help others find the podcast!
Please rate and especially write a review for us on Apple Podcasts.
What did you think?
Email Feedback@ONCEpodcast.com (audio files welcome)
Call (903) 231-2221
Comment on the shownotes
Visit any page on ONCEpodcast.com and click the "Send a voice message" link to record and send a message right from your computer.
Help us out!
Share this post in your social networks
Follow us
On Facebook:
On Twitter:  echo do_shortcode('[twitter follow="ONCEpodcast"]'); ?>
Daniel J. Lewis:  echo do_shortcode('[twitter follow="theDanielJLewis"]'); ?>
Jeremy Laughlin:  echo do_shortcode('[twitter follow="phlegon"]'); ?>
ErinJ:  echo do_shortcode('[twitter follow="erinjcruz"]'); ?>
Hunter Hathaway:  echo do_shortcode('[twitter follow="travelingpixie"]'); ?>
Jacquelyn / RumplesGirl:  echo do_shortcode('[twitter follow="punk_bunny_87"]'); ?>