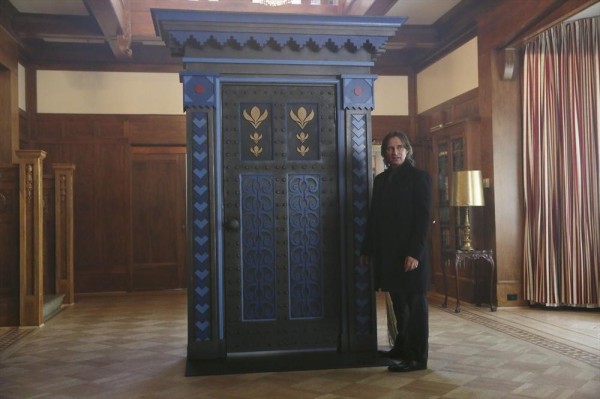 The Spell of the Shattered Sight may have been undone, but that doesn't mean they're going to leave a happily ever after now. Regina asked Robin to go and never come back; Belle finally saw the beast behind the man for the first time; and in an attempt to get his own happy ending, Rumplestiltskin made a fatal mistake that thwarted his future plans of a new life with Belle.
Podcast: Play in new window | Download | Embed
In the aftermath of the Snow Queen's spell, our heroes try to pick up the pieces and Regina has to make a difficult choice. Hook's fate hangs in the balance as Gold's quest for power threatens everything he holds dear. And, in the Enchanted Forest flashback, an intrusion during Belle's stay at Rumplestiltskin's dark castle will wreak havoc in both the past and the future.
These are just our first thoughts about this Once Upon a Time episode. We'll share more about "Heroes and Villains" in our upcoming full discussion live on Thursday December 18, at 8:00 p.m. (EST/GMT-5).
Initial Reactions
Remember, these are just our initial reactions regarding tonight's episode so please bear with us if we're a bit all over the place. If you have your own thoughts, feedbacks, or theories regarding tonight's episode, however, send them over to us and join our full discussion this Thursday!
There are a lot of painful goodbyes in this episode; the RumBelle scenes are painful to see, but the last bit was really good. We liked how they turned things around; we liked this twist. We didn't expect it. It was completely different from what we initially thought would happen and we like the way they do things now. What with villains unionizing, teaming up against the heroes now.
We initially don't know how Cruella DeVil will fit in this story but now it's coming a bit clearer. Does Cruella have powers?
Now, we have some kind of proof and confirmation that the author of the book is the Sorcerer. It was his mansion, after all. But why isn't he in Storybrooke? What becomes of the people in the hat? How are they going to figure out how get them out?
What do all those books contain in the hidden library? Parallel universe? Unwritten stories?
Thank you for supporting us!
Steve Johnson (subscriber)
Lisa Slack (subscriber)
David Neuland (subscriber)
Sarah-Jane Bonney (new Patreon backer)
13 Patreon backers ($26.50 per episode)
You can sponsor an episode or more of ONCE podcast, too! Email Daniel@ONCEpodcast.com if you would like to arrange a corporate sponsorship of our podcast for the upcoming third season.
We wonder what the gauntlet is. In some ways, it reminded us of the compass, which led us to the dagger. Does Rumple still have his magic in New York? How did the Queens of Darkness arrive in the Land Without Magic? They have to come through something. They nailed casting the Queens of Darkness, but why are they in our world? Maleficent did incinerate from a dragon into an ash, so how did she, Ursula and Cruella DeVil got into our world? How come Rumple retained his memories after crossing the town line?
Why did Robin and Regina's true love's kiss not work as Robin crossed the town line? On the other hand, it was kind of admirable how Robin still chose to be with Maid Marian and Roland. Does that mean that Robin's adultery over? What would happen with Tink telling Regina that the man with the lion tattoo is her soul mate? Will Robin come to spy Rumple and passes the message to the ones in town?
We were glad that Belle put a stop to Henry calling her "Grandma." So far, the Sorcerer seemed like a good guy, but is he? Will everyone join the Operation Mongoose and be in quest to find the author now? Share us what you think about tonight's Winter Finale by sending an email, filling in the comment section below, or by heading over the forum.
Instead of doing our full discussion on Wednesday, December 17 at 8:00 p.m. (EST/GMT-5), we will be sharing our full review of "Heroes and Villains" instead on December 18 at 8:00 p.m. (EST/GMT-5). You may also want to tune in and join us earlier at 6:00 p.m. (EST/GMT-5) as we record our review of Into the Woods. Meanwhile, the second half of the fourth season of Once Upon a Time will return March 1, 2015.
What did you think?
Email Feedback@ONCEpodcast.com (audio files welcome)
Call (903) 231-2221
Comment on the shownotes
Visit any page on ONCEpodcast.com and click the "Send a voice message" link to record and send a message right from your computer.
Help us out!
Share this post in your social networks
Follow us
On Facebook:
On Twitter:  echo do_shortcode('[twitter follow="ONCEpodcast"]'); ?>
Daniel J. Lewis:  echo do_shortcode('[twitter follow="theDanielJLewis"]'); ?>
Jeremy Laughlin:  echo do_shortcode('[twitter follow="phlegon"]'); ?>
ErinJ:  echo do_shortcode('[twitter follow="erinjcruz"]'); ?>
Hunter Hathaway:  echo do_shortcode('[twitter follow="travelingpixie"]'); ?>
Jacquelyn / RumplesGirl:  echo do_shortcode('[twitter follow="punk_bunny_87"]'); ?>