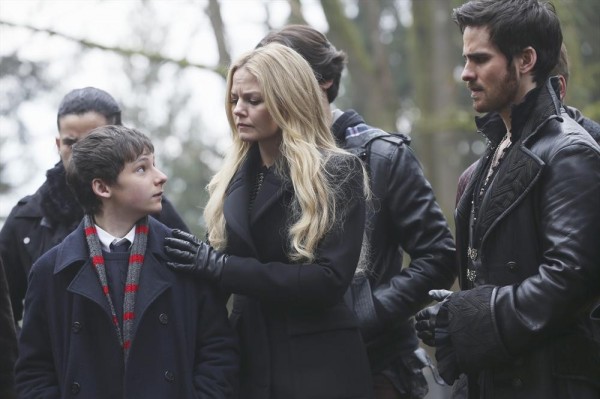 While the town is mourning Neal's death, Zelena never rests and goes to break everyone in their reverie to continue with her unholy desires. In the past, a magic baby was found in Oz who grew up green with envy, thus becoming known as the Wicked Witch of the West.
Podcast: Play in new window | Download | Embed
With Rumplestiltskin as her slave, Zelena challenges Regina to a fight to the death and shocks the Evil queen with the reveal of their familial connection, and the town lays Neal to rest. Meanwhile, back in the past in the land of Oz, a jealous Zelena asks the Wizard to send her to Fairy Tale Land after discovering that she has a sister, Regina, and that Rumplestiltskin is training her to become a powerful force to be reckoned with.
These are just our first thoughts about this Once Upon a Time episode. We'll share more about "It's Not Easy Being Green" in our upcoming full discussion live on Wednesday April 9, at 8:00 p.m. (EDT/GMT-4).
Thank You for Supporting Us!
Steve Johnson (subscriber)
David Neuland (subscriber)
Lisa Slack (subscriber)
Laura Silva (subscriber)
LaurieAnne (subscriber)
You can sponsor an episode or more of ONCE podcast, too! Email Daniel@ONCEpodcast.com if you would like to arrange a corporate sponsorship of our podcast for the upcoming third season.
Initial Reactions
The Wizard showed Zelena's past, Rumple even confirmed it, but was it all just smoke and mirrors? Or is Zelena really Cora's first born?
Please keep in mind that these are just our initial reactions so we're going to be a little bit all over the place.
One of the things that seem a little bit weird in this episode was the magic baby. Her father also hated her, even if she wasn't necessarily born green. While it may have seen that Zelena being Regina's sister seem true, it's still making us rethink whether what she's claiming is true because of all the questions that are still yet to be answered.
We've finally seen Oz! It was cool to see the Emerald City. And while we all initially thought Zelena could be Dorothy, she wasn't and we doubt we would get to meet Dorothy this season. Speaking of Oz, turns out the Wizard was, indeed, Walsh.
So many things seem great in this episode. Rebecca Mader was doing a good job playing the Wicked Witch and looked like envy literally turned her green. It seemed that what Zelena wants is to change the laws of magic and change her past. Zelena said she wants a second chance, but does that mean she wants to time-travel to the time that Cora gave her away?
A lot of people said that the show just rebooted itself with another curse, but from the way the story currently goes, seems like the creators are proving us wrong.
Despite however bad it was, Neal's funeral seem like it's final that Neal is gone. On the other hand, it looks like it was all Rumple's faults and now his son is gone.
Happy endings keep being crushed in this show. However, it was funny and weird at the same time to hear Rumple talk about meat pies. But it seems that he clearly know who she is and her history. Speaking of history, how did the Wizard know about Zelena's history?
It's great that Henry was starting to question things but Hook doesn't look like he did a brilliant job telling a story about him and Neal, what with their age difference and all.
It seem odd that the Wizard simply just disappeared. Oz also looked really good. The yellow brick road, the Emerald City were very impressive. It could have been CGI, but if it was it was done very nicely.
Speaking of Oz, it was nice that the creators have finally brought us to Oz. It was cool to see where the flying monkeys can be seen. We sure hope that maybe, there's someone higher than the Wizard that could be pulling all the strings. Blue Fairy?
What does Zelena wants with Rumple's brain, Charming's courage, and Regina's heart? Is she really Cora's first-born despite the Wizard showing her her past? Share your thoughts, theories, and ideas by sending us an email, commenting below, or by joining us over the forum. Join us this coming Wednesday as we do a full discussion of "It's Not Easy Being Green."
Thank You for the iTunes Reviews!
Your reviews encourage us and help others find the podcast!
Please rate and especially write a review for us on Apple Podcasts.
What did you think?
Email Feedback@ONCEpodcast.com (audio files welcome)
Call (903) 231-2221
Comment on the shownotes
Visit any page on ONCEpodcast.com and click the "Send a voice message" link to record and send a message right from your computer.
Help us out!
Share this post in your social networks
Follow us
On Facebook:
On Twitter:  echo do_shortcode('[twitter follow="ONCEpodcast"]'); ?>
Daniel J. Lewis:  echo do_shortcode('[twitter follow="theDanielJLewis"]'); ?>
Jeremy Laughlin:  echo do_shortcode('[twitter follow="phlegon"]'); ?>
ErinJ:  echo do_shortcode('[twitter follow="erinjcruz"]'); ?>
Hunter Hathaway:  echo do_shortcode('[twitter follow="travelingpixie"]'); ?>
Jacquelyn / RumplesGirl:  echo do_shortcode('[twitter follow="punk_bunny_87"]'); ?>