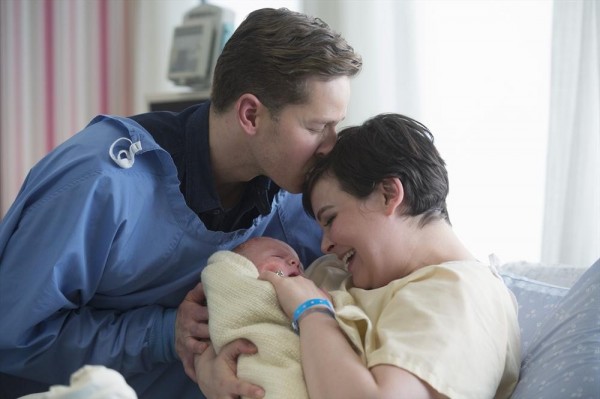 The residents of Storybrooke will do whatever it takes to protect Snow and Charming's soon-to-be born baby but the Wicked Witch will stop at nothing to prove to them that no good deed goes unpunished. In Oz during the past that is, another tornado brought a very special girl into Oz who just might turn out to be the Wicked Witch's undoing.
With Mary Margaret in labor and due to give birth at any moment, the residents of Storybrooke go on high alert in an attempt to ensure that Zelena doesn't try to steal her newborn baby for use in her ultimate game plan to turn back time and change her destiny — while obliterating Regina's existence. Meanwhile, in the land of Oz of the past, Glinda tries to convince Zelena to fight her evil tendencies and join her and her sister witches as a protector of Oz. But the appearance of a young girl from Kansas could turn out to be her undoing.
These are just our first thoughts about this Once Upon a Time episode. We'll share more about "Kansas" in our upcoming full discussion live on Wednesday May 7, at 8:00 p.m. (EDT/GMT-4).
Thank you for supporting us!
Steve Johnson (subscriber)
David Neuland (subscriber)
Lisa Slack (subscriber)
Greg Shope
Tappnbrd
Patreon backers ($14.50 per episode)
You can sponsor an episode or more of ONCE podcast, too! Email Daniel@ONCEpodcast.com if you would like to arrange a corporate sponsorship of our podcast for the upcoming third season.
Initial Reactions
What a great penultimate to the season finale! It definitely feels like a season finale already but of course, we still have one more Sunday. It was a total twist, and what a great twist that was. A lot of things happened that probably shouldn't have happened, should they?
Regina seemed like fully-reformed now after defeating the Wicked Witch with light magic. But what does the smirk mean at the end after she kept Zelena's pendant?
Rumple finally had the guts to ask Belle's hand in marriage, but is it ever right to start a future together with a lie? He talked so much about trust, so what happened? Why still go after Zelena? Is this something that he just needs to do to avenge his son? There clearly is always something with him. Are we the only ones who thought that Rumple would stab Zelena using the Dark One's dagger?
The next two episodes, which is going to be a back to back episodes next week, shall justify all the unexpected and odd twists that happened tonight. There's so many great, and at the same time odd twists and turns that happened tonight.
It's a boy! Is it now going to be Leo? That's what Snow wanted to name the baby, anyway, but one thing is for sure — it's going to be significant.
Speaking of the baby, he different ingredients of the curse made a lot of sense now after finding out about the four protectors of Oz, which includes love, wisdom, courage and innocence. Regina's heart represented love, Rumple's brain was wisdom, Charming's hilt of the sword was used for courage, and the newborn baby for innocence.
The next episode is probably going to pick either in alternate realty or with things changed. Will Emma go to New York or will she stay in Storybrooke with her family?
We thought that Hook was going to kiss her to try bring her powers back but it seems a bit definite that Emma doesn't have any intention of kissing him again anytime soon.
The silver slippers was last seen with Dorothy. Does that mean that the silver slippers are still out there somewhere? By the way, it was nice seeing Dorothy throw a bucket of water at the Wicked Witch and see her melt, which of course, was just a fluke.
Is Regina really a hero now, or will she revert back to being the Evil Queen even before the season finale? What happened after Rumple vanquished Zelena? What does the green smoke mean? Will Emma get her powers back? Share your thoughts and theories by sending it over to us via email, using the comment section below, or by joining us over the forum.
[ndlmx_special]
What did you think?
Email Feedback@ONCEpodcast.com (audio files welcome)
Call (903) 231-2221
Comment on the shownotes
Visit any page on ONCEpodcast.com and click the "Send a voice message" link to record and send a message right from your computer.
Help us out!
Share this post in your social networks
Follow us
On Facebook:
On Twitter:  echo do_shortcode('[twitter follow="ONCEpodcast"]'); ?>
Daniel J. Lewis:  echo do_shortcode('[twitter follow="theDanielJLewis"]'); ?>
Jeremy Laughlin:  echo do_shortcode('[twitter follow="phlegon"]'); ?>
ErinJ:  echo do_shortcode('[twitter follow="erinjcruz"]'); ?>
Hunter Hathaway:  echo do_shortcode('[twitter follow="travelingpixie"]'); ?>
Jacquelyn / RumplesGirl:  echo do_shortcode('[twitter follow="punk_bunny_87"]'); ?>
echo do_shortcode('[ndlmx_shows]');