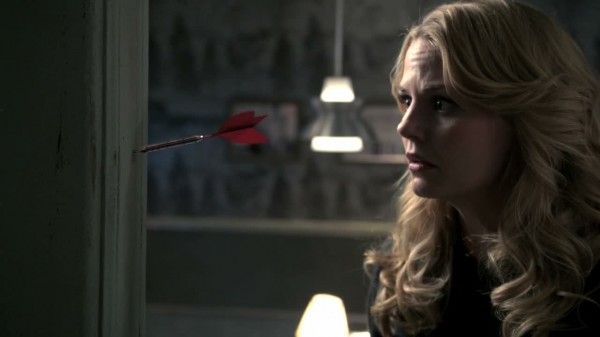 Podcast: Play in new window | Download | Embed
Our new favorite episode and it earns the word "revelatory" from Jeremy! We were all wrong about Sheriff Graham!
Fairytale world
The evil queen's spaceship-like palace started out white and then shed changed it to black.
True to Dan's prediction from the Grimm fairytales, Snow White is the Evil Queen's step-daughter.
The huntsman was chosen because he doesn't believe humans have honor and he would have no problem cutting out a heart.
What is the big secret that the Evil Queen shared with Snow White? How did Snow White's sharing it cost the queen dearly?
Could this season be focusing more on Snow White vs. the Evil Queen? Will we learn this season what the secret was?
The Evil Queen can see through any mirror, and in Storybrooke, she said that she has "eyes everywhere."
What kind of help does the huntsman's whistle bring? Would her using it lead it to safety with the seven dwarfs?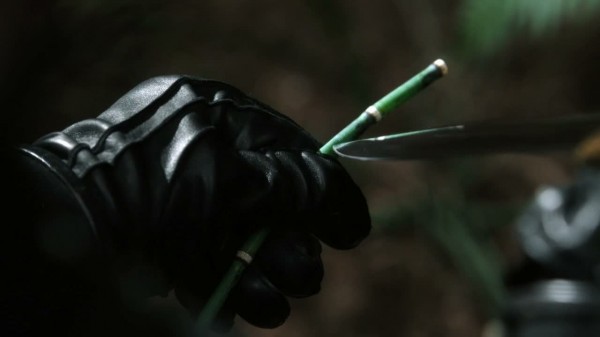 At which point did Snow White get to know the woods so well? When does she meet the seven dwarfs? Before or after meeting Prince Charming?
It looks like the Evil Queen has more than the inner walls of hearts (or whatever is stored in those drawers).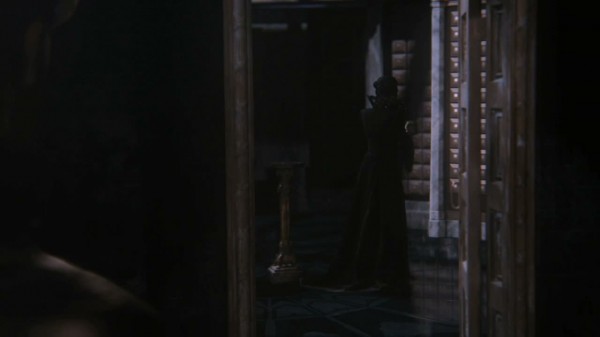 Is the queen trying to put Snow White's heart in storage, or is she using it as a key to open something?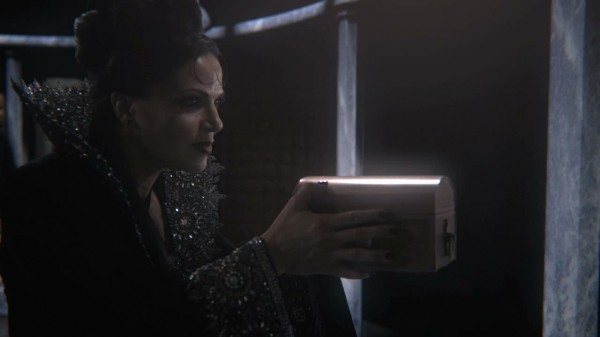 Daniel is convinced that she wanted Snow White's heart as a key because Mary Margaret wore a key on her necklace in Storybrooke in part of "The Shepherd".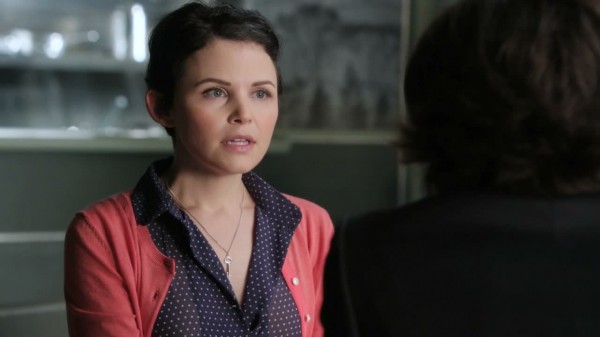 Storybrooke
Not the same wolf as the pilot episode?
Sheriff Graham doesn't "feel anything" with Regina. Henry later told him that the Evil Queen rips out people's hearts so they can't feel anything. "It's kind of her thing."
Was Mr. Gold digging up something or burying something?
Has Mr. Gold seeing anything? Why the awkward look at his shovel?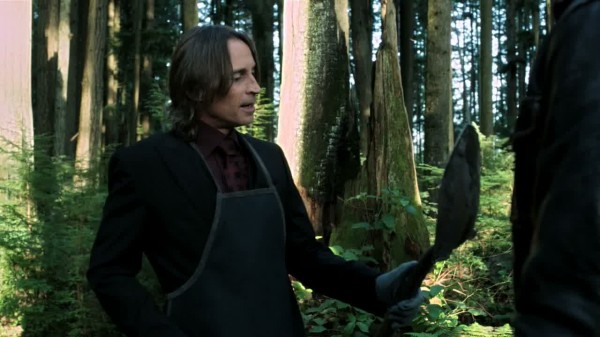 Mary Margaret's morals have declined with a one-night stand and Emma's encouraging it.
Anything significant to the volcano display in Emma's classroom?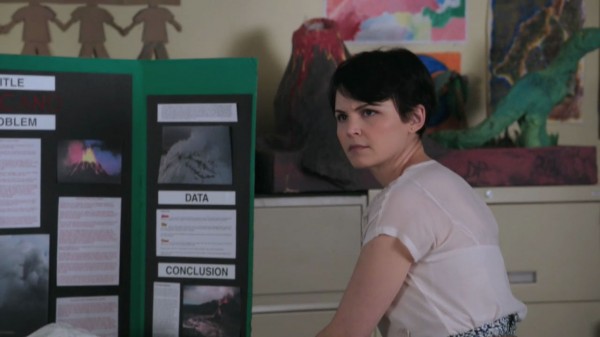 This is a different classroom from Mary Margaret's classroom in the pilot episode. Did you find anything interesting in it?
Henry finally has someone who totally believes him when Sheriff Graham comes to hear his story.
Is Regina using mirrors to see everywhere in town? We've noticed her say things about seeing or knowing everything in town before.
Notice that the wording on the stone inside the mausoleum is the same as from "The Thing You Love Most."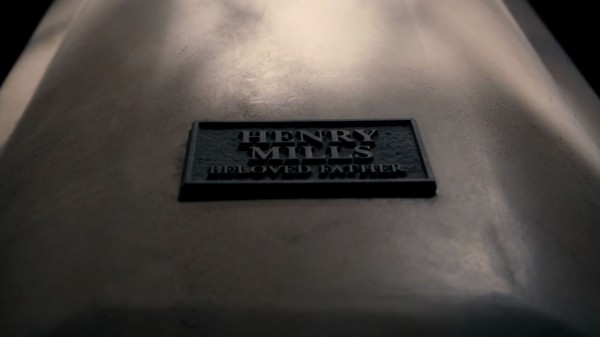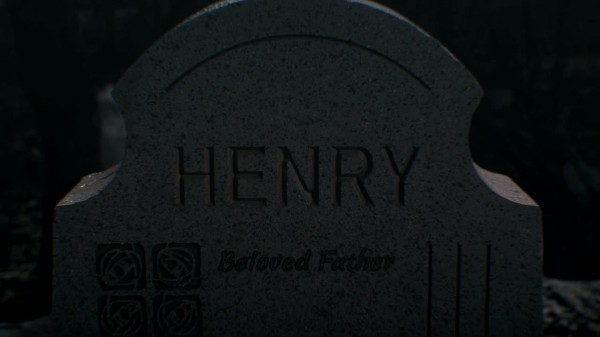 What else is in Regina's mausoleum?
How will Sheriff Graham's last words affect Emma?
Lost easter eggs
Eyes are focused on a lot, just like Lost had done.
It was 4:00 when Graham visited Mary Margaret. The dartboard has a dart in 16. (As an aside, look at the paper in the lower-right and you'll see printed Hebrew text! What's that all about?)
Feedback
Troy Price shared a few thoughts, especially some unintended humor in "The Heart Is a Lonely Hunter."
Next podcast on January 12
Once Upon a Time is on hiatus and will resume Sunday night, January 8. We'll kick off with a live podcast at 9:30 or 10:00 p.m. (ET) the following Thursday (January 12). Visit the Noodle.mx Network live-streaming page to watch and chat live.
What did you think?
Email Feedback@ONCEpodcast.com (audio files welcome)
Call (903) 231-2221
Comment on the shownotes
Visit any page on ONCEpodcast.com and click the "Send a voice message" link to record and send a message right from your computer.
Help us out!
Share this post in your social networks
Follow us
On Facebook:
On Twitter:  echo do_shortcode('[twitter follow="ONCEpodcast"]'); ?>
Daniel J. Lewis:  echo do_shortcode('[twitter follow="theDanielJLewis"]'); ?>
Jeremy Laughlin:  echo do_shortcode('[twitter follow="phlegon"]'); ?>
ErinJ:  echo do_shortcode('[twitter follow="erinjcruz"]'); ?>
Hunter Hathaway:  echo do_shortcode('[twitter follow="travelingpixie"]'); ?>
Jacquelyn / RumplesGirl:  echo do_shortcode('[twitter follow="punk_bunny_87"]'); ?>