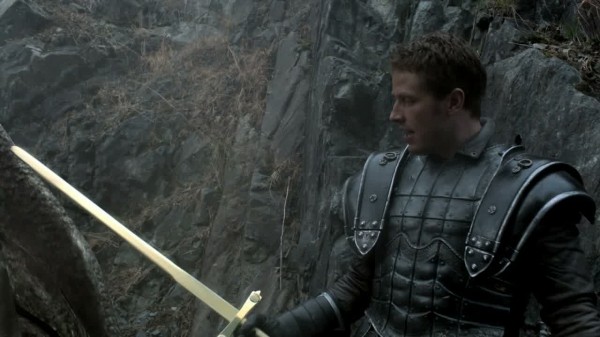 Podcast: Play in new window | Download | Embed
We loved this episode because it connects a lot of stories.
Fairytale world
We all thought it was the same James ("Prince Charming") in the opening scene, but the spear through his chest gave us pause.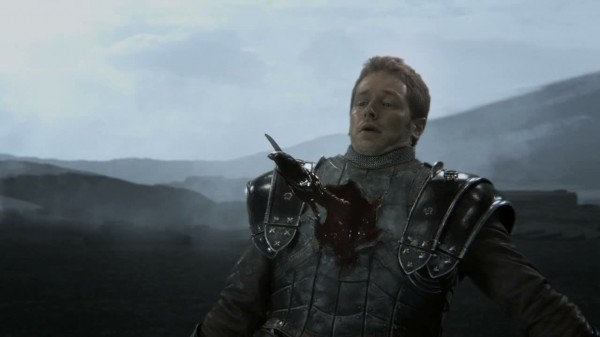 We met King Midas (from Greek mythology) for the first time. "Be careful. Remember what happened to Frederick."
Rumpelstiltskin made a deal to bring James's brother if he could have the whereabouts of a fairy godmother with a wand (that was saw in The Price of Gold).
The table in King Midas's castle (or was it James's castle?) is the same as in the pilot episode.
 Storybrooke
Mary Margaret uses a gold-colored, sword-shaped letter opener right after seeing James slay the dragon in fairytale world.
Henry logically explains David's immunity to the curse.
David is doing the right thing getting back with Katherine—but it's still a false reality.
Katherine feels like she has a friendship with Regina, Regina looks either touched or guilty.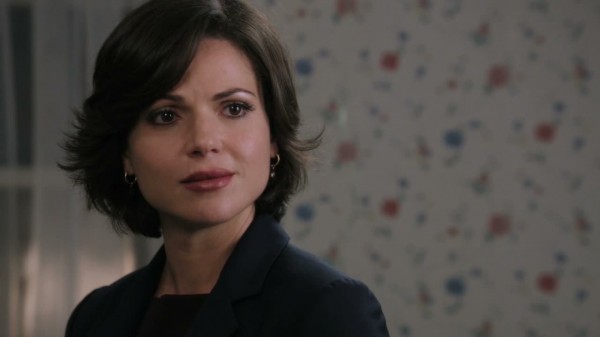 Sheriff Graham works at an animal shelter and they need him to feed the dogs? Perhaps a hint at his identity.
We see more interesting things in Mr. Gold's Pawn Shop, including a genie lamp again.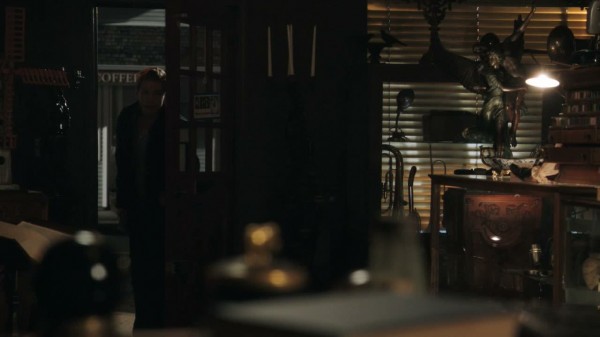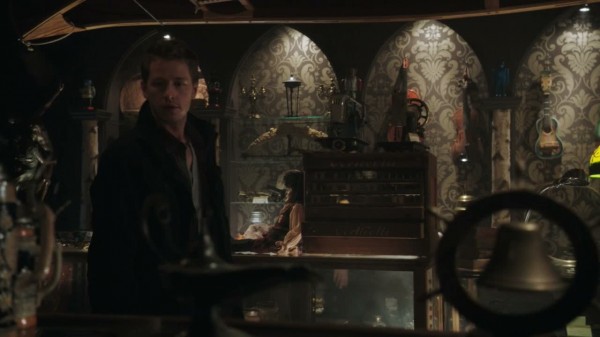 Was David hypnotized by the windmill? By the way, we've seen it in Mr. Gold's pawn shop before.
Was Mr. Gold using magic? What caused him to crack this slight smile?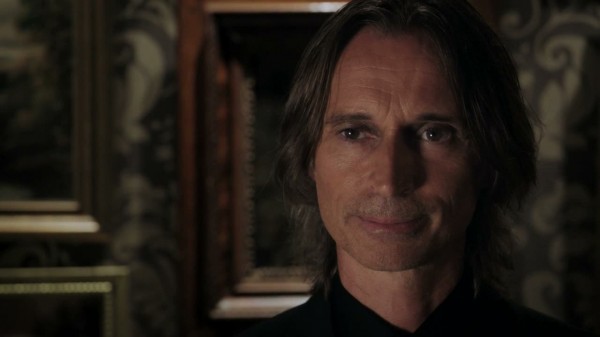 There was also a canoe in the pawn shop. Perhaps a hint at Pocahontas?
Mary Margaret accepted two drinks from Dr. Whale. Maybe a bad decision?
Lost easter eggs
The dartboard in the sheriff's office has darts in 4 and 8 (along with darts in 10, 3, and 7).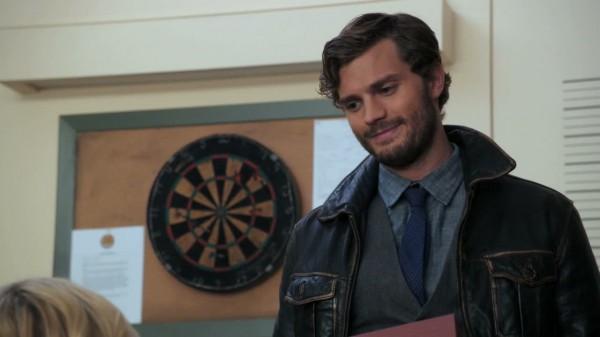 Alan Dale played James's father and also played Mr. Widmore in Lost.
The clock in the diner was at 8:23 when Regina is talking to Mary Margaret.
The whiskey that Mary Mararet and Emma drink is MacCutcheon, which was prominent in Lost when Mr. Widmore was around. Thanks to Beth Madonna for sending a screenshot.
News
Catch up on or rewatch Once Upon a Time  for free online.
Once Upon a Time is highest-rated new drama (as of December 2, 2011).
What did you think?
Email Feedback@ONCEpodcast.com (audio files welcome)
Call (903) 231-2221
Comment on the shownotes
Visit any page on ONCEpodcast.com and click the "Send a voice message" link to record and send a message right from your computer.
Help us out!
Share this post in your social networks
Follow us
On Facebook:
On Twitter:  echo do_shortcode('[twitter follow="ONCEpodcast"]'); ?>
Daniel J. Lewis:  echo do_shortcode('[twitter follow="theDanielJLewis"]'); ?>
Jeremy Laughlin:  echo do_shortcode('[twitter follow="phlegon"]'); ?>
ErinJ:  echo do_shortcode('[twitter follow="erinjcruz"]'); ?>
Hunter Hathaway:  echo do_shortcode('[twitter follow="travelingpixie"]'); ?>
Jacquelyn / RumplesGirl:  echo do_shortcode('[twitter follow="punk_bunny_87"]'); ?>