Podcast: Play in new window | Download | Embed
You, our awesome listeners, sent us some awesome feedback! We answer and discuss your theories and add some of our own.
Hey guys

Love your show.

A few notes as I make my way through your episodes:

– you mentioned that "still small voice" seemed to replace god with Jiminy. In Catholicism (not sure if this is only for Catholicism or it's a Christian tradition) it is believed that your conscience is the voice of god. So the still small voice you hear in the back of your mind is god's. I'm okay with it being the cricket's voice because technically it is [supposed to] be of the "voices" you hear in the silence.

– I have a running theory that Thomas (Ella's prince) turned in to the frog prince which is why his clothes were left behind at the well. It would also account for Shawn being human in Storybrooke, since some human/animals like Jiminy turned human in Storybrooke.

[Photo added]

Thank you for the fun episodes. Am going to leave a review on iTunes. You guys are great. Keep it up.

Christina
Excellent theory, Christina! We added a screenshot to see the clothes you're talking about.
The Price of Gold

Did anyone see a potential Aladdin and Jasmin at the wedding reception?

[Photo added—was this what you saw?]

Also, when Cinderella told Thomas about the baby she did mention "It wasn't my fairy-godmother who brought me here it was Rumpelstiltskin." So he knew it was magic that's why he didn't get too upset?

Also, if Rumpelstiltskin gave the queen the spell he must have gotten something from her as well right?

You confused me completely with this timeline thing and I agree with Jenny that not everyone was happy at the same time so maybe everyone got to Storybrooke at different time? On Ashley's pregnant time line, lets not forget that Emma had Henry when she was 18.

Did you notice that Regina only talked about the not so fun things about having a baby? Change diaper, fevers, tantrum.

It's funny how Henry says, so what's her story, and later he's like maid, step mother, step sister… and Emma is like not now Henry!

What did Ashley take from Mr. Gold? I can not figure it out, it did not look like paper.

Hope this isn't too long. Can't wait to hear your response.

Suri
We never see Ashley reach into the safe. But it does sound like she picks up a glass object, like a bottle.
I have a theory that the Evil Queen is the original miller's daughter who had to weave straw into gold, and then later married the king (Snow's father). Maybe she bargained away her first born to Rumps and that was the secret she shared with Snow. Think about it—why did she even want to adopt Henry? (she had the sheriff to amuse herself with) Maybe her loved one was actually a child. The dialogue is very careful to allude to something, but it also leaves the door open for something entirely different.

If you stay with my original theory about the Evil Queen being the miller's daughter and that she had to give up her first born to Rumpelstiltskin…

Suppose that child is actually Henry's father… It seems twisted but it would be clever and would certainly plug all of the plot holes (so far).

Shirli
Interesting theory, but we can't see the same connections. If Rumpelstiltskin was weaving gold in "The Still Small Voice" for the miller's daughter, the age wouldn't align with how old the Evil Queen is 30–50 years later (according to Gippetto's apparent age).
I believe they say Henry came to Storybrooke when he was 3 weeks old. [From "The Thing You Love Most."]

If true love follows the ring that Marry Margret is wearing, is that one of the reasons David is drawn to her?

I believe that both Mr. Gold and Regina know who they are from the past. Mr. Gold only does things that will benefit him.

Regina can see that her "power" over her townspeople is diminishing the longer Emma stays and the more important Emma becomes in the town.

Question: In "The Still Small Voice," Regina picks up a piece of glass and keeps it with her until the end of the episode where she then tosses it down the sewer. What was the piece of glass from?

What if Mr. Gold was digging Graham's grave in the woods.

Mandy
The glass was from Snow White's glass coffin, which is apparently buried deep under Storybrooke, but Henry still has a piece of it.
Sheriff Graham died in the city and will probably have an official funeral. We think Mr. Gold may have been digging for pieces from fairytale land.
Hey Podcasters,

I've just recently found your show and have been listening to the episodes while at work to pass the time. I had a theory about Midas and possibly why Shepherd(Prince) James didn't marry his daughter. In Nathaniel Hawthorne's version of the story, King Midas accidentally touches his daughter and turns her into gold. Maybe this is what happens in the show, therefore allowing SP James to marry Snow.

Also in episode 4 "The Price of Gold", one of you mentioned that Cinderella had her baby in the fairy world before they captured Rumpelstiltskin, I disagree. Had the baby been born already I don't think Rumpelstiltskin would have been waiting around for Cinderella to hand deliver it, he would have appeared to collect it already. I was under the assumption that Cinderella and her Prince were trying to break the deal before the baby came. Cinderella did inform the Prince of the deal she'd made right after telling him that she was pregnant after all.

On that note, I think a timeline is a great idea and I will be happy to help you guys if you want; I've already started a slightly loose one of my own.

Thanks for the entertaining podcast. I'm looking forward to hearing more of your ideas when the show returns.

-De,ann
It's a good idea, but Katherine is alive in Storybrooke, so she could not have died before the curse was enacted. We also saw the evil gnome turned into stone in fairytale land and he was still stone in Storybrooke.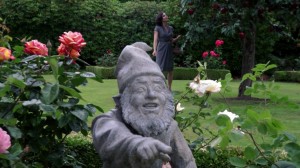 I absolutely LOVE this show! I was a little disappointed when it went off for a little while during the holidays. But with that said, I can't wait until it comes back on Sunday! I just wish it played every day instead of waiting a whole week! But I guess that keeps the interests up!

Katlin
We can't get enough of Once Upon a Time, either! We're happy to have you listening.
Thank you, everyone, for your great feedback! Remember to send your feedback to us each week before Thursday night so we can include in our episodes.
Next podcast on January 12
Once Upon a Time resumes this Sunday night, January 8! Our next live podcast will be at 9:30 or 10:00 p.m. (ET) the following Thursday (January 12), so you'll have plenty of time to send in your feedback on the newest episode.
Visit the Noodle.mx Network live-streaming page to watch and chat live.
What did you think?
Email Feedback@ONCEpodcast.com (audio files welcome)
Call (903) 231-2221
Comment on the shownotes
Visit any page on ONCEpodcast.com and click the "Send a voice message" link to record and send a message right from your computer.
Help us out!
Share this post in your social networks
Follow us
On Facebook:
On Twitter:  echo do_shortcode('[twitter follow="ONCEpodcast"]'); ?>
Daniel J. Lewis:  echo do_shortcode('[twitter follow="theDanielJLewis"]'); ?>
Jeremy Laughlin:  echo do_shortcode('[twitter follow="phlegon"]'); ?>
ErinJ:  echo do_shortcode('[twitter follow="erinjcruz"]'); ?>
Hunter Hathaway:  echo do_shortcode('[twitter follow="travelingpixie"]'); ?>
Jacquelyn / RumplesGirl:  echo do_shortcode('[twitter follow="punk_bunny_87"]'); ?>