Podcast: Play in new window | Download | Embed
We really liked this episode because it told just the right amount of story, even though it didn't have as much action as previous episodes.
Fairytale Land
Consider the Once Upon a Time timeline, this must have taken place 50–70 years or more before the curse.
Rumpelstiltskin started as a normal human. Will other characters—like the Big Bad Wolf, three little pigs, pongo, and others—also start our in fairytale land as humans? We've also seen Jiminy Cricket start as a human.
Little Red Riding Hood looks prettiest with more clothes on.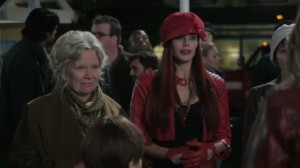 The opening recap is different in this episode. This time, it takes clips from the last seven episodes, so it helps introduce more of the story.
"Only one knows the truth and she'll stop at nothing until someone breaks her spell."
What will happen once The Evil Queen's spell is stopped?
The title screen shows The Dark One.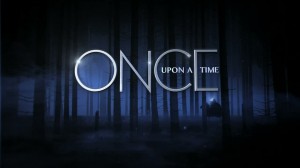 We meet Rumpelstiltskin while he's spinning wool.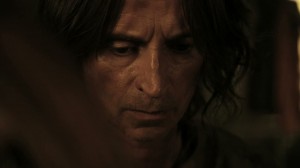 This is even longer before Jiminy comes to Rumpelstiltskin in "That Still Small Voice."
Rumpelstiltskin started kind of good, albeit cowardly. Later, the power consumed him.
The Dark One is played by Brad Dourif who also played Wormtongue from Lord of the Rings.
The distant sky is red from the Orge Wars. Will we learn more about this? Is this war where Rumpelstiltskin got the limp-causing injury?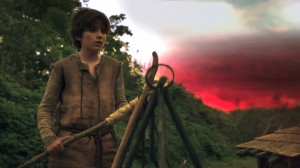 Robert Carlyle played Rumpelstiltskin in four amazing personalities:
Cowardly Rumpelstiltskin
Newly empowered Rumpelstiltskin
Powerful and confident Rumpelstiltskin
Confident and cunning Mr. Gold
At first, we thought of Robin Hood when seeing the old beggar in the forest, but we were later proven wrong.
ABC is pulling from multiple sources for their tellings of these tales: Grimm fairy tales, the traditional Once Upon a Time stories, and even Disney's movies (Disney owns ABC).
Do the soldiers have a calendar of everyone's fourteenth birthday? Perhaps the Dark One knows. We know Rumpelstiltskin can see the future (Pilot) and maybe the Dark One could, too.
Is Rumpelstiltskin's wife really dead, or was he lying again? Perhaps Rumpelstiltskin even killed or somehow caused the death of his wife.
The commanding soldier had Rumpelstiltskin kiss his boot to release him from the penalty of using the king's road.
The beggar offered to be Rumpelstiltskin's benefactor, just like Mr. Gold offered to be Emma's benefactor. Then the beggar shares a plan to kill the Dark One and reminds Rumpelstiltskin that he has a choice—everyone has a choice. The is just like what Rumpelstiltskin said to Shepherd James in "The Shepherd."
Rumpelstiltskin's son, Baelfire, was willing to obey the law and go to war, but his cowardly father wouldn't allow it.
Might Rumpelstiltskin have acquired the wand (in "The Cost of Gold") to try to free himself from his own curse?
How did the duke get control of Zoso's dagger? Might this be the origin of having power over someone by knowing their name?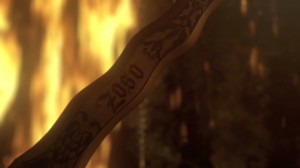 Might the dagger be in Mr. Gold's shop, or maybe buried in the woods ("The Heart Is a Lonely Hunter").
Check out the flags on the duke's castle. They're the same emblems as Prince Charming's castle later (James probably wasn't even born yet).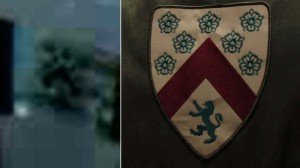 Although the castles aren't structured the same. Former castle, maybe?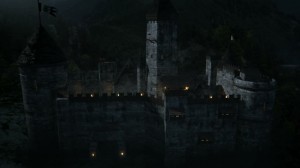 The dagger was in a room with some interesting flags.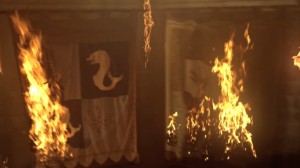 It seems that Rumpelstiltskin's new power causes him to lose his firstborn. Could that be why Rumpelstiltskin is after Cinderella/Ashley Boyd's firstborn?
"Magic always comes with a price. Now it's yours to pay. … I can always recognize a desperate soul."
Storybrooke
Mr. Gold wants Emma to be Sheriff so that she is more capable of giving him the favor she owes him ("The Cost of Gold").
Is the big guy in the blue suit the ogre from The Evil Queen's group that helped enact the curse?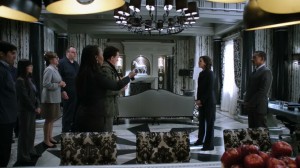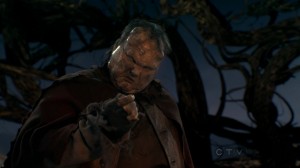 Mr. Gold had a spindle in the back room of his shop, but it's not the same one from Fairytale Land.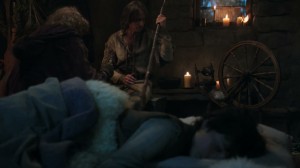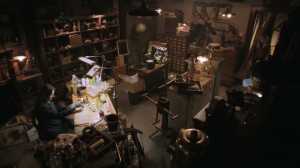 Mr. Gold showed some deep emotions when he gave the walkies to Emma for Henry. Maybe he saw his son die in Fairytale Land?
Will we someday see the Evil Queen's origin?
Dr. Hopper tried to make a joke before the debate, but it fell flat and he said, "Wow. Crickets."
Sydney Glass was really happy looking at himself in the mirror. The world "reflection" is used several times in describing Sydney Glass.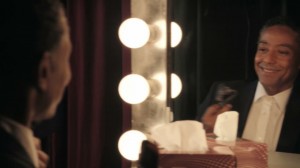 The sheriff's autopsy revealed that he died "of natural causes." Maybe "lack of heart"?
An interesting story written by Sydney Glass in the newspaper reveals a little information about Emma's juvenile criminal record.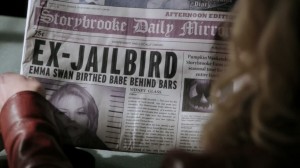 Ex-jailbird Emma Swan birthed babe behind bars

Storybrooke, Maine—The race for the position of local sheriff has just gone into overdrive. The Storybrooke Daily Mirror has recently come into possession of a number of controversial documents that purport to shed an entirely new light onto the character of Storybrooke's prospective new law enforcement official, Emma Swan.

records show that when she was merely a girl of seventeen, Emma Swan found herself, ironically, on the wrong side of the law. She was visiting friends of her foster parents in the town of Worcester, Massachusetts, it would prove to be a trip that would earn her a juvenile criminal record.

On the evening of June 16th, 1996, Swan—
Emma wants "to show him [Henry] that a hero can win. And if I'm not a hero and I'm not the savior, then what part do I have in his life?"
Dr. Hopper reminded everyone to "vote your conscience."
Emma first went for floral abuse, now she's assaulting a toaster. The song playing in the background was "Kool Thing" from Sonic Youth's album Goo.
Kool Thing sittin' with a kiddie
Now you know you're sure lookin' pretty
Like a lover not a dancer
Superboy take a little chance here
I don't wanna, I don't think so
I don't wanna, I don't think so

Kool Thing let me play it with your radio
Move me, turn me on, baby-o
I'll be your slave
Give you a shave
I don't wanna, I don't think so
I don't wanna, I don't think so

Yeah, tell'em about it,
hit'em where it hurts
Hey, Kool Thing, come here, sit down
There's something I gotta ask you.
I just wanna know, what are you gonna do for me?
I mean, are you gonna liberate us girls
From male white corporate oppression?
Tell it like it is!
Huh?
Yeah!
Don't be shy
Word up!
Fear of a female planet?
Fear of a female planet?
Fear, baby!
I just want to know that we can still be friends
Come on, come on, come on, come on let everybody know
Kool, kool thing
Kool, kool thing

When you're a star, I know that you'll fix everything
Kool Thing sittin' with a kiddie
Now you know you're sure lookin' pretty
Rock the beat just a little faster
Now I know you are the master
I don't wanna, I don't think so
I don't wanna, I don't think so

Kool thing walkin' like a panther
Come on and give me an answer
Kool thing walkin' like a panther
What'd he say?
I don't wanna, I don't think so
I don't wanna, I don't think so
Will we someday see Storybrooke being created immediately after the curse is enacted?
The phrase, "as long as we/anyone/I can remember" was used several times in this and past episodes.
The Graham's last name was Humbert? He was also called "compassionate" in a newspaper clipping from the box that Mr. Gold had.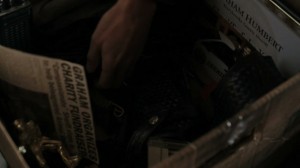 David is now working at the animal shelter, funny considering that he was a Shepherd in Fairytale Land.
Emma has Henry's photo framed on her desk at the sheriff's office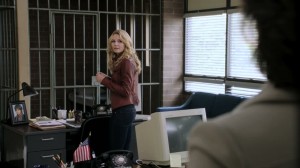 Mickey and Minnie Mouse were spotted again in Mr. Gold's shop.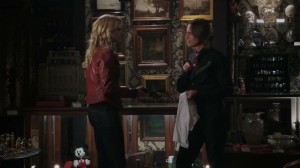 Lost easter egg
MacCutcheon whiskey again.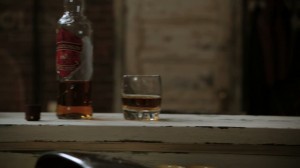 Feedback
From Tanesha (who contributed to our Once Upon a Time timeline):
After watching last night's episode, I have a new theory concerning Rumpelstiltskin. Before the dark lord died he mentioned that his life was such a burden and that Rumpelstiltskin will see what he means as he now has the power. In previous episodes to this we've seen Rumpelstiltskin acquiring more power such as the Fairy Godmother's wand. Maybe he's trying to find a cure from this new burden he has acquired. It could even be what Mr. Gold was looking for in episode seven "The Heart is a Lonely Hunter." Can't wait to hear what you guys think.

—Tanesha
From Jamie:
Hello, as a U.K fan of "Once upon a Time" and following the series and this podcast avidly, I have a few questions, theories and thoughts

What if Ariel (The Little Mermaid)is the person running the local fish and chip shop ?
As a Wizard of Oz fan, i hope we will see Dorothy et al turn up in the show
Who exactly were the members of "those with the darkest souls"
The Queen having an obsession with hearts is a brilliant nod to the original Grimm story, because once the Huntsman brings her the heart, she actually cooks it and eats it in the hope she can steal Snow White's beauty…..loved the Temple of Doom reference by the way

Keep up the good work!

—Jamie
From Jadeth30:
Maybe what snow white took from the queen is being the most beautiful of them all?

Also another good show, though much darker, is Grimm.

—Jadeth30
From Sadie (who may not have realized that we're not affiliated with ABC):
I'm not very happy with the fact that Graham was killed from the show. I wished that didn't happen, I hope you take this message into consideration and try to get him back somehow, someway. I'll be watching further shows and hoping he shows.

—Sadie
Thank you, everyone, for your great feedback! Remember to send your feedback to us each week before Thursday night so we can include in our episodes.
Next live podcast on January 19
Our next live podcast will be at 9:30 or 10:00 p.m. (ET) on Thursday (January 19), so you'll have plenty of time to send in your feedback on the newest episode.
Visit the Noodle.mx Network live-streaming page to watch and chat live.
What did you think?
Email Feedback@ONCEpodcast.com (audio files welcome)
Call (903) 231-2221
Comment on the shownotes
Visit any page on ONCEpodcast.com and click the "Send a voice message" link to record and send a message right from your computer.
Help us out!
Share this post in your social networks
Follow us
On Facebook:
On Twitter:  echo do_shortcode('[twitter follow="ONCEpodcast"]'); ?>
Daniel J. Lewis:  echo do_shortcode('[twitter follow="theDanielJLewis"]'); ?>
Jeremy Laughlin:  echo do_shortcode('[twitter follow="phlegon"]'); ?>
ErinJ:  echo do_shortcode('[twitter follow="erinjcruz"]'); ?>
Hunter Hathaway:  echo do_shortcode('[twitter follow="travelingpixie"]'); ?>
Jacquelyn / RumplesGirl:  echo do_shortcode('[twitter follow="punk_bunny_87"]'); ?>