Podcast: Play in new window | Download | Embed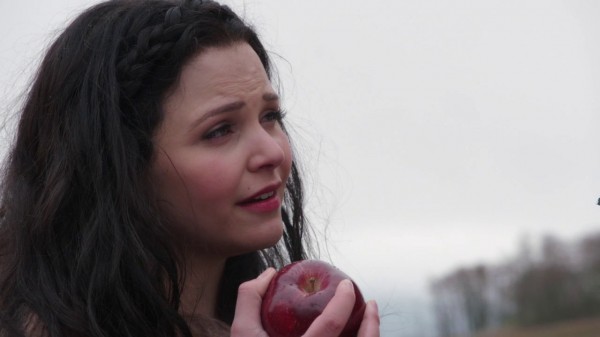 A fairy tale battle is won, but the Storybrooke battle is still heating up. Will the curse be broken? What will happen to Henry? Is there any more magic?
Big thanks to our sponsors!
You can sponsor ONCE podcast, too!
Fairy Tale Land
Mig Macario, AKA Bashful, calls in! Thanks, Mig Macario! Follow @MigMacario
Jeremy pointed out that Snow White is a bit taller than the dwarves in the title screen image than she seems to be in actual Fairy Tale Land.
Daniel noticed a dragon theme on the helmets of King George's guards, hinting again at the George and the Dragon legends.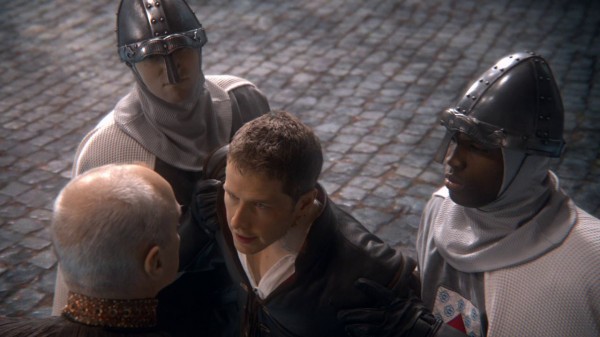 There's a hint of friendliness between Regina and King George. When did that start? King George called her by name when she showed up at James's execution. He didn't react to her as if they were strangers. Just how close are they?
Jenny noted that Grumpy enlists the help of the Blue Fairy as "air support" saying she "owes me a favor." He is referring to the time he did as the Blue Fairy requested (in "Dreamy") and chose not to run away with Nova.
Could fairy dust have a different outcome of using it determined by the wielder? This is the first episode in which we've see fairy dust being used as a weapon.
Is Maleficent the bad fairy that gave Snow White the bad fairy dust? Snow planned to use it on Regina. This makes it likely that she could've gotten it from Maleficent because of what Regina did to Maleficent's pet unicorn in order to obtain the dark curse.
Why did Grumpy have to tug his pickaxe from the guard's body? It's sharp enough to cut through diamond! Diamond-cutting pickax fail!
Jeremy wondered how Red puts her cloak back on when she's a wolf.
Does Red need the full moon in order to turn into a wolf, or can she turn into a wolf anytime? Did Snow have to plan on waiting for "wolf's time" in order to have Red's help?
Daniel acknowledges the similarities of every dungeon we've seen in Fairy Tale Land. Their only differences are the bars and doors.
"It's a trap!" Star Wars reference!
How did James feel something at the exact moment Snow ate the apple? Do they have a magical connection?
Daniel pointed out that Regina was wearing the ring Daniel, the stable boy, gave her in the episode called "The Stable Boy" and quickly yanked it off her finger to hide it when Snow showed up to meet her there.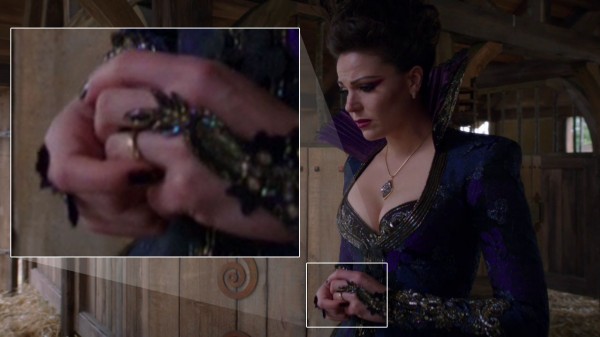 Do you think Regina withheld the truth about Daniel from young Snow out of kindness or deceit with a plan for revenge?
Storybrooke
Awesome and freaky dream scene!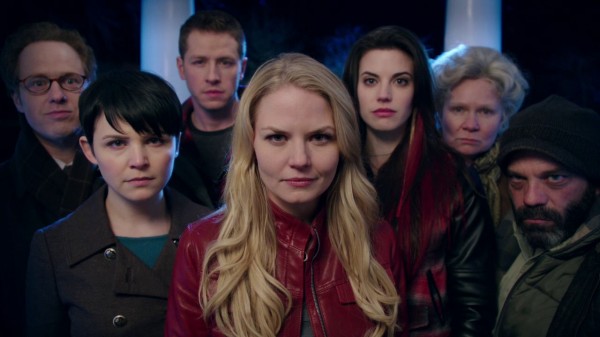 Props to Jared Gilmore as Henry for his excellent acting in this episode especially!
Is Regina's apple tree magic in some way? Dan pointed out that it is among the few things she brought with her from Fairy Tale Land. Why would she see it's dying as evidence that the curse is weakening?
Why does Regina seem to know so little about the curse?
Dear Once Podcast,

In "Apple Red as Blood," we learned that Regina believes Mr. Gold has designed the curse so that it can only be broken if Emma dies. My theory is that Mr. Gold is simply lying to Regina in order to preserve Emma's life. Mr. Gold wouldn't risk telling Regina how to really break the curse. He wants to have the upper hand over Regina. If the way to break the curse were really to kill Emma, then Mr. Gold could easily have killed her through his dubious methods. We've already seen Rumpelstiltskin kill others without a second thought.

Mr. Gold said to Regina that Emma would have to die for the curse to be broken, but what if he is just saying that to prevent Regina from killing Emma? It could be that Mr. Gold wants Emma's life to be preserved and the only way to insure Regina doesn't kill Emma is to make Regina believe that the curse is tied to Emma's life. As long as Emma lives, the dark curse continues and Regina keeps her power. That would be a very crafty lie indeed, and Mr. Gold is king of craftiness.

Also, when Regina told Mr. Gold that she'd use her sleeping curse on Emma, Mr. Gold had a look of real concern, not one of smugness like we've seen before. I think Mr. Gold needs Emma to be alive and well for the curse to be broken. We've already seen that her mere presence in Storybrooke is enough to weaken the curse. While I don't have a fully formed idea of how the curse will be broken, I think that it will involve Emma not only believing but will also involve everyone else believing and defeating Regina. We've already seen that as the curse grows weaker, so do Regina's apples in SB. The tree seems to be tied up with Regina's power. Mr. Gold doesn't seem intent on her dying, but rather he seems very intent on wanting Emma to believe.

Thanks again for all of your great commentary and podcast!

Sincerely,

Slurpeez108
So this week we saw Regina seek the help of Mr. Gold to find a way of getting rid of Emma and there was that one moment where Gold said she had nothing left to bargain with him. Regina could have brought up Belle, and I think many of us thought she would, but she didn't. I think Regina wants to hold her information about Belle to herself until it is a life or death situation, therefore I think Regina is going to reveal that Belle is alive in the upcoming episode when trying to enlist the help of Mr. Gold to help cure Henry. She didn't tell Gold in this episode because she was only metaphorically "losing Henry", but now she actually is losing him so she's going to use her leverage to enlist help.

Rapunzel
Dan wondered that when this happens if Gold will refuse Bell because he created the curse to find his son, vowing to do and love nothing else.
hello everyone! the past few episodes including the most recent has shown that for some unknown reason Mr. Gold wants the curse broken. we don't know what happens exactly when the curse is broken but i never assumed it meant going back to fairy tale land. i believe that with Emma breaking the curse it may mean that the people of Storybrooke may be able to leave Storybrooke which may explain why Mr. Gold wants the curse broken. Rumple still mourns the loss of his son and finding Bae was the reason for creating the curse in the first place. now that the curse is enacted and Rumple is in our world he needs emma to break it so that he may leave and find Baelfire thus achieving his "happy ending." just my thoughts. thanks for the awesome podcast!

Claudia
Mr Gold hasn't found Baelfire and he wants the curse broken to go on a "trip"; leave Storybrook to go find Balfire? Which also means I don't think he left Storybrook to go get Henry. But he HAD to bring Henry to Storybrook in order for the curse to be broken. But why oh why did he give Henry to Regina?!

Quick note: most recent episode: Mary Margaret was grilling Emma just like a mother would do.

You guys are wonderfully awesome. I hope for some occasional podcasts over the summer break!

Karin
We agree , Gold most likely brought Henry to Storybrooke in order to lure Emma there.
Jeremy thinks Mr. Gold may not have "woken up" from the curse and started pursuing his goal of finding his son until Emma showed up. This would make it an extreme coincidence that he chose Henry, of all children, to give to Regina.
Jeremy noticed that Mr. Gold's shop was suddenly full of globes in this episode.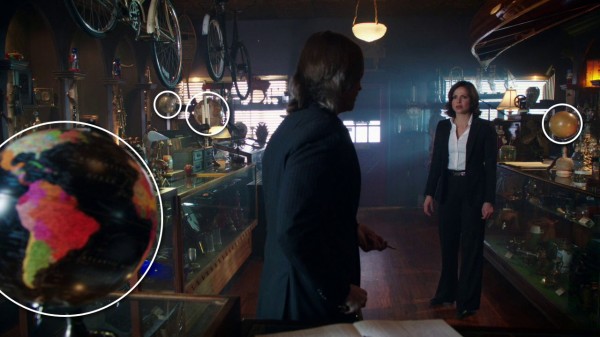 Hey guys, just wanted to run a possible theory past you about Jefferson. Originally, I thought he returned to Wonderland/Fairy Tale Land. However after tonight's episode I think that maybe he just teleported to a different part of Storybrooke. That's my latest and only theory at this time. I hate what happened to Henry and can't wait for the finale! Thanks for reading!

Sincerely,

Gabrielle
Do you think Emma really made a magic hat? Where did Jefferson go? Why is he hiding the truth from Regina. Do you think he was confined to his only house until Emma came to Storybrooke?
How does Regina plan to make good on her deal with Jefferson (in exchange for his getting her the apple) to rewrite his and Grace's stories together there in Storybrooke if there's no magic? Has he been duped again?!
Voicemail from Chris: Maybe it was Regina who wrote the book?
In the pilot episode, Regina got upset at Henry for ripping out the pages about Emma because she wanted to read them.
Why did Regina not try use Jefferson's hat by herself?
Jenny noticed that Jefferson didn't spin the hat this time. He just set it on the floor. Maybe he's trying to deceive Regina.
Dan thinks Jefferson could lean towards good or evil at this point, but for now he seems to be a neutral character.
Daniel explained the layout of the secret rooms of the mausoleum.
What's your take on the hat? Can it time-travel?
Will Maleficent return?
Did Emma believe Henry at all before he took a bite into the apple turnover?
Talk about "An Apple Red as Blood" in our Once Upon a Time forums.
Upcoming live chat and initial reactions live podcast
Join us this Sunday at 8:00 p.m. (EDT/GMT-4) for a live chat during the Eastern and Central airings of the season finale of Once Upon a Time. Stick around for a 9:30 p.m. (EDT/GMT-4) live initial reactions podcast.
Visit the Noodle.mx Network live-streaming page to watch and chat live.
Please retweet this post!
Use the social buttons or retweet the following.
Hear "An Apple Red as Blood" discussion and theories in this #OnceUponaTime podcast! oncepodcast.com/once-upon-a-ti…

— ONCE podcast (@ONCEpodcast) May 10, 2012
//platform.twitter.com/widgets.js

What did you think?
Email Feedback@ONCEpodcast.com (audio files welcome)
Call (903) 231-2221
Comment on the shownotes
Visit any page on ONCEpodcast.com and click the "Send a voice message" link to record and send a message right from your computer.
Help us out!
Share this post in your social networks
Follow us
On Facebook:
On Twitter:  echo do_shortcode('[twitter follow="ONCEpodcast"]'); ?>
Daniel J. Lewis:  echo do_shortcode('[twitter follow="theDanielJLewis"]'); ?>
Jeremy Laughlin:  echo do_shortcode('[twitter follow="phlegon"]'); ?>
ErinJ:  echo do_shortcode('[twitter follow="erinjcruz"]'); ?>
Hunter Hathaway:  echo do_shortcode('[twitter follow="travelingpixie"]'); ?>
Jacquelyn / RumplesGirl:  echo do_shortcode('[twitter follow="punk_bunny_87"]'); ?>