Podcast: Play in new window | Download | Embed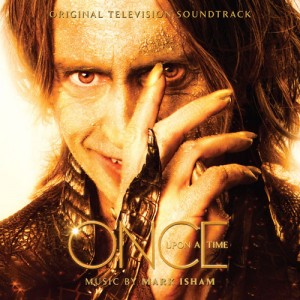 Mark Isham has composed many great soundtracks for movies and TV shows. I (Daniel J. Lewis) think that Isham's score to Once Upon a Time is his greatest music yet!
You'll quickly hear that Isham has created unique themes for each character, and develops these through the TV series.
Check out Chapter 12 "Musical Spell" from the Official Video Podcast for Once Upon a Time.
Many of the songs brought back waves of emotions associated with various key points in Once Upon a Time. I hope that you'll buy the soundtrack and experience the same joy of reliving the hope through music.
There are twenty-five tracks on the CD, with four repeated from the exclusive EP in iTunes.
"Once Upon A Time Orchestral Suite": The familiar musical theme from the pilot, from opening to pronouncement of the curse. 25 seconds longer than the Orchestral Also the first occurrence of the Prince Charming, Snow White, and true love / Emma themes. Same as on the EP album.
"Henry's Proposal": Building, story-telling feel as Henry tells Emma his story.
"The Queen's Curse": Starts dark and subdued with many dissonant chords. Sounds just like a curse in planning until it climaxes about three-quarter's through with the Evil Queen's familiar tone leading into the arrival of the curse. Same as on the EP album. These first three tracks are from the pilot episode and used throughout the series.
"Jiminy Cricket": Simple and reflective with a lot of orchestral harp. This came from "That Still Small Voice."
"Dealing with Rumplestiltskin": Dark and mysterious, similar to the Evil Queen's theme, but actually a bit more menacing in sound. Even the more melodic third minute remains very cunning with rhythmic drums to accent.
"Belle's Story": This sounds like a music box with a beautiful princess dancing amid a dusty attic. This came from the episode "Skin Deep," but was also partially reused in "Dreamy" when Belle helped Dreamy to see that he was in love. Same as on the EP album.
"Dwarves": Playful, working, and a bouncing sound from the pizzicato strings and frequent timpani. The woodwinds bring a light-hearted feel. Halfway through, our eyes are lifted to the stars (or fairies?) before returning to the upbeat music. Then the themes introduces some minor tension before very simply resolving.
"The Huntsman": One of the most tragic deaths was the loss of Sheriff Graham. This track reminds us of his dark and hunting personality with rhythmic motion. We're treated to this beautiful Hunstman motive (musical theme) several times through the track, sometimes interrupted by moments of tension until the heart-crushing end. This song gave Daniel chills.
"Things Are Changing in Storybrooke": Emma's arrival has brought change, and this song sounds like a montage of change over time until it runs into conflict from Mayor Regina. Same as on the EP album.
"Cinderella": Expectation builds up to a single melody, and then the sounds of royal love.
"Wedding Dance": How better to celebrate a royal wedding than a ballroom dance? This classical-sounding piece fits right in with the beautiful dresses and elegant dancing. It incorporates the wedding theme of the "Cinderella" track.
"Advising Ashley": Emma's challenge to Ashley to commit and be a mother to her baby receives a reflective theme that communicates an inner struggle of heart, with a little conflict near the end.
"If the Shoe Fits": A gently reassuring song that ends with a hint of the Evil Queen's theme.
"Unhappy Endings": Sad but melodic. This track has subtle cues from Snow White's theme, but it hidden in the sound of loss. We hear a solemn version of Emma's theme just before the chaotic dissonance of the curse takes over from this last fairy tale land song from the pilot episode.
"Emma and Henry": Henry's theme comes out in an earnest desire for Emma to believe.
"The Siren": This song sounds of danger and temptation, which is exactly what James faced when approaching the siren. In the last minute, the danger rises and threatens with fast tones before resolving with Prince Charming's triumphant theme.
"The Man with the Wooden Box": The stranger receives a mysterious song, hinting at a deeper truth that we may have already known.
"Hope Will Return": Snow White's theme of hope is interrupted with the Evil Queen's threat, but then breaks into the hopeful true love / Emma's theme.
"Rumplestiltskin in Love": There is no greater pain than the loss of love. This song almost cries from the inner agony of Mr. Gold/Rumplestiltskin.
"The Genie's Wish": With an Arabian tone, the Genie had used his one and only wish, leaving a disappointing melody.
"The Road to True Love": An expectant song with a developed version of Prince Charming's theme, and a surprise around the corner (or in a tree?).
"The Family Compass": Although minor characters so far, Hansel and Gretel receive their own youthful theme with tensions inspired by the Blind Witch.
"Burn the Witch": A tip-toeing sound to prevent awaking the sleeping witch in a magical place. But once the Blind Witch awakens, the music heats up with a desperate escape.
"What the Queen Loves Most": Regina's last love, loss, pain, and resolution for revenge can all be heard in this subtle song.
"The Clock Moves": Emma brings magic, hope, and even the movement of time back to Storybrooke, which can all be heard in this familiar song from the pilot.
Noticeably absent from this album is music from the season-one finale's game-changing last scenes, as well as Red Riding Hood's theme and a few others.
The hour-long Once Upon a Time soundtrack by Mark Isham is currently $18 from Amazon.com, and we highly recommend getting the CD version for the extra collectibles.

If you enjoyed this review, please let us know in the comments, buy the CD, and let Mark Isham know how much you liked his music.
Follow @MarkIsham
http://platform.twitter.com/widgets.js
Preorder the complete first season
The Once Upon a Time DVD/Blu-Ray set is available for preorder from Amazon.com. Order it now and you'll get any price drop between now and when the sets ship on August 28.
What is Daniel's middle name?
After a hilarious forum post trying to guess what the "J." stands for in Daniel's full name, Nonnie was the first person to correctly guess it. Because of the fun this was, we decided to award Nonnie a $5 Amazon.com gift certificate that she can use toward the soundtrack or first season.
Thanks for the fun! Enjoy your certificate, Nonnie!
Next live podcast on Monday, June 18
Due to a scheduling conflict, our next live podcast will be at the same usual time of 8:30 p.m. (EDT/GMT-4), but on Monday, June 18. After that, we'll resume our Wednesday biweekly schedule.
Please retweet this
Audio review of @MarkIsham's #OnceUponaTime soundtrack oncepodcast.com/once-upon-a-ti… #OUaT (buy it from ONCepodcast.com/soundtrack)

— ONCE podcast (@ONCEpodcast) June 14, 2012
What did you think?
Email Feedback@ONCEpodcast.com (audio files welcome)
Call (903) 231-2221
Comment on the shownotes
Visit any page on ONCEpodcast.com and click the "Send a voice message" link to record and send a message right from your computer.
Help us out!
Share this post in your social networks
Follow us
On Facebook:
On Twitter:  echo do_shortcode('[twitter follow="ONCEpodcast"]'); ?>
Daniel J. Lewis:  echo do_shortcode('[twitter follow="theDanielJLewis"]'); ?>
Jeremy Laughlin:  echo do_shortcode('[twitter follow="phlegon"]'); ?>
ErinJ:  echo do_shortcode('[twitter follow="erinjcruz"]'); ?>
Hunter Hathaway:  echo do_shortcode('[twitter follow="travelingpixie"]'); ?>
Jacquelyn / RumplesGirl:  echo do_shortcode('[twitter follow="punk_bunny_87"]'); ?>