Podcast: Play in new window | Download | Embed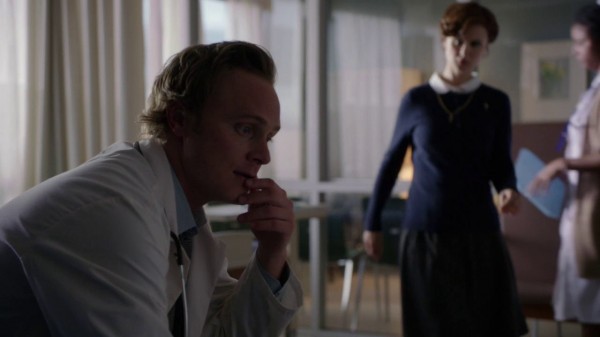 Where are the other fairy-tale characters? Could Dr. Whale be the Pied Piper, or maybe an evil shapeshifter? Rumplestiltskin could be Ariel's Ursula. And how did Rumplestiltskin find Henry before Emma weakened the curse?
Our heads our spinning from the amazing Once Upon a Time theories from our listeners!
News
Feedback
Regina's dresses get darker as time progress and she becomes more evil. At first, it is white when the genie first comes to her palace. Then it turns into gray then eventually dark blue. Later she starts wearing red, then red with a little black, then black with a little red, then see- through black, then just all black.

Joanna
Nice catch, Joanna! It's cool that her color reflected her evilness until, finally, "black suits me."
Hi, podcasters!!! …

I write to you today because… I want to know where everyone went!

SB is a small town where everyone knows each other, and although we haven't seen everybody in it, I think we've seen all of or most of the FTL characters who were cursed by the queen.

But what about King Midas? Or Belle's father? Or any of the other minor, magical characters we've seen on the show?

…

How did us mortals come to hear (although distorted versions) the stories of these characters?
I don't think the writers "edited" our world to be a place where no one had heard the stories before; I think even as Emma was learning the real tales, she was already familiar with them from her childhood…

Clockwatcher
We think everyone was sent to Storybrooke, but we don't expect to see all FTL characters (such as King Midas) in Storybrooke because they had such a minor part.
Binta theorized that Dr. Whale was actually the Pied Piper. After consideration, we realize he must have been someone bad to be so loyal to Regina in Storybrooke.
Jadeth30 thinks Dr. Whale could be much worse than Monstro the whale, but perhaps an evil shapeshifter.
Hey Daniel & Once Podcast Crew,

So, I was re-listening to older podcast episodes today and got down to ep2, The Thing that You Love the Most.  I know a lot of us Oncers speculated after the final scene if Gold remembered and if so, since when?

Before the finale, Edward Kitsis and Adam Horowitz gave a live interview on facebook.

One of the questioned posed to them, was when did Mr. Gold remember?

They answered that Mr. Gold remembered when he met Emma in the pilot at Granny's Bed and Breakfast. But there's a problem with that. I know they're the writers and generally, what they say is the final word but…

I've always believed that Mr. Gold always remembered, which contradicts what Adam and Eddie have said.  Because If Gold only remembered in the pilot, how did he know specifically to get Henry for Regina?  Remember, Regina adopted Henry 10 years before the pilot!

The only thing I can think of is that Mr. Gold had an 'inkling'; he may have not been totally aware of his FT past but he was still drawn to choosing Henry for Regina.

But if what Adam and Eddie said is true, then why didn't Gold pick a different child for Regina to adopt, instead of Henry? Would we even still have the pilot? Kinda doubtful.

Besides Henry, Emma would not have felt a connection or have a reason to come to Storybrooke.  But what about her parents? I don't think it would have occurred to Emma either that they were trapped by a curse in this small town in Maine.  Likewise, it wouldn't have occurred to Mary Margaret that she had a daughter out there, and we all know the condition David was in during the second half of the pilot.

August abandoned Emma when she was a baby, so he sure wasn't going to help prepare her for breaking the curse when she needed too.

Those are my thoughts.

obisgirl
Perhaps Rumplestiltskin wrote something into the curse that would drive him to find some connection to Emma that would bring her back, even if he didn't know why.
Rose spun our heads with a theory that Rumplestiltskin could be Ursula! Support to this is that the Evil Queen came to Rumple asking about the "whereabouts of a certain mermaid." Why would he know?
Upcoming rewatch!
We're planning a scheduled rewatch to find details now that we know all of the first season. Because we're not allowed to stream the episodes ourselves, we recommend that you subscribe or purchase Once Upon a Time from one of the following.
Watch ONCEpodcast.com and follow @ONCEpodcast for announcements and further details.
Summer podcast schedule
With the summer hiatus, we're adjusting our live podcast schedule. We'll record live episodes biweekly at 8:00 p.m. (EDT/GMT -4:00) on ONCEpodcast.com/live.
July 11, 2012
July 25, 2012
August 8, 2012
August 22, 2012
September 5, 2012
September 19, 2012
October 3, 2012 (unless the second season starts before then)
This schedule will remain in effect unless otherwise announced or when the series returns.
We also covered some minor spoilers, but we moved these to the end of this post, in case you don't want to see them.
Preorder the complete first season
The Once Upon a Time DVD/Blu-Ray set is available for preorder from Amazon.com. Order it now and you'll get any price drop between now and when the sets ship on August 28.
Please retweet this!
Minor fairy-tales, Pied Piper, Dr. Whale, Ursula, and more – #OnceUponaTime podcast #43 http://t.co/VdnfolUv #OUaT

— ONCE podcast (@ONCEpodcast) June 28, 2012
What did you think?
Email Feedback@ONCEpodcast.com (audio files welcome)
Call (903) 231-2221
Comment on the shownotes
Visit any page on ONCEpodcast.com and click the "Send a voice message" link to record and send a message right from your computer.
Help us out!
Share this post in your social networks
Follow us
On Facebook:
On Twitter:  echo do_shortcode('[twitter follow="ONCEpodcast"]'); ?>
Daniel J. Lewis:  echo do_shortcode('[twitter follow="theDanielJLewis"]'); ?>
Jeremy Laughlin:  echo do_shortcode('[twitter follow="phlegon"]'); ?>
ErinJ:  echo do_shortcode('[twitter follow="erinjcruz"]'); ?>
Hunter Hathaway:  echo do_shortcode('[twitter follow="travelingpixie"]'); ?>
Jacquelyn / RumplesGirl:  echo do_shortcode('[twitter follow="punk_bunny_87"]'); ?>
Minor Spoilers
Meghan Ory (Ruby) is now a series regular. We've already seen Red and Ruby plenty of times in the first season. What bigger role will she play in season two?
Emile De Ravin (Belle) is also a series regular. Belle appeared in only three episodes in the first season. We think she'll be a key role in Rumplestiltskin's new world with magic.
Season two will pick up right where season one left off, no skips in timeline.