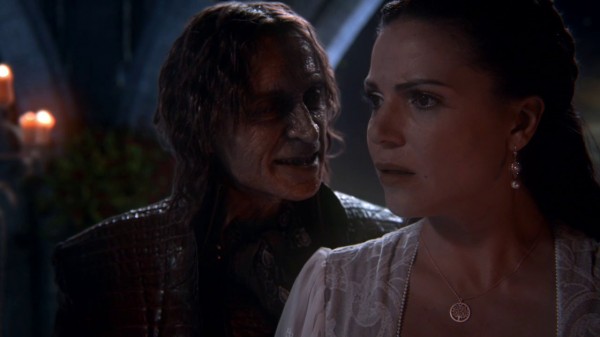 Podcast: Play in new window | Download | Embed
While everyone struggles with dual memories, we see early relationships between dueling villains. We also meet a "new" villain.
Big thanks to our sponsors!
Sandra
Nasser Al Kuwari from Qatar
You can sponsor ONCE podcast, too!
Feedback
Could Tinkerbell be a nun and Dr. Whale be Peter Pan?
Love the show, love the podcast! This episode was so awesome and full of stuff.

Maybe there's more evidence to Dr. Whale being Peter Pan. He was asking about the nuns, if they were still nuns and all that… Maybe he saw Tinkerbell and wanted to know? I thought that was funny! He even told David not to say anything to anyone. Can that mean anything?

Hugs from Brazil!

Larissa
Maybe only Jefferson and Regina can leave
So in the most recent episode of ABC's podcast about the show, the creators made me aware that Gold did indeed have a time where he didn't remember his fairy-tale past. So it was indeed when he heard Emma's name that he remembered. So only Jefferson and Regina would have just one set of memories. They could leave Storybrooke

17JedA
Several theories from Tim
Hello AugustWBooth aka Tim here.

So first I have a very good reason why i was not there last night for your initial reactions. So it is thanksgiving here in Canada and my cousin stayed over to sleep over with my brother. My brother said "Do you want to watch Once Upon a Time with us?" He said yes and so we watched it all together and then I felt the need to share my Once dvd with him. We watched up until the death of our beloved Graham and so now he is addicted. We stayed up till like 2:00 am. It was insane and awesome.

"So simple even David Nolan could do it" is my new phrase for simplicity.

On the "no interference" policy: What is Gold up to????????? Ah the question we have been asking since the beginning of the series continues. Because why would James want to interfere with having Gold get his son back when that is what James wants—his child back.

So thats where Emma and Snow end up. Meeting Kora, does Snow know the name? They will bring kora back to story brooke and then Kora will be the new villain.
This could possibly be one of the best Once Upon a Time episodes

So thanks a million if you get to read this

August w booth (aka Tim)
Don't redeem all the villains!
I did find it a fun episode. Here are my thoughts in regards of season 2, I'm all for some villains redeeming themselves. But right now it feels like they are trying to redeem all their villains. I like Rumpel as a villain, I like Regina as a villain, if you make all your villains redeemable and redeem them, there isn't much conflict. Yeah they can try to return to the Enchanted Forest, but they need antagonists. I feel like the show will lose a lot of depth if Regina and Rumpel are redeemed to soon or earlier. Thanks

Stephanie
Single-memory people can leave, Cora as QoH and Miller's daughter, town hall scene similar to pilot, David's sword
First, I really like that the border of Storybrooke was addressed really early. The fact that they go back to their cursed state makes me wonder. What would happen to those that only had 1 memory (ie Regina, Gold, and Jefferson) passed the border?

A lot of important back-story was revealed in this episode, including teases to 2 character secrets. Those 2 being the following:

-Cora possibly being the Queen of Hearts
-Cora being the millers daughter from the original Rumpelstiltskin story.

When Regina interrupted the meeting at the town hall, that felt very familiar of the pilot, not just because of Mark Isham's score for that moment, but yes, very familiar.

Another thing, where did David find his sword? Did Emma leave it somewhere after the finale?

Anyways, great episode can't wait to see more 😀

17JedA
Regina and Cora might reunite?
Hey Daniel and Once Podcast crew!

Now that Regina realizes what she's become and the mistakes she made as Henry's mother, I think she really does want to redeem herself. If this happens, remains to be seen. Since we know Cora is still alive in the refugee part of Fairytale Land, I think at some point Regina and Cora will reunite. This would be an interesting reunion to say the least!

Keep up the great work and thanks for reading my e-mail!

OnceFanErin
Regina redeemed in S2? David and Regina similar. Cora & Rumple
It was interesting to see more of Regina's backstory this past episode. Before this episode even premiered, my boyfriend and I were talking about Regina possibly being redeemed this season. I think it would be nice to see her redeemed, just not this season. But it seems that is exactly what the writers have in mind. I'm still not convinced that she wants to be redeemed since she did not burn the magic book.

On the flip side, back in fairytale land, we saw her try and run away from her impending wedding like what James tried to do (2 days before his wedding). But Cora stopped Regina by using the vine trick Evil Regina likes using later on.

I had a feeling Regina was the baby from "The Miller's Daughter," story and I think, this episode just confirmed it. But it also raises the question, what was the deal that Cora made with Rumple in exchange for giving Regina to Rumple? Was it to get magic? Because Henry Sr. said that Cora knew Rumple before she married him.

I love how once you use magic, it's an analogy for using drugs which is true, because even Rumple is addicted to magic.

Can't wait to listen to the live show.

obisgirl
Regina's necklace is a tree, like Storybrooke's
I am rewarching episode 2 of ouat, and I just noticed regina's necklace when she is in the enchanted Dorset talking to rumple for the first time, the design engraved in the charm is the storybrooke tree… Thank you for the podcast… I am obsessed, you rock!!!!!!!!!

Nikki
Could Rumplestiltskin be Regina's father?
Hi Once Podcast. Love the show and podcast. While watching this weeks episode my one friend had an interesting theory. Rumpel is Regina's father. When Rumpel says he knew Regina when she was more portable or a baby you immediately would think he made a deal to give her to Cora. However, when he talks to Regina he seems to have a stronger link than just that with her. I thought he was going to tell her something when he clutched her face and looked at her, but moved his eyes like he decided against it. Additionally, he looks at Regina in a somewhat weird way when he says she does not look like Cora. Just a thought since their relationship seemed to be stronger than what Rumpel has with others as portrayed previously in fairy tale land.

Joan Bryant
Might Henry Sr. not be Regina's father?
Hey guys love the podcast, I was wondering in regards to Regina & Cora learning their magic from Rumpel. Is it possible that Henry might not be her true father, or since that sounded a little disgusting. Can it be possible that Cora be the queen of hearts, & might have yet another daughter OTHER than Regina because I don't think that Maleficent is her real sister?

Jourdan
Woman who lived in a shoe at Charming's speech
Hey Podcasters, When watching the last episode "We are Both" I couldn't help notice that during Charming's great speech at the border of Storybrooke I couldn't help notice that when he said "Heck live in a shoe for all you want" there was a close up of an elderly women. ….. Do y'all think we will see the Little Old women who lived in a shoe story to come into play this season?

Thanks for the Great podcast
Kaitlyn/ RoseRed
Once Upon a Harry Potter
Hey Daniel, Jenny and Jeremy and dan,

Isn't the world lovely now  that once upon a time is back? i can't wait to speculate wildly with you guys. to celebrate the new season i Drew a comic based on my favourite moment of episode one

Snow owning the wraith with that flame thrower.

Enjoy!

love the show.

Jess.
(tinymallet on the chat)
Full shownotes coming soon!
Talk about "We Are Both" in our Once Upon a Time forums.
Join us for the LIVE podcast!
Initial reactions on Sundays at 9:15 p.m. (EDT/GMT-4)—right after the Eastern and Central episode airing.
Full discussion, feedback, and live calls on Wednesdays at 8:30 p.m. (EDT/GMT-4).
On these dates, visit ONCEpodcast.com/live to watch and chat live.
Thank you for the Apple Podcasts reviews!
Teacherkt
tk0016
mdearth24
dewis9
Arjan Torreon
genevieverl
ShaFlute
Please retweet this!
Use the social buttons or retweet the following.
Hear great "We Are Both" theories and discussion in this #OnceUponaTime podcast! http://t.co/hUYx0Gpz

— ONCE podcast (@ONCEpodcast) October 11, 2012
What did you think?
Email Feedback@ONCEpodcast.com (audio files welcome)
Call (903) 231-2221
Comment on the shownotes
Visit any page on ONCEpodcast.com and click the "Send a voice message" link to record and send a message right from your computer.
Help us out!
Share this post in your social networks
Follow us
On Facebook:
On Twitter:  echo do_shortcode('[twitter follow="ONCEpodcast"]'); ?>
Daniel J. Lewis:  echo do_shortcode('[twitter follow="theDanielJLewis"]'); ?>
Jeremy Laughlin:  echo do_shortcode('[twitter follow="phlegon"]'); ?>
ErinJ:  echo do_shortcode('[twitter follow="erinjcruz"]'); ?>
Hunter Hathaway:  echo do_shortcode('[twitter follow="travelingpixie"]'); ?>
Jacquelyn / RumplesGirl:  echo do_shortcode('[twitter follow="punk_bunny_87"]'); ?>