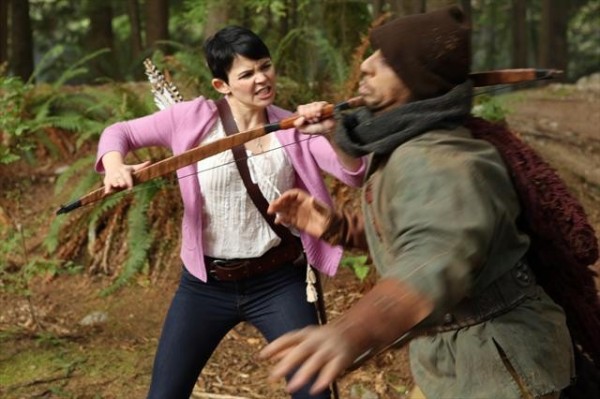 Podcast: Play in new window | Download | Embed
We get answers about the nightmare, Mulan, and Aurora. But we have new questions about Hook, Cora, and Regina.
These are just our first thoughts about this Once Upon a Time episode, and we'll share more in our upcoming full episode.
Cora does everything in her power to steal the compass away from Mary Margaret and Emma in her quest to find the entrance to Storybrooke. Meanwhile, in order to protect Henry from further danger, Regina and Mr. Gold must put David's life in jeopardy in an attempt to put him in contact with Mary Margaret across the lands to give her vital information that could help her and Emma return through the portal back to Storybrooke.
Big thanks to our sponsors!
You can sponsor ONCE podcast, too!
Initial reactions
Some of our interesting discussion points (in no particular order):
Hook and Cora together again, but where is Hook's true allegiance?
Cora has "crossed too many worlds"—how, when, and which worlds?
Cora still has hearts and can summon the dead.
Snow did confirm that she has had the same nightmare.
Gold has a complicated relationship with Granny. Could he be the "powerful wizard" who gave Granny the cloak for Red ("Red Handed")? Or is there more of a story there?
Regina said she saw the body of Cora and thought she was dead. Rumple said that he won against Cora. What battle and fake death might this have been?
Aurora is finally stepping up to be a hero.
Was Cora telling the truth that the wraith makes soul travel to another realm?
Was "Woods of the dead" (with the last poppy seeds) something from another story?
Regina really is trying to redeem herself. But does she have ulterior motives in putting David under the sleeping curse?
Soul kiss!
We gave everything a brief overview and would love to hear your thoughts!
Talk about "Into the Deep" in our Once Upon a Time forums
Please retweet this!
Listen to the "Into the Deep" initial reactions in this #OnceUponaTime podcast: http://t.co/rxVGURGT

— ONCE podcast (@ONCEpodcast) November 26, 2012
Thank you for the Apple Podcasts reviews!
TheGreeneLight
Luciana Zendron
47Lucy
Myers_G
Teacozy
Please rate and especially write a review for us on Apple Podcasts. It really encourages and helps us!
Upcoming costume contest!
Send us photos of your Once Upon a Time costumes because we're going to have a costume contest, voted on by the fans! We'll have more details soon.
Preorder season-two DVD/Blu-ray set!
You can now preorder the complete second season of Once Upon a Time on Amazon.com! For a limited time, save $10 off the DVD set and $15 off the Blu-ray set!
Preorder the second season today!
Join us for the LIVE podcast!
Initial reactions on Sundays at 9:15 p.m. (EDT/GMT-4)—right after the Eastern and Central episode airing.
Full discussion, feedback, and live calls on Wednesdays at 8:30 p.m. (EDT/GMT-4).
On these dates, visit ONCEpodcast.com/live to watch and chat live.
What did you think?
Email Feedback@ONCEpodcast.com (audio files welcome)
Call (903) 231-2221
Comment on the shownotes
Visit any page on ONCEpodcast.com and click the "Send a voice message" link to record and send a message right from your computer.
Help us out!
Share this post in your social networks
Follow us
On Facebook:
On Twitter:  echo do_shortcode('[twitter follow="ONCEpodcast"]'); ?>
Daniel J. Lewis:  echo do_shortcode('[twitter follow="theDanielJLewis"]'); ?>
Jeremy Laughlin:  echo do_shortcode('[twitter follow="phlegon"]'); ?>
ErinJ:  echo do_shortcode('[twitter follow="erinjcruz"]'); ?>
Hunter Hathaway:  echo do_shortcode('[twitter follow="travelingpixie"]'); ?>
Jacquelyn / RumplesGirl:  echo do_shortcode('[twitter follow="punk_bunny_87"]'); ?>