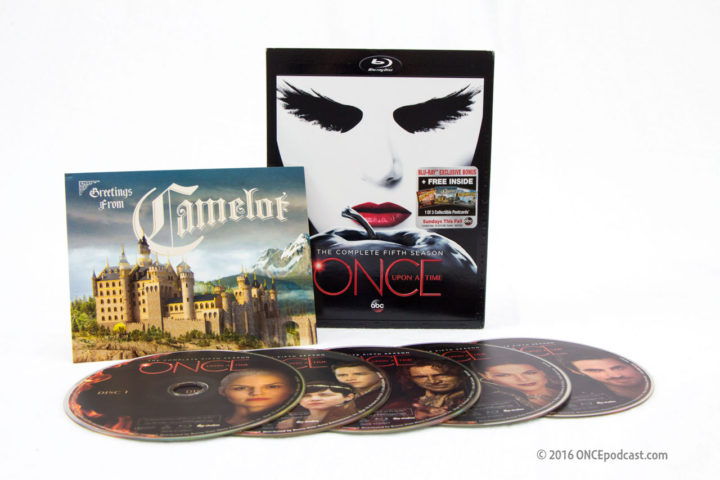 We have watched and re-watched the fun extras that came with Once Upon a Time Season 5 DVD/Blu-Ray so we want to share some our thoughts and review and interesting little tidbits with the commentaries and other special features on the season 5 disc. Watch our unboxing video in case you haven't seen in yet and see how the Once Upon a Time season 5 DVD/Blu-Ray looks like!
Podcast: Play in new window | Download | Embed
Click here to get your Once Upon a Time T-shirt and tweet us a photo when you wear it!
Add the complete fifth season to your own collection!
Audio Commentaries
Overall, the amount of content that we got was significantly less. Normally, we get at least 5 commentaries per season but this time, there were only 3. However, they did have more deleted scenes this season more than the past. Plus, the deleted scenes this season were more meaningful compared to the ones in the earlier seasons. There were more content in them rather than just throwing them out there so we can see it. But while it was meaningful, Adam Horowitz tweeted that all deleted scenes are no longer canon, which was a bummer because there are a lot of really good stuff in them. So we can no longer take it into consideration whether a deleted scene answered a couple of questions in the past, or if it even helped the timeline.
Aside from the deleted scenes and other special features, the Once Upon a Time season 5 DVD/Blu-Ray also comes with a free postcard. There is a special on-going sale on T-shirts; fan-made t-shirts that we hand-selected that Once Upon a Time fans would certainly like, including several of each characters and ships. The sale runs from August 18-21.
5×01 "The Dark Swan" – Adam, Eddy, and Jennifer Morrison
We really liked this commentary. We loved Adam and Eddy's perspective on things and bringing the actors with them. There's a big dynamic difference between those commentaries that are only the writers and the producers, and the ones that include the casts. What we liked about it is what we get from the cast is what we can't necessarily get from the writers and producers. From the cast, we hear from them the experience behind what we're seeing in the screen; the thinking on how it went into things, or how they decided to act to a particular thing, bringing a bit more personality to the people that we see on the screen. It was also a very appropriate choice to have Jennifer Morrison do the commentary for this episode, knowing her acting style and creating the different personas for the Dark Swan, as well as how she pieces in timeline-wise, showing how talented she is to be able to do that in this episode.
It was crazy how McKenna Grace, the little girl who played Young Emma, was also in a film with Jennifer Morrison (Amityville: The Awakening) before she was on Once Upon a Time.
One of the tidbits that came out from the commentary was when Eddy Kitsis said, "We always loved the idea that two things would fit together and be broken," which kind of sounds like the Excalibur and the dagger being connected being part of something bigger was always sort of an idea at the back of their minds, but was not necessarily there from the beginning to say that the dagger was part of the Excalibur.
Liam Garrigan, the actor that plays King Arthur, was originally considered for Hook's brother but they weren't able to get him due to scheduling conflicts. Fortunately, he was available when the character for King Arthur came up because he fit the part well.
They said that Emma becoming the Dark One was planned "for a long time," and that they approached Jennifer Morrison in season 4. We also learned from this commentary that Emma was sort of like a new Disney princess and Dark Swan was like a new villain. In addition, Morrison revealed that she enjoyed working so much with Robert Carlyle. They also talked a little bit about Amy Manson playing Merida and said that Pixar was very willing to give notes for Merida. It was also surprising how they said in this episode commentary that Merida was the only person to never really forgive Emma, that she really didn't trust Emma at all, which was understandable since most of the scenes that Merida had with Emma had been her as the Dark One.
Another thing that talked about what darkness and being the Dark One does to a person and they said that being the Dark One is a magnifying glass that reveals who you really are, including with Hook. They also said that darkness "provides some freedom" for the inner impulses. Cutting someone's hand off was something they wanted to do with Hook (back in 4×04 "The Apprentice"), but ABC thought it was too gruesome. Now, they were allowed to do it with Zelena, probably because of the way it was done.
We liked how they acknowledge how far Regina and Emma's relationship have come. Kitsis and Horowitz also pointed out that Emma was the glue that keeps everyone together; she was the pop of color among the dreadful town that is Storybrooke.
5×08 "Birth" – David H. Goodman, Jerome Shwartz, Colin O'Donoghue
This commentary has actually been released months ago if you signed up for the season pass on iTunes, so even though it was cool that it was added, it kind of diminishes the value of buying the disc set a little bit. That being said, it was a fun commentary to watch because they just threw in a lot of little things that makes you think, one being the Snow Globe detector, which was a Snow Globe found at Mr. Gold's shop used to detect when a Dark One comes in. In the episode, it started going off when Hook walks in, a slight hint indicating that Hook is a Dark One.
Some of the things that we learned about this commentary was that with the scene where Hook took the squid ink off the wall from the frame, somehow, they forgot that he only has one hand. And the whole thing about Hook being the Dark One, they mentioned that it was planned since the beginning of the season. One of the other funny comments from this commentary was when they said, "This is the show where you get to play multiple death scenes and keep acting on the show." It was also nice knowing that the onion rings was an accidental convenience to use for the idea of speeding up Zelena's pregnancy.
5×22 "Only You" – David H. Goodman, Andrew Chambliss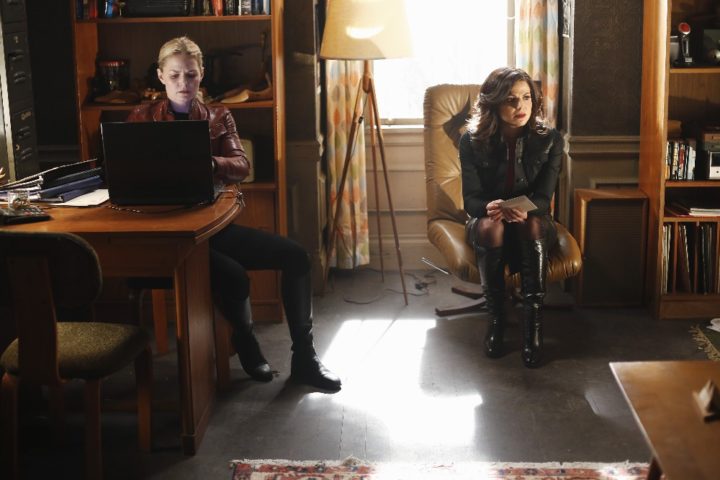 One of the disappointing thing in this commentary was that even though it was the finale episode, they only did the commentary only for the first hour, Only You. If we had to choose, it would have been better to hear the second hour rather. Nonetheless, it was a really good commentary. David H Goodman and Andrew Chambliss both said that this was the first time that they penned the episode together, though they've been with the show since the beginning.
According to Chambliss and Goodman, the opening scene of Regina in Granny's was not the original opening scene. Originally, they planned the episode to open with Mr. Gold in the Clock Tower and Emma and Hook walking down Main Street as the first two scenes, but went with Regina first because so much of 5×22 and 5×23 is her episode and wanted to get inside her head from the get-go.
They also talked quite a bit about how production sometimes dictates story. For instance, the scene in the Clock Tower was originally supposed to be in the woods, but the producers asked to move it to the Clock Tower because that's an indoor, stage set and it's easier than night production outside. The writers agreed because it's more symbolic to be shot in the Clock Tower, rather than have it in the woods. We also spent a lot of time in New York City, but the NYC scenes were actually shot in Vancouver. It was also revealed that the same streets were being used by Fifty Shades of Grey at the same time, so they had to squeeze in time to shoot their stuff.
When they were talking about the door that Zelena made that took everyone back to the Enchanted Forest, they hinted that maybe someone snuck through in the other direction from Zelena's door portal, which was an interesting idea for season 6. They also joked that maybe some people didn't want to go through or maybe someone or something else came through. Perhaps Guinevere stayed behind?
For the season 5 finale, they wanted it to feel as big and as epic as season 3 and 4 finale, but didn't want to revisit the same "concept" of alternative realities, so decided to make it a character focused episode devoted to Regina and Emma, which is why we spent so much time with the two of them in the episode, especially in "Only You." They also had a lot to say about the great Regina and Emma scene in Neal's apartment. Originally, they planned to cut it down in editing but decided against it since Lana Parrilla nailed the entire thing. They think this scene perfectly captures Regina's entire journey over 5 seasons and highlights how far Emma and Regina have come. The director for this episode, Romeo Tyrione, let Regina figure out the blocking of this scene because he didn't want Lana to feel hampered by needing to find her spot. Jennifer Morrison also improvised some of Emma's reactions like handing Robin's letter to Regina at the end. The scene ends with Mr. Gold listening outside the door, but was supposed to be longer with Mr. Gold coming into the room and locking Regina and Emma up with chains.
They also teased a few objects that were inserted in this episode that might come into play next season. The Snow Globe with an entire town trapped inside that Henry talked about earlier in the episode, apparently it got Eddy Kitsis very excited over that one and are hoping to return to it someday. Also, the feather that Roland gave to Zelena for Regina was meant as an emotional moment but will also likely appear in season 6 and might have some sort of magical significance.
This part of the commentary was one of the moments that makes you laugh but, at the same time, also kind of makes you groan and worried because they said, "Down the road, we can always pay that off in some kind of really cool way that, even at the time, we may not know. But after we do it, we can say we planned it the whole time and look really smart." This made us think whether Hook becoming the Dark One was really planned all along. That being said, back when Emma agreed to owe Mr. Gold a favor, we kept theorizing that Emma would eventually become the Dark One herself. Did the writers get the idea of Emma becoming a Dark One from us?
It was also interesting to hear Andrew Chambliss say how he really wanted to do the "blood bead" shot for about 7 years, ever since he worked on The Vampire Diaries, and was glad that he finally got to show it when Regina pokes Emma to find Henry.
They cast Hank Harris and Sam Witwer very quickly because they were so great in the auditions, and because Adam and Eddy have previously worked with Harris as well. They also discussed how hard it is to play a villain on the show, how you have to be larger than life but still have something "human" in the performance. They also talked how Lana and Bobby have been doing it for 5 years and looking to them as the model for playing a villain on the show. Plus, the way that they developed the villains on the show have been really cool; how villainry starts with one wrong decision or move.
For the reveal of Jekyll and Hyde, the writers like to ramp up to it, instead of flat out telling the audience. But they put in hints like the steampunk vibe to get the audience to start thinking about 19th Century Gothic literature. For the Land of Untold Stories, meanwhile, they began to call it "Disneyland" because when they envisioned it, they thought it would look like Disney with multiple lands inside a big realm.
They also talked about Rumplestiltskin having to choose between power and the person he loves is referred to as "Eddy bait." They think he always chooses power and did in the scene where he runs quickly to the Crystal and then the box. They also mentioned the violin music that plays over the final scene, which was shot using both a traditional crane and then switches to CGI when all of Forgotten Character Island is revealed. The Jekyll and Hyde suite from the finale is available to listen on Mark Isham's site!
Even though we only got 3 audio commentaries, we were glad that they stayed on-topic, and it was nice hearing from the writers aside from Adam and Eddy, as well as and one of the actors. We also liked hearing from both the writers and the actors because not only do we get to hear what's in the writer's mind, we also get to know what's going on in the actor's mind as they're portraying their characters, some of the behind the scenes things that happened, or what they were thinking about a particular scene, as well as the implementation of the ideas.
Deleted Scenes
The deleted scenes were more produced this season than in previous seasons. Either they were cut later in production, or they produced these scenes a little bit more for the benefit of the audience watching the deleted scene.
For the past few years, it was said that the Deleted Scenes are considered Canon, but Adam Horowitz tweeted a few days ago that the deleted scenes are no longer canon. It's a bummer, considering the books are still considered canon, but not the deleted scenes on the disc set.
Among the deleted scenes that we got for the following episodes are as follows:
"Another Option" (Souls of the Departed – Scene 23)
What a great conversation between Regina and Henry about her dad in the docks, and it also better explains why Regina stayed after Cora's ultimatum. Although we kind of get why she stayed in the episode, this goes into more detail. It was a really beautiful scene between Regina and Henry, which kind of mirrored Regina with her father later in the episode before Henry Sr. crosses over into the better place. It was also cute watching Regina, Henry and Robin Hood walking away together as, like, a little family.
"Blocked Magic" (Devil's Due – Scene 10)
In this deleted scene, Regina and Emma had a heart-to-heart inside Mary Margaret's apartment in the Underworld about struggling with magic and Regina expressing guilt over all the murders she committed, as well as talking about Neal and Daniel. We wish they had kept this one, too. It's nice to hear Emma acknowledge that Neal was her first love and that she still feels bad that she couldn't save him. This scene also proved how far Regina and Emma have come since the beginning of the series.
"Eating Feelings" (Siege Perilous – Scene 13)
It was also another good heart-to-heart scene, this time between Snow White and Guinevere. Guinevere may not have many good dialogues, and it was a really good heart-to-heart between two women talking about what they think Emma has done and how Guinevere does not hold Snow White responsible, as well as how she was concerned and compassionate.
"Enchantment" (Swan Song – Scene 36)
This is the one that we were thankful that was cut from the episode. We watched back the episode 2×09 "Queen of Hearts" where the Evil Queen enchanted Hook's hook, which would seemed like a re-do of the scene that we've already seen in a previous episode. It was great that they deleted this scene, but it reminds us how uncanon Hook's errand to kill his father was. This scene would also not clear up the timeline at all because of Regina's outfits.
"Fork in the Past" (Nimue – Scene 13)
For this scene, Merlin talked about a legendary sword that will inspire books and movies, which was a nice movie reference, and kind of reminded us of 3×01 "The Heart of the Truest Believer" with Neal and Mulan.
"Loaded" (Only You – Scene 16)
This was a beautiful scene between Violet and Henry when they found the original copy of "Only You" because Neal kept his original copy of the song on vinyl. And at one point, it also sounded like Violet accidentally called Henry "Harry?"
"Reconnecting" (Devil's Due – Scene 23A)
It was sweet seeing Emma reattached Hook's hook. It helps us understand why Zeus didn't give Hook's hand back; the hook is what makes Hook. It's the flaws that make the person special and different. Plus, the scene called "Reconnecting" was also a double meaning, with it's Emma and Hook reconnecting, as well as Emma reconnects the hook into Hook's arm.
"Safe & Cloud" (Broken Heart – Scene 29)
This scene with Lancelot casually strolls in the woods and seeing the Dark Curse being cast is one of those scenes that we were also glad to be cut out. Wasn't he supposed to go get his mother?
"Savior Remains" (The Price – Scenes 1-2A)
This was supposed to be the scene after Emma disappeared from the previous episode and Regina and everyone was looking for her and her red leather jacket was there at the Sheriff's station. It was also weird seeing Storybook not looking like it without the visual effects, like the Clock Tower.
"Stunner's Stew" (Dreamcatcher – Scenes 1-2)
This deleted scene was probably made for Jeremy. In this scene, the Apprentice brings a baby squid to Merlin, which he plopped into a cauldron, and out pouring comes squid ink. But as ridiculous as this scene makes, it also now makes sense why Dark One Nimue froze awkwardly until Merlin dropped the Dagger.
"Unappetizing" (Firebird – Scene 1)
This was when Hades was waiting for Zelena at Granny's diner and the Blind Witch is there, and pretty much offered herself to Hades as a replacement for Zelena, to which Hades replied, "I may be a god, but even I don't like burnt offerings." Fun aside, this also kind of answered one of the questions that we had back when we were watching the episode when Hades appeared on the street and asked Emma and the others for help with a scroll in his hands, indicating that Rumplestiltskin and Peter Pan had Zelena. Apparently, the scroll magically appeared to him in the Diner.
"Writing Wrongs" (Sisters – Scene 8)
A nice deleted scene between Emma and Henry struggling with his power as the Author, we wish they had kept this one, too. It was nice to see Emma wrestling with some of the guilt of killing Cruella since so much of season 5B was about Emma and her choices and its consequences.
Once Celebrates One Hundred
Once Upon a Time had its 100th episode within season 5, which is really big for many TV shows to have reached a one hundredth episode. It was a short video, but they had a big viewing party where, at the background, was a big poster of a collage of the different apples from the show, which is like what they have been doing with the disc sets. One of the funny things about this special feature is when Rebecca Mader said, "This show could go on for 100 years."
Merida in Storybrooke
This special feature talks about Amy Manson becoming Merida. It was cool to discover how they modeled everything from Merida's bow, arrows, and sword are modelled directly from Pixar's Brave. They even revealed that for Merida's bow, they had to use some 3D printers just to get her bow look exactly like the one in the animated feature.
Tales from the Underworld: A Knight with Cruella
This was not quite how we expected it to be but this, alone, made the DVD/Blu-Ray. Written by Jane Espenson, this special feature was a very entertaining scene between Cruella and Mordred, which was set 50 years after Arthur took over the Underworld and could have been the farthest time hop we've seen on the show. In this feature, Sir Mordred said that he was a knight from one of those from the Roundtable, tried to usurp Arthur's throne. That being said, Mordred was not just a knight of the Round Table, but usually Arthur's son by Morgan la Fey. Death at the Battle of Camlann in which he wounded Arthur.
The Fairest Bloopers Of Them All
The bloopers this year was more hilarious compared the ones we've seen from past seasons. Seeing the blooper reel also made it seem like they really were having fun making the show. It was also funny how often Colin messes up.
Among the gag reels, we liked the one best with Emilie de Ravin at Mr. Gold's shop, looking all pregnant, as well as the one with David putting a ticket on Cruella's car with a For Sale sign, among the many others that was already there. We also liked the one with Cruella and David pretending to be James with Cruella saying, "It's all going horribly wrong!"
Thank you for the podcast reviews!
Cantaloupe7 said, "I look forward to this podcast! So many times, the hosts are saying exactly what I'm thinking! Funny and entertaining!"
DanielleG43 said, "Great podcast! They are friendly and informative and I enjoy listening to it."
Mikapalmieri, from Brazil, said, "A way to improve my experience with watching Once. Gotta love this podcast. Great opinions every week with deep discussions and an amazing sense of humor throughout the whole thing. These guys have made my experience with Once Upon a Time bearable since the series plot have become weaker and weaker… Hope you can still do what you do best and help me and others put up with this show about hope – the hope that it comes back to be a great show. If only the producers would listen to this podcast…"
Your reviews encourage us and help others find the podcast!
Please rate and especially write a review for us on Apple Podcasts.
What did you think?
Email Feedback@ONCEpodcast.com (audio files welcome)
Call (903) 231-2221
Comment on the shownotes
Visit any page on ONCEpodcast.com and click the "Send a voice message" link to record and send a message right from your computer.
Help us out!
Share this post in your social networks
Follow us
On Facebook:
On Twitter:  echo do_shortcode('[twitter follow="ONCEpodcast"]'); ?>
Daniel J. Lewis:  echo do_shortcode('[twitter follow="theDanielJLewis"]'); ?>
Jeremy Laughlin:  echo do_shortcode('[twitter follow="phlegon"]'); ?>
ErinJ:  echo do_shortcode('[twitter follow="erinjcruz"]'); ?>
Hunter Hathaway:  echo do_shortcode('[twitter follow="travelingpixie"]'); ?>
Jacquelyn / RumplesGirl:  echo do_shortcode('[twitter follow="punk_bunny_87"]'); ?>