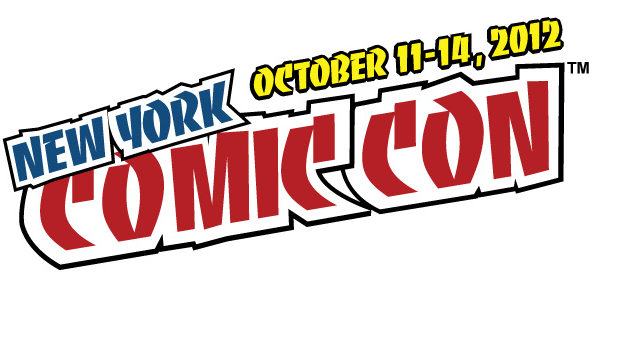 Yesterday New York had their very own Comic Con and there was a panel of Once Upon a Time with Adam Horowitz and Eddy Kitsis, they also invited a very special guest none other than Jennifer Morrison!!!
Matt Mitovich, the host, opens up with asking Jennifer is it true that season three is one of your favourite seasons to be filming.  Jen says that she is really liking filming season 3 because they are digging deeper into each character and their emotions and its really fun working with all the main actors again.
Eddy makes a nice joke about Emma being in her tank top again and when they do this it means they are ready for business. Jennifer also points out in the first couple of episodes of season 2 when Emma was in the fairy tale land she was only wearing one outfit and it must've been smelling so the actors tried to sneak on a backpack, so if you re-watch the finale of season 2 you will notice Mary Margret wearing a backpack with is meant to have lots of clothes. Adam and Eddy noticed this so they send a fleet of mermaids to destroy the clothes. (Good job guys!!)
Rumplestiltskin
Eddy also points out that Rumplestiltskin is many things but a team player is not one of them, so that is why they send him on his own to face his past. "Neverland is a place where no one grows old so you must face your past", said Eddy.
Emilie de Ravin
Matt brought up Emilie de Ravin in Storybrooke and what is happening there and Adam reassured people that we will be seeing Storybrooke and what exactly has been happening. They revealed that in episode 7 (Dark Hollow) we will revisit Storybrooke from the moment that the ship went in the portal and we will see Belle doing the protection spell and something else which is not told, they will also be filling in all the blanks of what has been happening.
Charming
Eddy and Adam start to speak about Charming's cut from the poison arrow and say that he is always the hero and right now his mission is to save Henry, so he doesn't want to side track them by telling them about the poison. In the next couple of episodes we will find out why Charming is so charming. David has a burden to hold and he will be acting differently around some of the characters and this is going to be a real test of his strength as a human.
Pan
This was a direct question from Matt and I'm sure a lot of us have probably asked something similar, why doesn't Pan just take what he needs with Henry and dispatches him? Eddy jokes and says well then there will be no story, but Jennifer adds that there is a pacific reason to that and we will be building to it. Eddy also says that by the end of tomorrow episode we will see more of his motivation and exactly what Pan has in store for Henry.
Bambi
In the full discussion of last week's episode, I know Daniel, Jeremy and Jenny mentioned the Deer in the background with Snow and Charming and I guess they weren't the only ones to see that because Matt pulls out a picture of this and ask if this was done on purpose. On a sad note the writers did not plan this, it was purely by attention and they just went with it.
Emma kissing
Matt asked Jen if she has a favourite episode from this season, and she goes quiet and says well, it's always fun when you kiss someone. (:O who? Who? Who?) From this they talk about how Emma is so focused on getting Henry and she doesn't want to think about anything else and get distracted. Jen also mentions Neal and her relationship with him and IF he were to come to Neverland it won't be as simple as running into each other's arms, they have a very complicated relationship. In Emma's eyes Neal betrayed her for 10 years and that's a very difficult thing to forget.
Good Form
Adam and Eddy have confirmed that episode 5 (Good Form) will be a Hook centric episode, more importantly Killian Jones and how he became a pirate. This episode will reveal a different side of Killian that we've never seen before.
Tink and Regina
In today's episode Regina will have to face her past with Tinkerbell. Tink tries to help Regina move on from Daniel and helps her find someone she may love. We will also find out who is right for Regina tonight!! (Ahhhh, :D)
Shipping
They also talk about the different ships that the fans are creating, more so, CaptainSwan, SwanFire and SwanQueen. Adam says he loves all the different ships out there and Jen thinks they are all awesome, all the different combinations. Adam and Eddy also mentioned that we will get to see Regina teaching Emma magic and we will also see the story of how Phillip got out of the Wrath but not in the first 111 episode arch; however, we will see an interesting scene between Mulan and Aurora.
Emma
Jen gives a really beautiful speech about how Emma was feeling in the first scene of the season. She says that Emma didn't want to touch or look at Henry because if she didn't she wouldn't let go of him. Emma wanted Henry to have the best life possible and that wasn't with her in a prison cell.
Mulan and Aurora
I'm not sure what to make of this, however, someone in the audience mentioned they would like to see Aurora and Mulan together and Jen got a big grin on her face and said "I think you should keep watching because I think you will see what you want to see". I kind of got the hint that perhaps the Aurora and Mulan ship will go ahead; however, it confused me because Phillip is back and he woke Aurora up with true loves kiss. (I don't know, I guess we will see tonight)
To end on a very exciting note Eddy said we will be defiantly be seeing Ursula in this season, but the question is who will it be? And will you like the twist.
Thank-you for reading and I hope you enjoy tonight's episode and listen to the initial reactions with Daniel and Jeremy. (Maybe Jenny should join the initial reactions as well :D!! )
Watch it for yourself below if you'd like 😀
---
ONCE podcast is the #1 unofficial podcast for ABC's TV show Once Upon a Time. The podcast is hosted by Daniel J. Lewis, his wife Jenny, and Jeremy Laughlin. ONCE podcast was a finalist for best TV/Film podcast in 2012.
For more in-depth reviews, theories, easter eggs, and talk about Once Upon a Time, subscribe to ONCE podcast for free in iTunes or your favorite podcast directory; visit the ONCE podcast website for screenshots, shownotes, and blog posts; and join the Once Upon a Time forums to talk with other fans.