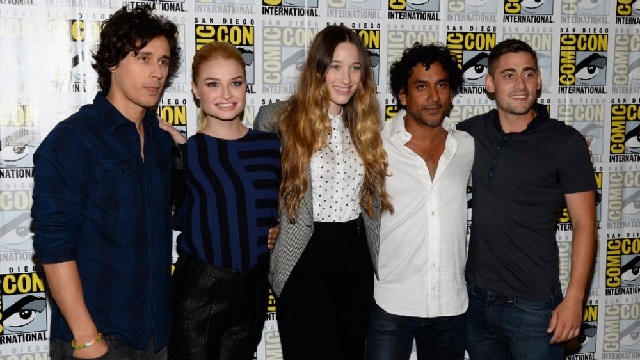 Adam and Eddy sure did love their Lost years and the cast they worked with, First they brought Alan Dale in Once Upon a Time, then Emilie de Ravin, then Jorge Garcia and now they have brought Naveen Andrews in Once Upon a Time in Wonderland to play the new villain Jafar! This was a surprise for a lot people and they only revealed it at the start of the panel.
The people that attended the OUATIW panel was Naveen Andrews, Michael Socha, Sophie Lowe, Emma Rigby, Peter Gadiot and of course the executive producers Eddy Kitsis, Adam Horowitz and OUAT newbie Zack Estrin.
When Eddy and Adam were asked about how they choose their cast they said they just wanted to get the best cast they could, just like in Once, they then joked, "all we had to do was go to England and Australia".
Eddy and Adam are planning on doing a complete story of Wonderland, with a beginning, middle and end of this particular story arc. Adam said if the series goes well and people want me more, they will move forward and tell a new story with the same cast.
Eddy mentioned a number of questions that will be answered in the journey of wonderland's very first season. How and why Alice got to Wonderland, who her father is? How she ended up in the asylum, what's her backstory with each of the characters?, the backstories of everyone else, why Jafar is in Wonderland?  And How Cyras got in the Genie bottle in the first place. These are just a few questions to start with and I'm sure as the season starts some with be answered and more questions with arise just like Once Upon a Time.
Eddy and Adam also gave some teasers about some of the characters and what to expect to see. Jafar will be scary and frightening but he will also have a surprising humanity that's driving him.
The Knave of heart story will lead back to the enchanted forest in an interesting way and this will defiantly be explored.
They also spoke of the Red Queen's magic and how it is similar to the Queens of hearts magic and maybe their paths could have crossed once. Barbara Hershey might come in as a guest star to perhaps show this backstory.
We will be either seeing or hearing about March Hare and the Door mouse and we will defiantly be seeing the Cheshire Cat and the Hookah-smoking caterpillar still voiced by Roger Daltrey.
Although Eddy and Adam do love Sebastian Stan, Mad Hatter in ONCE, he is a very busy guy working on being the Winter Soldier in Captain America, if he has time he could guest star but more likely they just might mention him in the show.
Watch the Once Upon a Time Wonderland Panel yourself below:
---
ONCE podcast is the #1 unofficial podcast for ABC's TV show Once Upon a Time. The podcast is hosted by Daniel J. Lewis, his wife Jenny, and Jeremy Laughlin. ONCE podcast was a finalist for best TV/Film podcast in 2012.
For more in-depth reviews, theories, easter eggs, and talk about Once Upon a Time, subscribe to ONCE podcast for free in iTunes or your favorite podcast directory; visit the ONCE podcast website for screenshots, shownotes, and blog posts; and join the Once Upon a Time forums to talk with other fans.