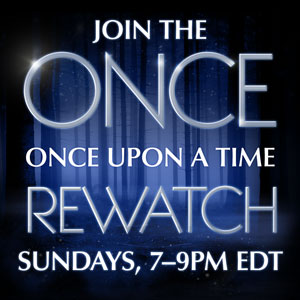 UPDATE: you can get a free two-month trial membership to Hulu Plus here. (This is not our own affiliate link and it may expire without notice.) Update 2: The free two-month trial of Hulu Plus has ended, but it's still a great way to rewatch Once Upon a Time for only $7.99 per month! Update 3: There's still a free one-month trial of Hulu Plus, courtesy of Roku.

Update 4: Once Upon a Time is now available on Netflix streaming! We're all excited about Once Upon a Time's return! To ramp up the energy and have a great time with our community, we will be hosting a synchronized rewatch with a live chat room.
For all who already saw season one
As we rewatch the episodes, we'll be in our live chat roomdiscussing the things we saw and notice with our hindsight of the whole season.
Rewatching two episodes each week
We have about eleven or twelve weeks until Once Upon a Timecomes back. So we'll watch two episodes each time.
Sundays, 7–9pm (EDT/GMT-4), July 15–Sep. 23
We hope this time will work best for most of our community.
Rewatch Once Upon a Time in your own home
ABC has denied our request to live-stream episodes of Once Upon a Time. So you'll need to watch it with us from your own access:
DVR'd recordings,
Hulu Plus (stream: $7.99/month),
Amazon Instant Video (HD stream: $1.99/episode, $34.99/season), or
iTunes Store (HD download: $2.99/episode, $44.99/season; SD download: $1.99/episode, $34.99/season)
How to rewatch
Join the live chat room.
Queue your DVR, purchased downloads, Hulu Plus, or however you have Once Upon a Time.
Get synchronized and start the episodes with us right on the hour.
Pause for "commercials" and allow resyncing.
Chat with fellow Once Upon a Time fans during the rewatch.
Share your new revelations in the Once Upon a Time forum.
There will be no Once Upon a Time podcast on these nights, only the live chatroom. So please join us at 7–9 p.m. (EDT/GMT-4) Sundays, July 15–September 23!
Please help spread the word
You can include our badge on your website: Join the Once Upon a Time rewatch with ONCE podcast
And retweet this often! https://twitter.com/ONCEpodcast/status/224135352548462592
Episode schedule
July 15: Pilot and "The Thing You Love Most"
July 22: "Snow Falls" and "The Price of Gold"
July 29: "That Still Small Voice" and "The Shepherd"
August 5: "The Heart Is a Lonely Hunter" and "Desperate Souls"
August 12: "True North" and "7:15 a.m."
August 19: "Fruit of the Poisonous Tree" and "Skin Deep"
August 26: "What Happened to Frederick" and "Dreamy"
September 2: "Red Handed" and "Heart of Darkness"
September 9: "Hat Trick" and "Stable Boy"
September 16: "The Return" and "The Stranger"
September 23: "Apple Red as Blood" and "A Land Without Magic"
September 30: Season two airs!