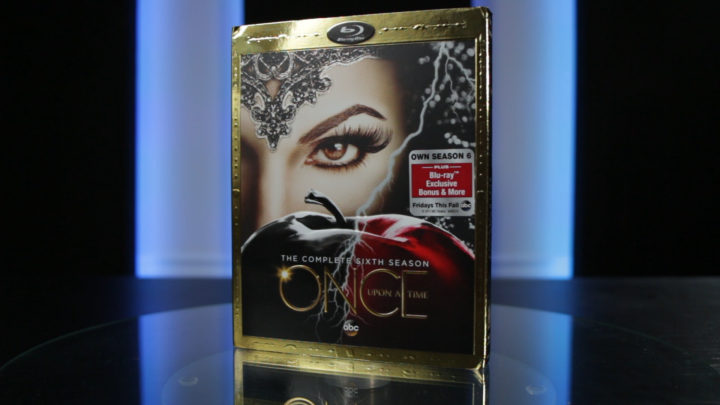 Before going into the details of the special features, we got the chance to get a copy of complete Once Upon a Time season six DVD/Blu-Ray a little early. Watch our unboxing video of the season six DVD/Blu-Ray where we share some of our initial thoughts on what's inside the box. Now that we had the opportunity to see the actual content of the box, the very little content on the discs, we want to share our thoughts on the audio commentary, deleted scenes and other special features on our season six DVD/Blu-Ray review!
Podcast: Play in new window | Download | Embed
Order your own copy of the sixth season here!
Audio Commentary
The commentary for this season only consisted of only one episode—The Other Shoe. It was a good episode, but it wasn't a significant enough episode that we didn't expect to see a commentary for it. Although it was nice to see Jessy Schram again as Cinderella/Ashley, as well as her baby Alexandra and Prince Thomas/Sean. One interesting tidbit shared during the commentary was how funny it was to see Colin O'Donoghue, who plays Hook, play with the little girl by putting a whip cream on his nose, which was totally improvised by O'Donoghue. The people in the scene loved the ad-lib that O'Donoghue had to do it again and again as they film the diner scene with Ashley's daughter. Recorded by Steve Pearlman, Jane Espenson and Jerome Schwartz, it's surprizing that they didn't pull in any cast members to come and join in on the commentary since they are still filming season 6 at the time they recorded this.
Being that the commentary was from the writers and producers, they gave a very production background to the episode. During the commentary, Espenson and Schwartz pointed out that they don't get to be in location as the cast members film the episode. They only get to see dailies, which is the footage that they filmed that day, so Espenson and Schwartz talked from the writer's perspective, while Pearlman talked from the production perspective. That said, the three shared a few interesting tidbits, like when Mr. Hyde picked up the Cuban cigar that the Evil Queen gave him that he didn't light in the loony-bin cell. Apparently, rarely do Disney productions now include smokeable objects. They also mentioned that they had to hire a security to stand guard around the Land of the Untold Story blimp 24/7 in a Vancouver park. They also mentioned that the real time of the show was supposed to have been about two years when they talked about how tall Jared S. Gilmore has grown. Something that doesn't make sense with the timeline, however, is when they said that they "can occasionally bring someone back from the dead, if the story takes us there." But a cool little tidbit about this is that they used the same house in Once Upon a Time in Wonderland for Cinderella's home for flashbacks.
Espenson and Schwartz also mentioned how they split the writing for this episode; Jerome Schwartz wrote the first half, while Espenson took care the rest of the episode. It would've been a lot more fun if they had one of the cast members join in during the commentary, like Lana Parrilla, because that was when she was going back between Regina and the Evil Queen. They also shared it takes 3 hours for her to switch between Regina to the Evil Queen.
Budget might be an issue why none of the cast members were included in the commentaries, but how could there not be a commentary for The Final Battle? Given all the commentaries they have done, we would rather the show end with season six and have better DVD/Blu-Ray special features. They could've even included the special episode that they aired before the season 6 premier. Especially since some of the cast members will not be returning for the next season, it was a bit disappointing that we didn't get a commentary from any of the episodes.
At the time of this recording, Creation Entertainment's Once Upon a Time official convention kicked off this weekend in San Francisco with dates coming soon in Whippany, NJ and Burbank, CA! Guests include Lana Parrilla (Regina), Jennifer Morrison (Emma Swan), Colin O'Donoghue (Captain Hook), Rebecca Mader (Zelena/Wicked Witch) and more! Get a unique convention experience with a house band, a concert featuring Gil McKinney (Prince Eric) & Beverley Elliott (Granny), karaoke party where some of the stars of the show are your backup singers, costume contests and panels with the stars! Plus, have amazing autograph and photo ops with the cast members. Every ticket secures you a seat, so no camping for the best panels and hoping you'll get in! Check out the upcoming shows and full schedule buy your tickets now!
Storybrooke Songbook
What was really cool that was specifically produced this season was the Storybrooke Songbook, the 10-minute special feature about the musical episode, "The Song in Your Heart." This special is so bittersweet because of everything that went into it; the care, attention and expertise. The guys that wrote the songs for the musical episode quite possibly know the show better than some of the writers that came on in later seasons. They honored the history of the show in such an amazing way.
It was amazing watching real orchestra and seeing everybody's excitement about going to vocal training despite the cast members' busy schedules. It showed so much potential that they had. One cool thing that they did for the musical episode was how they really worked with the cast to design the songs for them according to their type of voice and range. They talked about meeting Lana Parrilla and discovering her raspy voice that perfectly fit the Evil Queen's character. It was also amazing how they put things together and how they leveraged the cast member's talents and characters.
To see the enthusiasm on some of them is nice, like when Rebecca Mader showed up to record her solo number. Even though we didn't get a commentary for the musical episode, the Storybrooke Songbook featurette is much better than having a commentary for the episode.
Deleted Scenes
This year, the Once Upon a Time season six DVD/Blu-Ray was packed with deleted scenes, more than any other season had. A total of 28 minutes combined, the deleted scenes had more special features but with only 2-minute worth of deleted scenes. Some episodes that have deleted scenes include the following:
6×05 "Street Rats"
6×07 "Heartless"
6×08 "I'll Be Your Mirror"
6×09 "Changelings"
6×10 "Wish You Were Here"
6×11 "Tougher Than The Rest"
6×16 "Mother's Little Helper"
6×18 "Where Bluebirds Fly"
6×19 "The Black Fairy"
6×22 "The Final Battle, Part 2"
It was a bummer that they had to cut a scene in 6×05 "Street Rats" where they showed how much Aladdin disbelieved the magic in stories as they were going to the Cave of Wonders. It would've given a great insight to Aladdin's character. In 6×07 "Heartless", they showed a silly scene showing Snow and Charming's kiss leading them in a path in the mines, and from 6×08 "I'll Be Your Mirror", one of the scenes they cut out was a really cute Snow and baby Neal with Neal saying, "Daddy," and further rubbing in how much Snow and Charming miss each other while in the sleeping curse. They also showed more after Henry brought Regina and Emma back from the land of mirrors.
From the episode 6×09 "Changelings", they showed much more from Jack and Jill (the lady we were originally going to interview), Rumplestiltskin wanting to take their baby (as bait for Black Fairy), and the Blue Fairy being the baby's fairy godmother. In 6×10 "Wish You Were Here", there was one cut scene between Snow White and Charming, while in 6×11 "Tougher Than The Rest", all 3 scenes that were cut included Zelena, one of which involved Zelena at Sheriff's station planning with Hook and Charming, more reinforcing of dark fairy dust turning your enemy into something squashable. Another deleted scene from the episode included Belle trying to stop Zelena from leaving, as well as a whole confrontation with Rumple and Gideon in the cabin.
For the episode 6×16 "Mother's Little Helper", they showed a different version of Gideon's saying, "you should walk away," and Emma calling the spider Black Fairy's "itsy bitsy nightmare". Was that re-shot because they decided not to use the line? From the episode 6×18 "Where Bluebirds Fly", one deleted scene included a funny exchange that included Granny in the discussion about Emma's wedding location and granny wanted lasagna at the wedding. Another cut scene, this time from the episode 6×19 "The Black Fairy", was a tender mother and son moment with Regina and Henry when he was tying a bowtie. Finally, a cut scene from 6×22 "The Final Battle, Part 2" included Emma wanted to take a gun into the Mayor's office, but Henry convinced her to use the sword instead.
Thank you for supporting us!
Lisa Slack
Lisa R
Aimee Catalier
Maryann Livoti
Heather Peckfelder
Jill Sherrod
Greg Shope
and our 25 heroes on Patreon
You can sponsor an episode or more of ONCE podcast, too! Email Daniel@ONCEpodcast.com if you would like to arrange a corporate sponsorship of our podcast for the upcoming third season.
Gag Reel
The last special feature included in the season 6 DVD/Blu-Ray was the gag reel, which was 8 minutes long. It's always fun to see them enjoying working together, and how much their friendship has grown and playing pranks to each other. It was interesting, however, that they bleeped out profanities for the gag reel, but not in the actual episode. That being said, it was also sad seeing the gag reel since this was the last time that we would be seeing all together.
Do you want to own a golden-trimmed non-lenticular season 6 DVD/Blu-Ray? If you want to own it simply for the special features, you might find it lacking, although it's still a nice treat to own for Once Upon a Time fan.
Since the new season will now be airing on Friday nights at 8pm, we will no longer be doing initial reactions. Instead, we will be podcasting every Monday nights at 7:00 p.m., USA Eastern Time, and will be thematic instead of going scene by scene. Staffing might also change for season 7 and co-hosts change around.
What did you think?
Email Feedback@ONCEpodcast.com (audio files welcome)
Call (903) 231-2221
Comment on the shownotes
Visit any page on ONCEpodcast.com and click the "Send a voice message" link to record and send a message right from your computer.
Help us out!
Share this post in your social networks
Follow us
On Facebook:
On Twitter:  echo do_shortcode('[twitter follow="ONCEpodcast"]'); ?>
Daniel J. Lewis:  echo do_shortcode('[twitter follow="theDanielJLewis"]'); ?>
Jeremy Laughlin:  echo do_shortcode('[twitter follow="phlegon"]'); ?>
ErinJ:  echo do_shortcode('[twitter follow="erinjcruz"]'); ?>
Hunter Hathaway:  echo do_shortcode('[twitter follow="travelingpixie"]'); ?>
Jacquelyn / RumplesGirl:  echo do_shortcode('[twitter follow="punk_bunny_87"]'); ?>