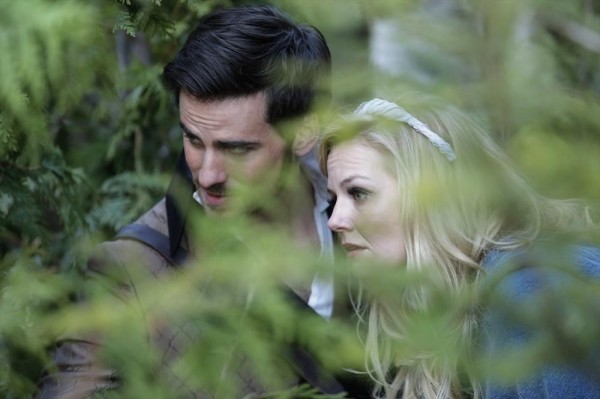 The residents of Storybrooke celebrates the arrival of Charming and Snow's new son, as well as the defeat of the Wicked Witch, but the celebration has been cut short when Zelena's time portal was opened, leaving them with a catastrophic repercussions that may change not just their future, but more importantly the past.
Podcast: Play in new window | Download | Embed
While Mary Margaret and David celebrate the naming of their son at a coronation in Granny's Diner, Emma and Hook are pulled into Zelena's time portal and find themselves in the Enchanted Forest of the past. But in their quest to discover a way back, they must be careful not to change ANYTHING or risk altering the lives of their friends and family—as well as their very own existence.
These are just our first thoughts about this Once Upon a Time episode. We'll share more about "Snow Drifts" / "There's No Place Like Home" in our upcoming full discussion live on Wednesday May 14, at 8:00 p.m. (EDT/GMT-4).
Thank you for supporting us!
Steve Johnson (subscriber)
David Neuland (subscriber)
Lisa Slack (subscriber)
DJ Firewolf (subscriber)
Tammy
David Williams
Paul Dickinson: "Magic comes with a price but not rules. There should should be a guidebook for the ONCE writers to help them make the universe self consistent. Get on it Adam and Eddy."
Patreon backers ($16.50 per episode)
You can sponsor an episode or more of ONCE podcast, too! Email Daniel@ONCEpodcast.com if you would like to arrange a corporate sponsorship of our podcast for the upcoming third season.
Initial Reactions
What an interesting season three finale! We're glad that they combined these two episodes together because it makes total sense! We also liked that it gave them more time to tell the story, and we didn't have to wait for another week to see what will happen next. Nice to see them just let the story flow as it is.
Just to clarify, the new villain could either be Queen Elsa from Frozen or the White Witch—think Chronicles of Narnia. But the way the scene was framed, it was as if it was made for the viewers to think it will be Elsa. It was interesting to see them a Disney character that we just recently saw, instead of the ones from the 1990s. But is it really Elsa?
While the season finale was interesting, it didn't quite feel like a season finale. What with all the timelines that suffered because of the past being change; it was fun to see how the story has been told back from season one, only from a different perspective. Great to see familiar stuff brought together. They made time travel very shaky; some of the scenes that has us hooked up didn't quite happen as it should be, but it's still cool to see familiar scenes from the past.
The time travel fixed Emma, but did it fix everything else?
Maid Marian came through with Emma and Hook back to the present. Does that mean that Regina will go back to being the Evil Queen yet again?
It was really cool to see some of our favorite characters again; Red, Blue Fairy, Princess Abigail/Kathryn, Aurora, who sounds like she also just had her baby.
Did anyone noticed the hidden mickey? It was so hidden it was hard to notice.
We love how they gave flashbacks like the ones with Emma in the adoption agency; specific things to tie stories together. It was also cool to see unconventional ways of storytelling (that we are used of seeing). It seems that the very point of having a two-hour season finale is to get Emma home, and get home she did.
One of the things that got us is that perhaps Zelena's story arc really is over. But if Emma and Hook didn't get over it, perhaps the past will never be changed.
A few relationships were made quite serious—Rumple and Belle having a private wedding in the woods with Archie officiating. We also got to see Regina and Robin having a nice, romantic time at Granny's Diner just before they found out that Maid Marian is back. Does this mean that Regina's back at being the Evil Queen? Emma finally let her walls down to let Hook in. Lastly, it was great finding out that the new Charming baby was named after Neal.
What do you think about tonight's season finale? Share us your thoughts by sending us an email or by joining us over the forum. Join us this coming Wednesday for our full discussion of the season three finale, "Snow Drifts" and "There's No Place Like Home."
What did you think?
Email Feedback@ONCEpodcast.com (audio files welcome)
Call (903) 231-2221
Comment on the shownotes
Visit any page on ONCEpodcast.com and click the "Send a voice message" link to record and send a message right from your computer.
Help us out!
Share this post in your social networks
Follow us
On Facebook:
On Twitter:  echo do_shortcode('[twitter follow="ONCEpodcast"]'); ?>
Daniel J. Lewis:  echo do_shortcode('[twitter follow="theDanielJLewis"]'); ?>
Jeremy Laughlin:  echo do_shortcode('[twitter follow="phlegon"]'); ?>
ErinJ:  echo do_shortcode('[twitter follow="erinjcruz"]'); ?>
Hunter Hathaway:  echo do_shortcode('[twitter follow="travelingpixie"]'); ?>
Jacquelyn / RumplesGirl:  echo do_shortcode('[twitter follow="punk_bunny_87"]'); ?>