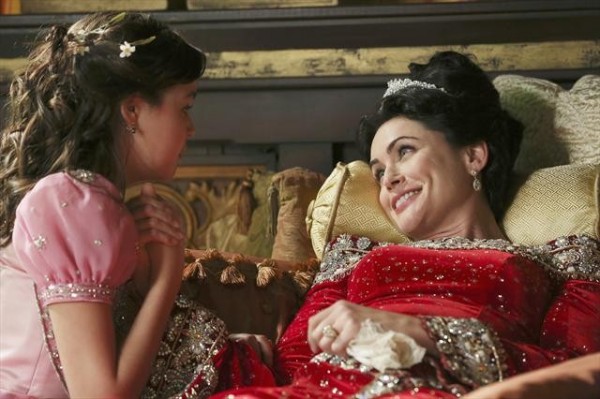 Podcast: Play in new window | Download | Embed
Connections to everyone and yet breaking some connections! You'll get a hook through the heart from this episode.
These are just our first thoughts about this Once Upon a Time episode. We'll share more about "The Queen Is Dead" in our upcoming full episode live on Wednesday, March 6, at 8:30 p.m. (EST/GMT-5).
Sponsor: Test drive the next evolution in TV with SimulTV!
Upon discovering Cora and Regina's plan to find and take possession of Rumplestiltskin's dagger, Mary Margaret, with the aid of David and Mother Superior, makes it her mission to find it first; and while Mr. Gold continues his quest in New York to reunite with son Bae, Hook devises a plan to rid himself of a crocodile. Meanwhile, in the fairytale land that was, the Blue Fairy offers Snow White an unconventional enchantment that could help save her dying mother, Queen Eva.
Thanks for supporting us!
You can sponsor ONCE podcast, too!
Initial reactions
Some of our interesting discussion points (in no particular order):
Neal knew Hook and said that ours wasn't Neal's first stop after leaving home. Does this mean Neverland? Daniel isn't drinking coffee yet.
It was great to see Bailee Madison back as young Snow White!
Henry called Emma by her name again, and reminded her of her lies.
What was that shore that Neal mentioned as having the best pizza?
Neal said looks can be deceiving
Mary Margaret made our Star Wars reference, "Please, mother superior, you're our only hope."
Was Cora disguised as the Blue Fairy any other times we've seen her?
Was Queen Eva's funeral in the same hall where Charming and Snow were married in the pilot?
Mary Margaret plans to kill Cora, but how?
Side joke: we thought that Sneezy may be the last living person in Storybrooke, and also the Dark One under his new name DarkSnot.
Regina seemed to start questioning Cora's plan. Is Regina going to join the others again?
If Neal/Baelfire went to Neverland, we think his fiancé Tamara could be Tiger Lily.
We gave everything a brief overview and would love to hear your thoughts!
Talk about "The Queen Is Dead" in our Once Upon a Time forums
Thank you for the Apple Podcasts reviews!
Myers_G
daysgoby85
GimmeDatThang
jessista
Lucia Cedano
Your reviews encourage us and help others find the podcast!
Please rate and especially write a review for us on Apple Podcasts.
Preorder season-two DVD/Blu-ray set!
You can now preorder the complete second season of Once Upon a Time on Amazon.com! For a limited time, save $10 off the DVD set and $15 off the Blu-ray set!
Preorder the second season today!
Join us for the LIVE podcast!
Initial reactions on Sundays at 9:15 p.m. (EDT/GMT-4)—right after the Eastern and Central episode airing.
Full discussion, feedback, and live calls on Wednesdays at 8:30 p.m. (EDT/GMT-4).
On these days, visit ONCEpodcast.com/live to watch and chat live.
What did you think?
Email Feedback@ONCEpodcast.com (audio files welcome)
Call (903) 231-2221
Comment on the shownotes
Visit any page on ONCEpodcast.com and click the "Send a voice message" link to record and send a message right from your computer.
Help us out!
Share this post in your social networks
Follow us
On Facebook:
On Twitter:  echo do_shortcode('[twitter follow="ONCEpodcast"]'); ?>
Daniel J. Lewis:  echo do_shortcode('[twitter follow="theDanielJLewis"]'); ?>
Jeremy Laughlin:  echo do_shortcode('[twitter follow="phlegon"]'); ?>
ErinJ:  echo do_shortcode('[twitter follow="erinjcruz"]'); ?>
Hunter Hathaway:  echo do_shortcode('[twitter follow="travelingpixie"]'); ?>
Jacquelyn / RumplesGirl:  echo do_shortcode('[twitter follow="punk_bunny_87"]'); ?>