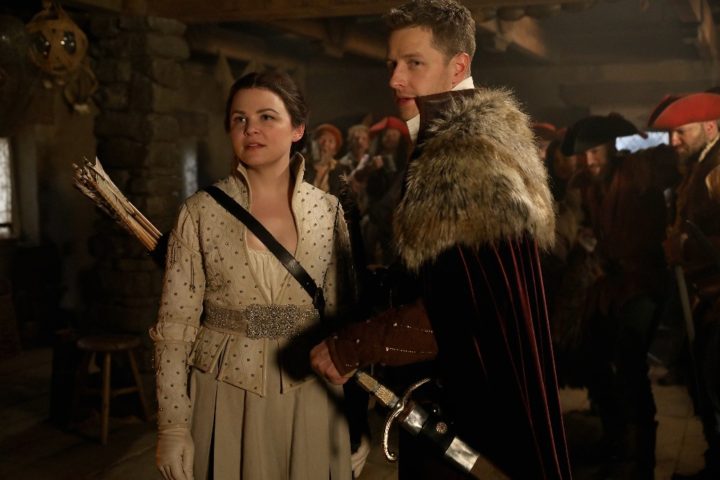 Breaking the fourth wall, going Buffy the Vampire Slayer, taking the battlefield somewhere else, some plot holes like recycling another curse and more on our initial reactions of the episode that tugs the heartstrings of everyone in the community, "The Song in Your Heart."
Podcast: Play in new window | Download | Embed
In flashback, Snow and Charming make a special wish that Emma will be protected. The result of their wish has the whole kingdom bursting into song which infuriates the Evil Queen. Meanwhile in Storybrooke, the Black Fairy announces her plans to unleash another curse on the town while Emma and Hook prepare for their wedding.
These are our first thoughts about this Once Upon a Time episode. We'll share more about "The Song in Your Heart" in our upcoming full discussion (usually live on Wednesdays at 7:00 p.m., USA Eastern Time).
Initial Reactions
While "The Song in Your Heart" have certain plot problems, which we'll dig into on our full discussion, what makes the musical episode work is these are characters that we have gotten to know and love. To see them break out in song and for it to be fun music that gets in your head, too, is what makes it so much fun. Even though we were initially on the fence about the musical episode, "The Song in Your Heart" turned out to be a good episode, even Henry got his one line at the end of the episode. Plus, everyone in the community loved the musical episode despite some little problems here and there. However, a lot of the fans in the community loved the songs, as do we. It was emotional; the songs were great, lots of laughter and by the end of the episode, everyone was laughing and crying, it was very beautiful.
One of our favorite songs from the musical is Powerful Magic as well as Emma's song. We loved how they tied it in beautifully. Another favorite track is "A Happy Beginning," which reminds us of some songs which style and melodies sounded like it. Are you thinking about purchasing the soundtrack for yourself? Buy the soundtrack and sing-along with these great songs that are sung by the actors themselves and let us know what your favorite track from the soundtrack was!
We loved the way that they introduced the singing aspect on the episode. What with Snow White's reaction and Charming's entrance was perfect. And even though they aren't actually singers, they all have good singing voice. Colin O'Donoghue do have some musical backgrounds, as well as some of the casts, every single character that sang was a good singer. The songs fit the characters really well, too. With Snow White and Charming's song being full of hope, the rough and provocative ones for the Evil Queen, what a fun episode we can't wait to see the extras for this episode!
Thank you for supporting us!
Lisa Slack
Lisa R
Trainer James
Kathy Gribble increased her heroship
Steff Wiltse became a new hero
and our 29 heroes on Patreon
You can sponsor an episode or more of ONCE podcast, too! Email Daniel@ONCEpodcast.com if you would like to arrange a corporate sponsorship of our podcast for the upcoming third season.
While we loved all the songs, there are a couple of problems in this episode, plot-wise. Hook should be in Wonderland at this time and not in the Enchanted Forest, because the Evil Queen sent him to Wonderland in the episode "Queen of Hearts" to get Cora. And as much as we loved the musical, "The Song in Your Heart" feels like it doesn't fit the series; it recycles too much. The core concept of what gives Emma the magic ability to defeat the Black Fairy is a song in her heart. It was nicely poetic and the musical episode itself was nicely done, however, the transition from metaphor to literal just didn't work that well.
How long have they been planning the musical episode? Emma's heart has always been special since season 2 and she's the only person to ever possess such kind of heart, and it was a nice little detail that her heart could not be crushed or removed without her permission. On the other hand, it was quite funny to watch the secondary characters when a primary character is singing, like how the Black Fairy just stands there while Emma was singing.
Something that is a bit surprising in this episode is that while the songs are catchy, there also have some profanities included in the lyrics. It was surprising because some of the profanities used doesn't sound like the show uses very often, if at all. Even the Evil Queen's dance moves are intense.
The big thing that happened with this episode is recycling another dark curse coming. At least this time they are ready for it, or they think they are, and will probably be strong in it. What will the this new curse do? Where will it take them? How will it affect them aside from breaking the poor clock tower yet again? Will it take them somewhere else simply to avoid spoilers?
Another reason the musical episode doesn't make sense is that during this time seems to be the same time after Rumplestiltskin put on a protection on Snow White and Charming, preventing the Evil Queen to hurt them in the Enchanted Forest. Snow White and Charming doesn't need to sing because the Evil Queen wouldn't be able to hurt them anyway.
It was cute to see Henry worry so much about Emma and do something to help. "The Song in Your Heart" is a really good episode that tugs the heartstrings, with great memorable songs, but what's going to happen with the new curse? We'd love to hear from you so send in your feedback and theories about the musical episode, as well as the season finale next week. We'd also love to watch the season finale with you next week! Come join us for our season finale party and be with us when we record our initial reactions on the finale next week. Join us this coming Wednesday for our full-discussion of the musical episode or head over the forum to share your favorite and least favorite moments from "The Song in Your Heart."
Remember, these are only our initial reactions regarding tonight's episode so please bear with us if we're a bit all over the place. If you have your own thoughts, feedbacks, or theories regarding tonight's episode, however, send them over to us and join our upcoming full discussion!
What did you think?
Email Feedback@ONCEpodcast.com (audio files welcome)
Call (903) 231-2221
Comment on the shownotes
Visit any page on ONCEpodcast.com and click the "Send a voice message" link to record and send a message right from your computer.
Help us out!
Share this post in your social networks
Follow us
On Facebook:
On Twitter:  echo do_shortcode('[twitter follow="ONCEpodcast"]'); ?>
Daniel J. Lewis:  echo do_shortcode('[twitter follow="theDanielJLewis"]'); ?>
Jeremy Laughlin:  echo do_shortcode('[twitter follow="phlegon"]'); ?>
ErinJ:  echo do_shortcode('[twitter follow="erinjcruz"]'); ?>
Hunter Hathaway:  echo do_shortcode('[twitter follow="travelingpixie"]'); ?>
Jacquelyn / RumplesGirl:  echo do_shortcode('[twitter follow="punk_bunny_87"]'); ?>