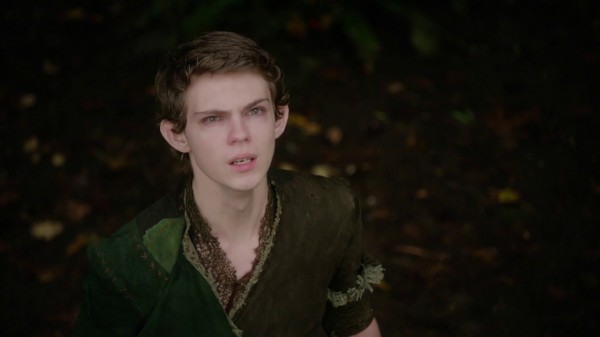 Podcast: Play in new window | Download | Embed
With the addition of Tinkerbell and Neal, the heroes and villains has finally reunited as Emma, Neal, Rumple and Regina followed Peter Pan and Henry to the Skull Rock to save the truest believer. Meanwhile, a young Rumpelstiltskin was scarred for life due to what that one person who matters most did to him.
We love how they are pulling titles from the Peter Pan story — Second Star to the Right, And Straight on 'Til Morning, Quite a Common Fairy, and so much more.
Enchanted Forest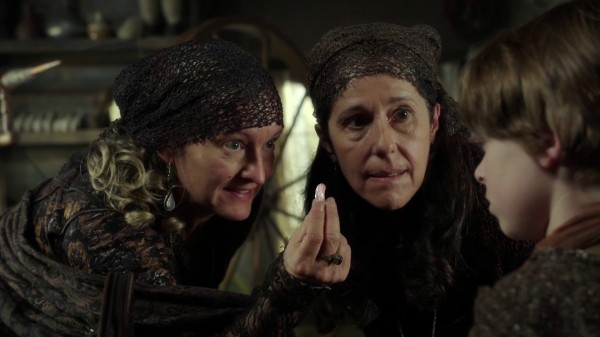 Rumple's dad in the town was a little bit as to how Rumple acts. Looks like we know where he gets his impishness. Even when his father says, "I'll figure something out. I always do." sounded a lot like what Rumple will say.
Malcolm taking Rumple to the spinsters is very cowardly. Even worse than Rumple had been. It seemed like Malcolm's cowardice is different than Rumple; even if he says that no one would hire him. Who are the spinsters, by the way?
Do you think the spinsters who took in young Rumpel could be the Fates? I know there are traditionally three fates, but they are usually associated with spinning, and they did seem to finish each other's sentences. If so, then it fits the motif of Rumpel spinning himself and also being a character who arranges and to some extent controls the lives of others through the course of hundreds of years.

— Michael
What are the motives of the spinsters? Why would they give a magic bean, which is so valuable, to young Rumple? Did Rumple's dad, Malcolm, have some dealing with them? There is a Grimm fairytale called "The Three Spinsters" which could tie-in to the Rumple story. Also, there were three fairies who raised Aurora in the Disney animated version of "Sleeping Beauty."

— Erin
Are they the Fates? The Three Spinsters? Or probably two of the three fairies who raised Aurora in Sleeping Beauty? Is the seer related to them?They did kinda show the seer before the episode started and seem to care about Rumple anyhow. In addition, they have access to a magic bean and know something about Rumple's future. Are they some kind of a seer? Who could they be?
Malcolm really seems to have never grown up, especially ever since they set afoot Neverland. He said that magical beans are valuable. Whoelse knows about them? How precious do magic beans cost? Rumple's had experience with beans before and now that we've seen Rumple as a child, looks like history totally repeated it self when he abandoned his own son because of a magic bean.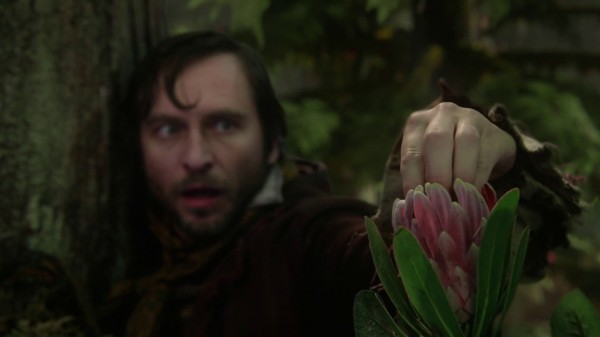 When Rumple and his father made landed on Neverland shore, Malcolm said that "Neverland is where the impossible is possible." He seemed to have a one-track mindset, acting crazed, giddy as a schoolboy and child-like. Malcolm asked his son to conjure something he wants, and young Rumple conjured a piece of cake. He didn't eat it though, but just set the cake down carefully. Young Rumple does seem a lot like young Baelfire, unlike his careless dad.
We get to know more about pixie dust. Apparently, pixie dust glows when you believe in its power. During the earlier episodes in this season, the dust was not glowing when Pan showed it to Henry, but did when Henry said he believed before they jumped off to fly.
Furthermore, it was revealed that pixie dusts comes from flowers and stars. Does that mean that Neverland is the only place where one can get pixie dust?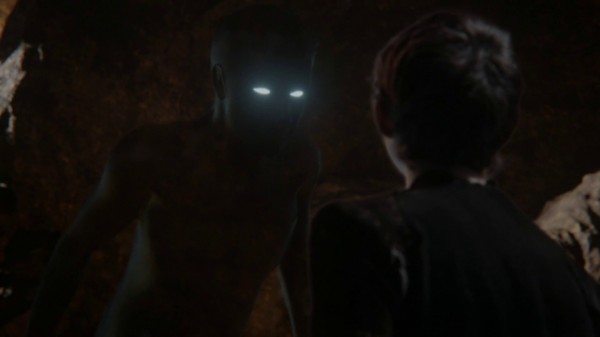 The Shadow said that he is the sole inhabitant of Neverland. He also told Malcolm that he still have to believe to fly, but Malcom doesn't belong. Who is he? Whose shadow does he belong to? Is he the keeper of the island?
Part of being brave is admitting your strength and weaknesses and Malcolm does not feel capable of doing the right thing. He said that Neverland is a place only for children, and Malcom wanted to stay so badly that he would become a child again. Unfortunately, the only way for him to stay was to let go of the thing that is holding him back — Rumpelstiltskin.
When Malcolm let go of his son, he seemed on the verge of crying. Did Pan realize what had happened? More so, was the Shadow the one who made him young again? Are pixie dust somehow, involved for him turning into a young boy?
A lot of people who don't like the Daddy Pan reveal are complaining about continuity issues with previous episodes and interactions between Pan and Rumple. "Why does Peter refer to himself in the third person when asking Rumple if he's forgiven his own father?" is a common issue I've seen, along with Pan's general cruelty and rubbing his own parental abandonment in his son's face. We saw that Malcolm wasn't a vicious man, just immature and not a great dad.

Here's how I gel the deadbeat, bumbling father with the Pied Piper from "Nasty Habits" that told his own son being abandoned was what he was best at.

The shadow told Daddy Dark One that as long as he had a son around to remind him that he wasn't truly meant to be a boy, he'd be held back and couldn't stay young, because "a child can't have a child!" Beyond the fact that they wanted to save the reveal for this episode, that's how I justify the fact that neither Rumple nor Pan out and out admit or refer to each other as "father" and "son," even when they're alone in Neverland. If Pan treats Rumple like a son or Rumple sees and acknowledges him as his father, he risks BECOMING an adult again, since if you believe in something, there's a chance for it to come true. What's the best way to ensure that your son doesn't believe in you in a land powered by belief? How about constantly hammering in that you were never meant to be a father to the point where you can actually get your son to flat-out admit he doesn't think of you as one?

That's why Rumple saying that he wanted to start over, "just not with you," actually backfired. He in a sense "created" Peter Pan, the naming of his doll in some bizarre way made Pan!Malcolm real, and now by cutting off ties with his family, Pan has made the demonic, perpetually child the only version of himself through belief. So Rumple is going to have to acknowledge and probably forgive his father to make that person real again and defeat Pan.

— Isabelle
After this episode, it makes sense how Pan was downcast when he told the Jones brothers, "I'm the only one" in the episode, "Good Form." On the other hand, has Pan come to possess the shadow, ordering it to do his bidding?
Young Rumpelstiltskin was ripped away from his father. Did the Shadow simply took him back to the Enchanted Forest? What else did he do to him?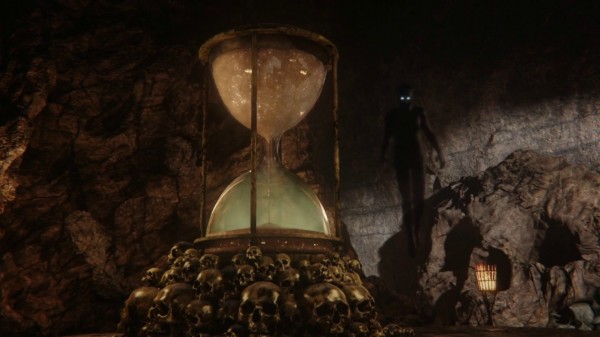 After Rumple was taken back to the Enchanted Forest, the Shadow led Pan to the Skull Rock, which was created when Pan decided to stay. Do similar decisions make or destroy things in Neverland? It was also a bit like when Emma put on the badge and some sort of earthquake happened.
According to the Shadow, Neverland is a place for kids to visit in their dreams, not to stay. But because Pan broke the rules by deciding to stay, the hourglass was created to represent his youth. If it runs out, he'll die. By the way, the Shadow sounded a bit like Felix, although we all know that it was actually voiced by Marilyn Manson.
Quick trivia: Marilyn Manson, the person who voiced the Shadow, was once engaged to Rose McGowan, the actress who played young Cora.
How does Malcolm/Pan's backstory tie in with the Home Office? Was each "destruction" of magic supposed to help Pan live a little longer?
Thank You for Supporting Us!
David Neuland (subscriber)
Dena81 (subscriber)
You can sponsor an episode or more of ONCE podcast, too! Email Daniel@ONCEpodcast.com if you would like to arrange a corporate sponsorship of our podcast for the upcoming third season.
Thank You for the iTunes Reviews!
Your reviews encourage us and help others find the podcast!
Please rate and especially write a review for us on Apple Podcasts.
Neverland
Before Pan led Henry to the Skull Rock, he made an announcement to his lost boys that tonight, the dream of Neverland will awaken from its slumber. Tonight, the heart of the truest believer shall fulfill its destiny, and with it, our destiny. Tonight, Henry saves magic. Are the lost boys fully aware of what's to come or are they just as clueless as Henry?
Pan initially told Henry that it wasn't going to be easy, but then goes to say that he needed Henry to give him heart. Rumple was also willing to save Henry without an exit plan.
Not a lot of people seemed to be aware that Baelfire was the Dark One's son. Tinkerbell, for one, looked a bit surprised when she found out about it. Because of Neal, Rumple's secret finally comes out, but what are his intentions really?
Hey guys 🙂 I have a random thought about Pandora's Box and how Rumple could get out of it. So they said the box could trap the world's darkest evil. And right now Rumple is in it, because he is evil. But what if the box can separate good from evil, trap the evil and let the good out. It will be like his undoing because he wouldn't be the dark one anymore.

Let me know what you guys think. I love you and your podcast! Bye 🙂 — Keyshla
By the way, Rumple gave a very Star Wars-like answer, "Peter Pan destroyed my father."
Emma asked Hook whether there still may be a way to get David out of Neverland. Gold suggested in another cure. Rumple believe he can create an elixir back in his shop. Rumple was sure to make new deals, but his son stopped him because it was the right thing to do,  forcing him into making a free deal.
How else could David get out of Neverland? If they find pixie dust, can they use it to heal him? Surely, Rumple and Hook's good looks wouldn't be much of help.
We were right, Wendy and brothers went to Neverland to try saving Baelfire. However, Pan captured them and manipulates them to doing what he wants in order for them to stay alive.
It looks like Wendy was the only one who knows the whole story. However, Felix also seemed to be well-informed about Pan's plans.
As they interrogated Wendy, Rumple was quick to find out that she's lying. Could Emma also tell Wendy was lying? Neal promised to save John and Michael and asked for help. Wendy told them the truth; Pan needs it to save himself. Pan's dying and needs the heart of the truest believer to absorb the island's power. Once he did, he'll become immortal and Henry will die.
The way the music drives us in this episode is so good. Mark Isham really is doing a great job directing the music, especially as Pan and Henry approach the Skull Rock.
Wendy told them to go to Skull Rock, but that they don't have that much time, so off they went to follow Pan and Henry. Hook and Tink stayed to deal with the lost boys, while Charming and Snow went to find the Jolly Roger.
Emma, Regina, Neal and Rumple, on the other hand, sailed to the Skull Rock. Unfortunately, only Rumple can enter the barrier because he himself don't have a shadow. Rumple asked for the box, but Regina snatched it, warning "You better come through, Gold, or I'll make whatever Pan has planned for you look like child's play." So Rumple come to meet his fate. How did Pan learn magic and spells?
Agitated, Emma suggested the moon; it's what causes the shadow so together, Regina seek Emma's help to block it out and cause some sort of eclipse. Does that mean that the moon creates shadows? Any source of light can create a shadow so how did they do it?
Pan showed Henry the huge hourglass with skulls at the bottom. Asked Henry to stay put while he takes care of something before they get started. Where did all these big skulls come from?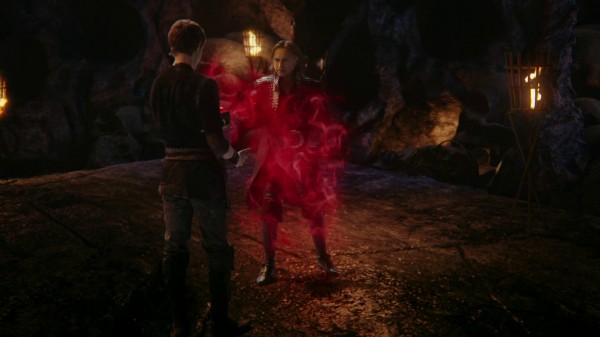 Pan gave his son a chance to let go and stay so they can start over. How did Pan plan to make a fresh start with Rumple? How did he even know that Rumple traded Bae for the power of a dagger? Rumple showed the box but it turns out that one Rumple is holding is a decoy. When did Pan switch the boxes?
Should Emma tried rallying the lost boys to use their child-magic against Pan, since Adults don't have magic in Neverland, would it start a war against Pan?
It appears that Rumple is so willing to sacrifice himself to save Henry. What could he have done if he was willing to sacrifice his life? Now that Rumple is inside Pandora's Box, what could he be experiencing in the box?
Can they find a way to retrieve Pandora's Box? How are they going to free Rumple out?
Could Henry's heart turn Henry into Peter Pan, the one we know and love?

— Nathaniel
Is Henry designed to be the next Peter Pan?
I can't believe that Henry gave up his heart. Anyway I think that Regina is going to be instrumental in saving Henry. She ultimately is the only one who can save Henry because she is the only of the group who can take hearts, besides Rumple, but he is trapped. I don't want this to happen because I like Regina but I think she is going to end up sacrificing herself or at least getting very injured or something to save Henry. Also I think that Bae or Neal will have to face his daddy issues in order to save his father from Pandora's box. I don't think getting Rumple out will be easy and will take some cooperation from Bae. I really want to see the end of the trouble between Bae and his father.

— Abby
Will Regina sacrifice herself in order to save her son? Is this going to be her redemption? Will she die for Henry? Is Hook willing to sacrifice himself so Emma and Neal can end up together?
Was it really Pan who procured Henry for Regina instead of Gold?…. We've been scratching our heads how Rumple procured him for her without knowing who Henry was biologically. I'm starting to wonder if Pan had something to do with it……

— Madeline
Was it really Gold who procured Henry for Regina or Pan? We would love to hear your feedback regarding today's discussions! Let us know what you think about the theories we just shared by writing comments below or joining us in the forum section. And remember, there won't be a new episode this coming Sunday. However, Once Upon a Time will be back on December 1, two weeks from now.
What did you think?
Email Feedback@ONCEpodcast.com (audio files welcome)
Call (903) 231-2221
Comment on the shownotes
Visit any page on ONCEpodcast.com and click the "Send a voice message" link to record and send a message right from your computer.
Help us out!
Share this post in your social networks
Follow us
On Facebook:
On Twitter:  echo do_shortcode('[twitter follow="ONCEpodcast"]'); ?>
Daniel J. Lewis:  echo do_shortcode('[twitter follow="theDanielJLewis"]'); ?>
Jeremy Laughlin:  echo do_shortcode('[twitter follow="phlegon"]'); ?>
ErinJ:  echo do_shortcode('[twitter follow="erinjcruz"]'); ?>
Hunter Hathaway:  echo do_shortcode('[twitter follow="travelingpixie"]'); ?>
Jacquelyn / RumplesGirl:  echo do_shortcode('[twitter follow="punk_bunny_87"]'); ?>
Spoilers
Episode 9 synopsis
Guest stars for episode 9
Promo breakdown
Cast interviews
Footage and set photos
Episode 12 title
Congrats!