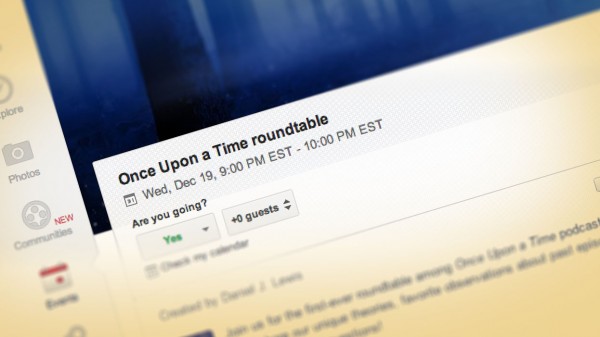 Please join us for the first-ever roundtable of Once Upon a Time podcasters! We'll share our unique theories, favorite observations about past episodes, and answer your questions!
Watch the live video roundtable on Wednesday, December 19, at 9pm (EST/GMT-5) on Google+.
We'll have a great panel of hosts!
Visit the Google+ event page to watch live and login with your Google ID to chat and invite your friends!
Please reshare this!
Invite everyone! If you don't see one of the other Once Upon a Time podcasts above, let them know about this and encourage them to participate!
Watch the first-ever #OnceUponaTime roundtable LIVE on December 19 at 9pm (EST/GMT-5): http://t.co/8BmNNpaL

— ONCE podcast (@ONCEpodcast) December 16, 2012