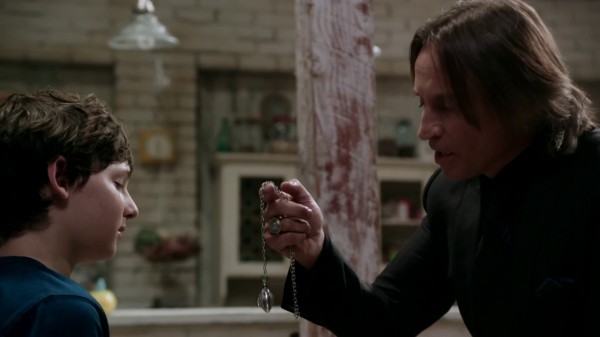 Greetings, fellow Oncers!
Here, I'm going to occasionally point out ideas that are discussed in more than one thread in the forums so gentle readers who are following discussions of a subject in one topic of the forum may be alerted that the same subject is also being discussed in conversations under another topic.
For example, we've learned from many examples over the course of the show that "All magic comes with a price" and Rumplestiltskin always insists on collecting his price. But when Regina asks the price of the necklace to help Henry control his dreams in "Child of the Moon," Mr. Gold replies, "This is on me." Several different threads in the forums have explored the question of why he didn't demand some price in this case.
Most of the discussion about this topic has been under "Gold's Ulterior Motive" and several ideas have been proposed. Did Mr. Gold have an ulterior motive in offering to help Henry, or is this a case where he is capable of showing real kindness? Several folks have suggested that Rumplestiltskin is fond of children in general and Henry in particular, so this scene gives us a chance to see the goodness that is still in him. It's also been suggested that perhaps Henry reminds him of Baelfire. Others have pointed out that it might go deeper than this if Mr. Gold is grateful to Henry for his role in breaking the curse and it might go deeper still if Baelfire turns out to be Henry's father and if Rumple knows this. TheTrickster postulated that Rumplestiltskin fits the fairy tale archetype of the King of Elves, who is fond of children and often steals them.
On the other hand, others have pointed out that Gold might be motivated by the fact that Henry can help return Emma to Storybrooke so Gold can collect his favor. It's also been pointed out that helping Henry would go a long way toward getting Mr. Gold on Emma's good side. TheTrickster pointed out that life is harsher in the medieval-like Enchanted Forest than in our world, so characters might naturally evolve to be a bit gentler in Storybrooke.
In "Who's worse – Rumple or Regina? Can either change?" I suggested Mr. Gold's gift to Henry was an indication that there is still good in his nature and compared his possibility of redemption to Regina's.
Similarly, TheGoldenKey points out in "Mr. Gold and Henry" that in that scene we see a contrast between the guilt-ridden Regina who wants to reform and the Evil Queen in single sentence when Regina says in a harsh tone, "My victims are not supposed to wake up, so, I certainly never cared what happened to them after!" then looks at Henry and says tenderly, "Until now." Several of the theories proposed in the other threads are discussed in this one as well and there are a couple that don't appear elsewhere. Marilou even suggested in the same thread that perhaps there was no price attached to Mr. Gold's gift because there was no real magic involved—just a placebo to help Henry learn to control his nightmare through lucid dreaming. Slurpeez128 observed that Rumple's first act upon acquiring power was to save the children from the Ogre's War, so it appears he is fond of kids. On the other hand, medchen raised the troubling possibility that Gold's action in giving a magical gift to Henry to enable him to solve his problem parallels his gift of the magic looking glass to young Regina in "We Are Both."
Several people also cited the scene with Mr. Gold's gift of the necklace as their favorite moment in discussions of the topic "Child of the moon – Favorite and Least Favorite Moments." In the same thread, TheTrickster also pointed out that this scene fits the mythological archetype of a young hero receiving a magical talisman along with instruction from an old wizard. This is a classic archetype seen in myths from Athena's apperance to Telemachus in The Odyssey to Ogion's tutelage of Ged in Ursula K. Le Guin's A Wizard of Earthsea, to Obi Wan's gift of his father's light saber to Luke Skywalker in Star Wars. TheTrickster draws parallels between this scene and Siegfried taking the fragments of his father's sword from the dwarf Regin in Norse mythology (and in later form in Wagner's opera Der Ring desNibulungen).
Check out these separate forum threads and join the conversation!