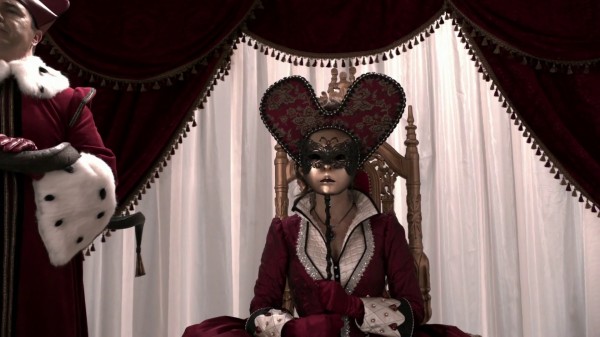 Podcast: Play in new window | Download | Embed
This winter finale feels more like a sleeping curse! But we received many answers, and yet more questions. This was our favorite episode so far.
Enchanted Forest
"Queen of Hearts" happened after the curse was pronounced, after "Hat Trick," and probably before the curse was enacted.
Chess was referenced several times in "Queen of Hearts." Regina called Belle a chess piece, Emma called herself a pawn, and Cora's vault in Wonderland (from "Hat Trick") has chess piece decor.
Belle's cell had markings that total more than three and a half years! Note how the markings are orderly on the right and more chaotic on the left. (We get our 1080p videos from iTunes.)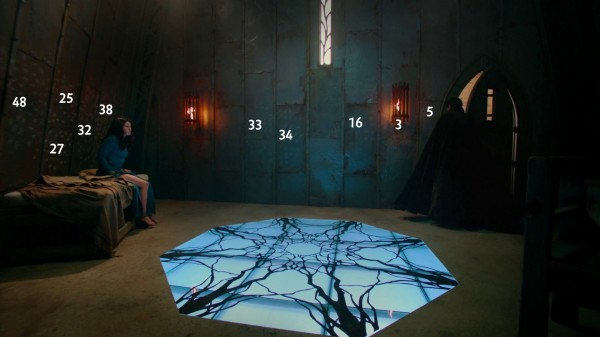 How did Hook learn about the "weapon" against Rumplestiltskin? Could he be referring to the dagger, or maybe Belle herself (since Belle was almost able to turn Rumplestiltskin back into a regular man in "Skin Deep")? Maybe Smee, who is good at finding things, found out this knowledge.
How did Hook back from Neverland to Enchanted Forest? We thought maybe beans were roundtrips, but then Baelfire would have tried coming back (unless the bean doesn't work on in our world).
I was wondering if anyone had an idea of how Hook got out of Neverland. He went in with a bean but how did he get to the Enchanted Forest when he was going to kill Belle? I thought he was going to stay in NeverLand until he found a way to kill Rumple. Perhaps he heard of the "weapon" in Neverland. Did Tink or Peter knew about it? At any rate, this episode leaves questions as to how Hook came back and who told him about the dagger. Thoughts

Ashley
Poor Claude! We thought it would be hilarious if Claude has a backstory like Frederick did.
Looking back to "Hat Trick," we discovered that Barbara Hershey's (Cora) voice was used, and the conversation between Jefferson and Regina gave further original clues.
Did Cora rise to power by taking everyone's hearts? Where is Cora's heart?
Hey guys!

I just realized that with Cora's heart not in her chest she's going to be nearly impossible to kill her. NEARLY there is a Russian Fairytale called Koschei The Deathless. Koschei can have ANYTHING he wants, he can have ANYONE he wants and he cannot be killed by conventional means targeting his body. His soul is hidden separate from his body inside a needle, which is in an egg, which is in a duck, which is in a hare, which is in an iron chest (sometimes the chest is crystal and/or gold), which is buried under a green oak tree, which is on the island of Buyan in the ocean. As long as his soul is safe, he cannot die. If the chest is dug up and opened, the hare will bolt away; if it is killed, the duck will emerge and try to fly off. Anyone possessing the egg has Koschei in their power. He begins to weaken, becomes sick, and immediately loses the use of his magic. If the egg is tossed about, he likewise is flung around against his will. If the egg or needle is broken (in some tales, this must be done by specifically breaking it against Koschei's forehead), Koschei will die. In a way Cora is ONCE's Koschei. So, what Emma needs to do is find Cora's heart crush it to a fine dust and kill her PROBLEM SOLVED! Kinda… Go at it!

Love,
Oncer
Could Cora's heart be in someone else? We've seen Daniel turn into a monster when Dr. Whale used a different heart, and Dr. Frankenstein's brother "ended badly" with someone else's heart.
How did Cora seem to know more about the Curse than Hook relayed to her?
Hi, guys! So I rewatched Queen of Hearts today with a few friends, and I just wanted to share something that stuck out to me about Cora and her knowledge of the curse.

After Hook told her all he knew about the curse, she clearly understood exactly what he was talking about. So much so, that she explained details that he didn't even know, like everyone losing their memory and even the curse breaking in 28 years. It seems like she knows more about this curse than even Regina.

We know that Rumpelstiltskin created the curse and that he taught Cora her magic. This makes me wonder if Cora, too, had a part in the creation of the dark curse. Perhaps Rumple needed her help in making it?

I was also thinking that maybe Rumple tried to get Cora to cast the curse at some point, but she refused to sacrifice the heart of the person she loved most, her daughter [remember that Cora is the "miller's daughter"]. Then Rumple realized he needed to manipulate someone to be so desperate that they would do anything to enact such a curse, and chose Cora's daughter because she refused him. It would be ironic if, in trying to save her daughter's life, Cora actually kicked the first stone in the avalanche of her downfall.

Hannah97
Regina's costume by Cora's fake-dead body reminded Jenny of Ursula.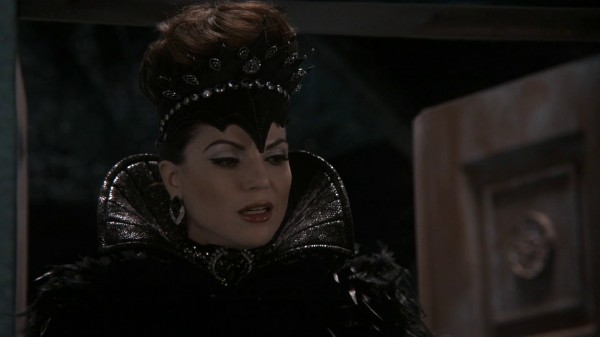 Does Cora truly want to help Regina? How does Cora define "help" and "pick up the pieces"? When Cora came to Storybrooke with Hook, she was holding the dried rose that Regina gave her.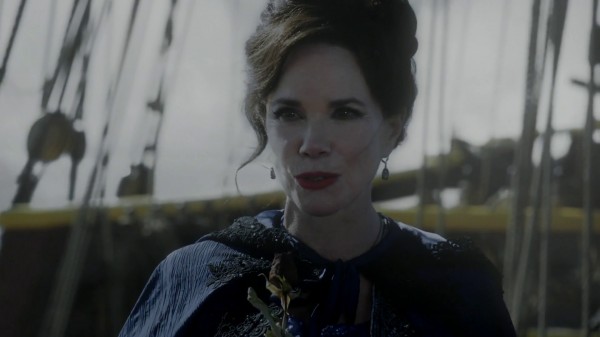 It was indeed Cora who protected the "corner" of Enchanted Forest. She and Hook launched this protective dome from the island that later became the "safe haven."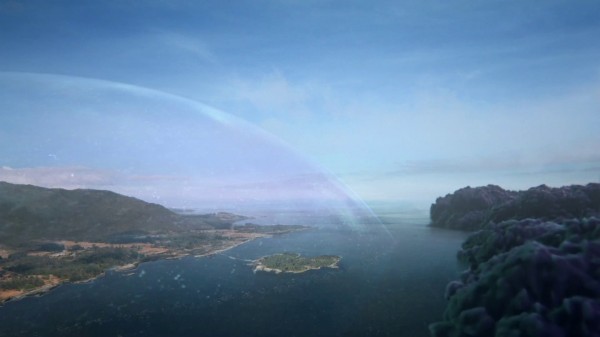 Big thanks to our sponsors!
Sandra
Bonita Still
David Neuland
Or support us by shopping on Amazon.com or getting a FREE audiobook of your choice through Audible's free 30-day trial!
Present-Day Fairy Tale Land
We were close when we predicted that the squid ink had nothing to do with imprisoning Cora. Rumplestiltskin sent the ladies there so Emma would see everything and realize her part in the whole story.
Writers Kitsis and Horowitz hinted in the official Once Upon a Time podcast that Hook didn't kill the giant.
Mulan said that her sword deflects Cora's magic. Also remember that in "Tallahassee," Mulan called the sword, "The most powerful in all the realms." Could this be the sword Excalibur?
Why did Hook really save Aurora's heart? It seemed like an honorable move, but Hook was far from honorable with Emma. It seems his single allegiance is to fulfilling his own revenge.
EMMA HAS MAGIC! We believed this for a long time, since she was able to break the curse; Mr. Gold said, "I think you're more powerful than you know"; and Jefferson said that Emma brought magic. We saw this magic in what our listener Erin called Cora's "oh crap moment."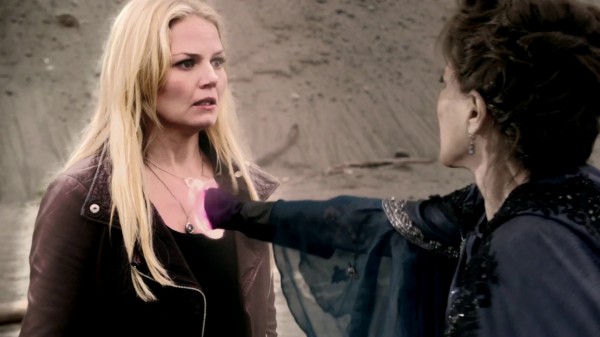 Snow/Mary Margaret referred to Storybrooke as "home." This reminded us of the pilot episode of Once Upon a Time when Mary Margaret taught her students about the birdhouse, "Remember, you're making a home, not a cage."
So what is Emma's magic? She's the product of several levels of true love (Charming and Snow, Charming's mother's sacrifice, and the magic of the water from Lake Nostos). Kitsis and Horowitz clarified that the hat Emma made for Jefferson in "Hat Trick" did not work. But now that magic is in Storybrooke, could it work now?
Thank you for the Apple Podcasts reviews!
Your reviews encourage us and help others find the podcast!
Please rate and especially write a review for us on Apple Podcasts.
Storybrooke
Emma still owes Mr. Gold a favor, so why was he so willing to bet against Emma and risk killing her? Is he that afraid of Cora?
Did Mr. Gold involve Regina as a scapegoat, or did he really use her magic?
When Mr. Gold harvested the diamonds with the wand, he used the exact same wand he got from Cinderella's dead fairy godmother.
Mr. Gold has a couple magic wands. Where did he get the other one?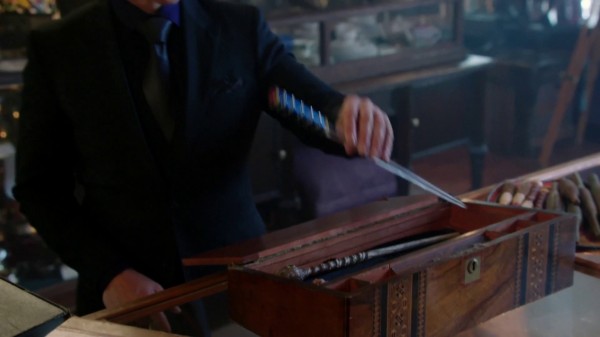 Mr. Gold said that no one could survive the barrier at the well. So did Regina essentially give up her life in order to save Emma and Mary Margaret? This was her redeeming moment, but no one seems to recognize that. This could be a setup for Regina's running to Cora for love.
So one of the things I found really interesting during this episode was Cora and her motivations for going back to SB. I have always assumed that she wanted to take Regina on and defeat her, but she says that she wants to help Regina. So, here are my predictions for what will be happening with that relationship. I think that Cora really wants to be reunited with Regina. I expect that when she enters SB and sees Regina at a low point she will take advantage of Regina's pain to get reconnected with her. I also expect that Cora will convince Regina to take back the town. I can see Regina feeling she has lost Henry after this episode and returning to her evil motivations to deal with her pain.

Anyways that was just my initial thought at the end of this episode. Would be interested to hear what everybody thinks!

HonestyoftheHeart
Hey guys,

Really enjoyed the podcast and chat room tonight – I really look forward to this after the episodes because no one else in my house watches the show – so it is nice to chat with others and theorize with them….

I randomly just started thinking again about the interaction between Snow and Cora right before Emma stepped in and learned about her magic.

Cora said she was going to "give Regina what she always wanted" – that being Snow's heart.

Just that comment really made me think (now that I've processed it) that perhaps Cora isn't going back to Storybrooke to ruin Regina's life… but is in fact going back to try to redeem herself to Regina, much like Regina is trying to redeem herself to Henry. After Cora heard Regina's confession when she thought her mother was dead, this could point to Cora understanding WHY Regina wanted her dead. Perhaps that changed her a bit? And what would be the best way to get back to your evil daughter's good side but to bring your daughter the heart of the girl she hates most in the world?!

I get that taking people's hearts is Cora's forte… it is just her choice of words that has me wondering what her motives are, exactly.

Also, totally separate from that is the direction that the Mulan/Aurora storyline is going to be heading now that there is no tie from Storybrooke in Fairy tale land… I definitely think that the red room is still going to be a factor in this —– David just awoke from the sleeping curse, so he is bound to be visiting the room for the near future, at the very least… Henry will be there as well… and we also now know that Snow can get there if she lets her defences down (and, now that her and Charming are back together, I imagine that will be easier?). I think the red room is definitely going to continue to act as a forum for those characters to connect (and perhaps help each other – Aurora can get answers from Regina/Rumpel about the soul sucker and perhaps Storybrooke folk can find out where Cora's heart is and have Mulan and Aurora help find it if it is still in fairy tale land) (though, leaving your world without your heart without having a guaranteed way back might not have been Cora's most intelligent decision).

I'm also very curious to get the Cora/Rumpel storyline started… Eddie and Adam hinted at this in the last official podcast when they talked about Cora being the Miller's daughter… Regina having once been "a baby" and knowing that in that tale, Rumpel had been promised the first born child from Cora… So… hopefully this entire line of stories begins getting addressed at some point in the new year.

Also, if they are going to keep Aurora and Mulan around, a little Mulan background would be good (Since Mulan is a fairy tale that is rooted in true life events, i.e. the huns invading China, and since China is not likely part of fairy tale land, her story is likely to look incredibly different)… Aurora even said that she had always been destined to be cursed and that was it, so everything in the future is a gift, but there's been zero background on Mulan other than that she has a thing for Philip —- so some background would be desirable if they are going to continue to be central characters.

Sorry if this is super long – just wanted to make sure I covered everything for now!

Erin
Remember that Regina still has the spell book. What would happen if Cora gets it back? Is this a setup for the "final battle" that Rumplestiltskin prophesied in the pilot?
Vote in the costume contest
Vote for the best fan-made Once Upon a Time costume in our contest! Voting is open through December 15 and the winner will be announced shortly after.
Join us for the LIVE podcast!
Initial reactions on Sundays at 9:15 p.m. (EDT/GMT-4)—right after the Eastern and Central episode airing.
Full discussion, feedback, and live calls on Wednesdays at 8:30 p.m. (EDT/GMT-4).
On these dates, visit ONCEpodcast.com/live to watch and chat live.
Preorder season-two DVD/Blu-ray set!
You can now preorder the complete second season of Once Upon a Time on Amazon.com! For a limited time, save $10 off the DVD set and $15 off the Blu-ray set!
Preorder the second season today!
What did you think?
Email Feedback@ONCEpodcast.com (audio files welcome)
Call (903) 231-2221
Comment on the shownotes
Visit any page on ONCEpodcast.com and click the "Send a voice message" link to record and send a message right from your computer.
Help us out!
Share this post in your social networks
Follow us
On Facebook:
On Twitter:  echo do_shortcode('[twitter follow="ONCEpodcast"]'); ?>
Daniel J. Lewis:  echo do_shortcode('[twitter follow="theDanielJLewis"]'); ?>
Jeremy Laughlin:  echo do_shortcode('[twitter follow="phlegon"]'); ?>
ErinJ:  echo do_shortcode('[twitter follow="erinjcruz"]'); ?>
Hunter Hathaway:  echo do_shortcode('[twitter follow="travelingpixie"]'); ?>
Jacquelyn / RumplesGirl:  echo do_shortcode('[twitter follow="punk_bunny_87"]'); ?>