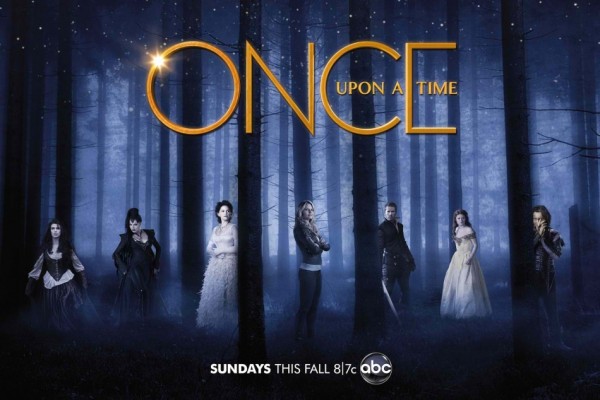 "Magic is coming," says ABC Studios' updated synopsis if Once Upon a Time. The description now includes a recap of the first season and some hints (and tiny spoilers) of what's to come.
Master storytellers Edward Kitsis and Adam Horowitz ("Lost," "Tron: Legacy") invite everyone to Storybrooke, Maine, a small town that probably won't show up on one's GPS, but it's a place where magic is coming!

To ensure that no one in fairytale land—especially Snow White—had any more "happily ever afters," Evil Queen Regina cast a curse which trapped the fairytale characters, frozen in time, and brought them into our modern world. Although still alive, they had no knowledge of their former selves and were sleepwalking through life—ageless—for 28 years, until a savior arrived in the form of Emma Swan. Unbeknownst to Emma, she was the daughter of Snow White and Prince Charming, who had whisked her out of fairytale land and into our world as an infant to save her from the curse. Abandoned as a baby, Emma's life was anything but magical; her last job was as a bail bondsperson, but she mostly drifted without much of a life plan. When her 10-year-old son, Henry—whom she had given up for adoption years earlier—appeared on her doorstep with a book of fairytales and a wild story about how Emma was the progeny of fairytale characters trapped in a town called Storybrooke, she thought he was crazy. But curiosity got the better of her, and when she brought Henry back to the town—where Regina, ever the control freak, had made herself mayor and was also Henry's adoptive mother—Emma soon discovered that Storybrooke was more than it seemed. Over time she came to believe the stories were true, began to see cracks in the curse, and was finally able to break it.

Reality and myth were merged as the fairytale characters began awakening, once the curse was lifted, and remembered who they were. But to their dismay they were not transported back to fairytale land. And to make matters worse, Rumplestiltskin—AKA Mr. Gold—in an effort to gain the upper hand in his power struggle with Regina, introduced magic into the town. In fairytales magic has its place, but in our world it can have unfathomable consequences. Now the fairytale characters must contend with magic in their quest to find a way home, as new fairytale characters are revealed, old acquaintances are revisited, and some we had come to believe could be trusted will turn against their own kind.

"Once Upon a Time" stars Ginnifer Goodwin as Snow White/Mary Margaret, Jennifer Morrison as Emma Swan, Lana Parrilla as Evil Queen/Regina, Josh Dallas as Prince Charming/David, Emilie de Ravin as Belle, Jared S. Gilmore as Henry Mills, Meghan Ory as Red Riding Hood/Ruby and Robert Carlyle as Rumplestiltskin/Mr. Gold.

"Once Upon a Time" is broadcast in 720 Progressive (720P), ABC's selected HDTV format, with 5.1 channel surround sound. Edward Kitsis and Adam Horowitz are creators and executive producers. Steve Pearlman is also executive producer. The show is from ABC Studios.
Once Upon a Time returns to ABC for season two on Sunday, September 30, at 8/7c.
---
ONCE podcast is the #1 unofficial podcast for ABC's TV show Once Upon a Time. The podcast is hosted by Daniel J. Lewis, his wife Jenny, and Jeremy Laughlin. ONCE podcast was a finalist for best TV/Film podcast in 2012.
For more in-depth reviews, theories, easter eggs, and talk about Once Upon a Time, subscribe to ONCE podcast for free in iTunes or your favorite podcast directory; visit the ONCE podcast website for screenshots, shownotes, and blog posts; and join the Once Upon a Time forums to talk with other fans.
Please retweet this!
Check out @OnceABC's new synopsis of #OnceUponaTime! http://t.co/3UKufj2w (tiny spoilers)

— ONCE podcast (@ONCEpodcast) September 5, 2012