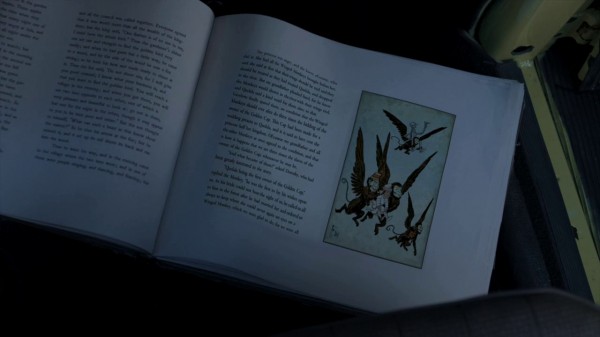 Podcast: Play in new window | Download | Embed
More DVD/Blu-Ray bonus features, Dr. Whale as the Wizard of Oz, storyline elements from True North, and Once Upon a Time news and spoilers for season two.
Big thanks to our sponsors!
You can sponsor ONCE podcast, too!
News
Feedback & discussion
From the rewatch: Hansel and Gretel's story as it was in the book.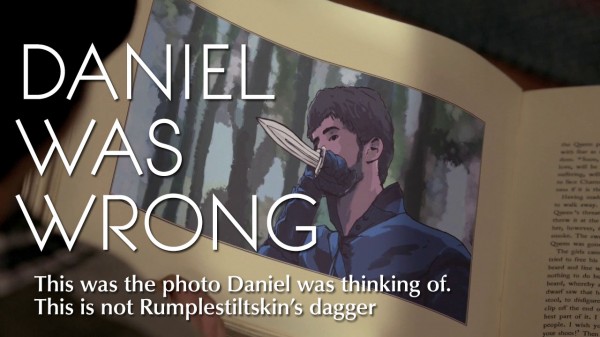 Henry's father idea
Hi, guys! Yesterday I was sitting in my room working on Geometry, and my mind starting wandering. I got this idea and I wanted to share it with you. What if Henry's father is the Wizard of Oz? We know he has to be someone from the Fairy Tale World, because it would be really lame if he wasn't, and we all know how often those flying monkeys come up in Henry's book. Plus, other than Bae, he's the only character we know of who has travelled back in to our world from the fairy tale world, meaning he would be free of the curse. (And just because he was old in the books, doesn't mean he would have to be in Once.) Just an idea, I'd love to hear your thoughts on this. You guys are great!

~Hannah97
Interesting take!
Was True North a throwaway episode?
Fellow Oncers,

Since you've been doing the re-watch – now that we're at the end of the first season, I looked back at and tried to make a big picture.  I'm not sure how to say this, but True North seems to be a complete throw away.  Not to say it was a bad show in any way, but it just didn't seem to move either the Enchanted Forest story line along, nor the Storybrooke line.  Well, except for the last minute when August first rolls into town, but they could have put that at the end of any episode.

Think about it, in all the other episodes, we saw pieces of the back story for Snow and Charming, Evil Queen, Rumple, and intros for the other main characters (Red, Jiminy, Dwarfs, etc), but this story introduced three characters, that just disappeared back into Storybrooke.  We got tiny insights into EQ and Emma, but nothing that would have been really missed if we hadn't seen this episode.

What do you think?  Was there some other redeeming quality, some other facet to this that I've missed?  Surely the whole point of the episode wasn't to have a 42 minute lead-in to make the 1 minute mysterious stranger seem more foreboding.

Larry
We think there were several storyline-moving elements in "True North":
Emma said things about Henry's dad—some lies to Henry, but probably some truths. She also told real things to MM.
In Enchanted Forest, we saw how the queen got the apple, and can probably expect more of a story there someday.
We were also introduced to the infinite forest, which doesn't come back until "A Land Without Magic."
In SB, MM and Emma's relationship builds and opens in new ways.
See spoiler section below for something additional.
Hi, Podcasters!!!

I've been away in camp for a while, but I'm back now and excited for September 30th!

One thing I remembered from before I left was how Daniel wanted an "on air" sign for when you guys do the podcast. Which would, of course be awesome. 🙂

So, though I couldn't buy one, I decided to make a virtual representation I thought you might like 😀

Thank you so much for the podcasts! You guys are awesome and I can't wait to see the next one!!!

~ Clockwatcher 🙂

Synchronized rewatch
We're having a great time rewatching the first season of Once Upon a Time! We rewatch two episodes 7–9 p.m. (EDT/GMT-4) every Sunday, July 15 through September 23.
To participate, join our live rewatch chat during the rewatch time. Have your own access to all the Once Upon a Time episodes, and we'll let you know how to synchronize with us.
Until the season one DVD/Blu-Ray set ships, your can rewatch Once Upon a Time with any of the following.
Summer schedule
With the summer hiatus, we're adjusting our live podcast schedule. We'll record live episodes biweekly at 8:00 p.m. (EDT/GMT -4:00) on ONCEpodcast.com/live.
September 19, 2012
Possible final predictions episode on September 26
September 30, 2012—Season-two premiere and initial-reactions podcast!
This schedule will remain in effect unless otherwise announced.
Please retweet this!
#OnceUponaTime podcast: New synopsis, Wizard of Oz, True North, news, and spoilers http://t.co/TZHSkcan

— ONCE podcast (@ONCEpodcast) September 6, 2012
What did you think?
Email Feedback@ONCEpodcast.com (audio files welcome)
Call (903) 231-2221
Comment on the shownotes
Visit any page on ONCEpodcast.com and click the "Send a voice message" link to record and send a message right from your computer.
Help us out!
Share this post in your social networks
Follow us
On Facebook:
On Twitter:  echo do_shortcode('[twitter follow="ONCEpodcast"]'); ?>
Daniel J. Lewis:  echo do_shortcode('[twitter follow="theDanielJLewis"]'); ?>
Jeremy Laughlin:  echo do_shortcode('[twitter follow="phlegon"]'); ?>
ErinJ:  echo do_shortcode('[twitter follow="erinjcruz"]'); ?>
Hunter Hathaway:  echo do_shortcode('[twitter follow="travelingpixie"]'); ?>
Jacquelyn / RumplesGirl:  echo do_shortcode('[twitter follow="punk_bunny_87"]'); ?>
Spoilers
The updated Once Upon a Time synopsis hints at some changes in season two.
Now the fairytale characters must contend with magic in their quest to find a way home, as new fairytale characters are revealed, old acquaintances are revisited, and some we had come to believe could be trusted will turn against their own kind.
One of these characters to turn against the others could be the Mad Hatter, slated for no fewer than three episodes!
Mulan and others
Hi ONCE crew,

I have a question regarding the spoiler on the appearance of certain Characters. We have established the fact that OUaT is likely to not just cover Fairy Tales since we have seen other storybook tales (like Pinocchio) as well as Greek mythology (like Midas). Which brings me to the appearance of Mulan. Are me now also going to see stories that are legends which might have been real stories?

Mulan has been actually telling the story of an ancient Chinese poem titled the Ballad of Mulan and was believed to have lived during the Northern Wei dynasty which lasted from 386CE to 534CE. According to the legend she fought for twelve years. During that time she was offered twelve ranks as a way to reward her for her skill in battle. Although the first versions of the legend date from the 6th century CE a later version of the book expanded on the original poem. It is unclear if Mulan has actually lived or not, but this gives us the chance to theorize about Pocahontas as well. Are we going to see Characters that have depicted in Disney movies? No matter if they were historical figures, legends, Fairy Tales or Storybook Characters?

Just throwing it into the mix as well.

Thanks,

Annemarie
Dr. Whale as the giant, or Jack?
Hello Once Podcasters!

I am currently listening to the Dr. Whale episode and suddenly had a revelation.  I included "spoiler" in the subject line b/c I know one of you don't want to know anything about Season 2, and this has to do with something that was revealed about Season 2.  So here is who I think Dr. Whale is:

The Giant from Jack and the Beanstalk.

First, we know that Jack and the Beanstalk will be in Season 2 (from the title sequences that were revealed). Second, a whale is a giant creature, and the writers could have just used a play-on-words for his name.  Third, he is in a position of power in Storybrooke, which has usually meant that the person what either evil or the queen had manipulated him/her to evil purposes, and the Giant was the "bad guy" in Jack and the Beanstalk.

Thats my theory, I would love to hear what you might think.

Sara
This is creative thinking, but we recently learned that Jorge Garcia will play "The Giant" in season two. Perhaps Dr. Whale will be Jack, the giant's counterpart.
What did you think?
Email Feedback@ONCEpodcast.com (audio files welcome)
Call (903) 231-2221
Comment on the shownotes
Visit any page on ONCEpodcast.com and click the "Send a voice message" link to record and send a message right from your computer.
Help us out!
Share this post in your social networks
Follow us
On Facebook:
On Twitter:  echo do_shortcode('[twitter follow="ONCEpodcast"]'); ?>
Daniel J. Lewis:  echo do_shortcode('[twitter follow="theDanielJLewis"]'); ?>
Jeremy Laughlin:  echo do_shortcode('[twitter follow="phlegon"]'); ?>
ErinJ:  echo do_shortcode('[twitter follow="erinjcruz"]'); ?>
Hunter Hathaway:  echo do_shortcode('[twitter follow="travelingpixie"]'); ?>
Jacquelyn / RumplesGirl:  echo do_shortcode('[twitter follow="punk_bunny_87"]'); ?>