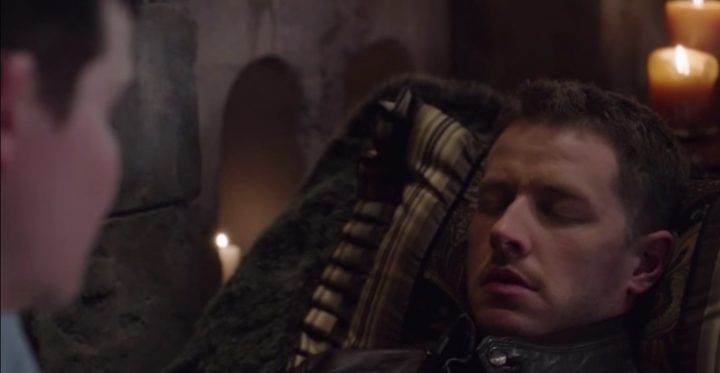 Ruining Emma's fate, Tiger Lily's connection with the Black Fairy, and more magical mcguffins. Plus! The #SaviorShakes are back and more theories about the final battle on our initial reaction of "Awake."
Podcast: Play in new window | Download | Embed
Still trapped in Neverland, Hook aligns himself with Tiger Lily, hoping to find a way back to Emma. Back in Storybrooke, Regina works to break the sleeping curse that David and Snow are under, and Gold denies The Black Fairy, which brings the two of them to a fearsome impasse. In flashbacks, we learn what Snow and Charming sacrificed in order for Emma to fulfill her destiny as the Savior.
These are our first thoughts about this Once Upon a Time episode. We'll share more about "Awake" in our upcoming full discussion (usually live on Wednesdays at 7:00 p.m., USA Eastern Time).
Initial Reactions
Remember, these are only our initial reactions regarding tonight's episode so please bear with us if we're a bit all over the place. If you have your own thoughts, feedbacks, or theories regarding tonight's episode, however, send them over to us and join our upcoming full discussion!
This was an amazing episode. It was so good IF you cut out the rest of the series. It reminded us of the good old days when we constantly liked the episodes. There's so much good stuff that happened in this episode with some really good writing and almost tear-jerking moments but it felt, in plot, the mechanics and magical mcguffins, very disconnected from the rest of the series. This whole thing that Snow White and Charming waking up during the time of the curse was cute, but it doesn't fit with the rest of the series and kind of ruins it for us. It's total retcon, putting that waking up in the middle of the dark curse. However, aside from the magical mcguffin here and there, it was a fantastic episode.
How did the present day characters remember what happened in the flashback if Snow White and David took a memory potion? Why wasn't the pixie flower growing in other places, too, like the Underworld, Neverland or the Dark Realm where there's a massive presence of evil? Where was the flower then, especially even now if the final battle isn't just contained within Storybrooke? On the other hand, it was really awesome how they referenced the first season so many times, like the part where Rumplestiltskin reacted when David said Emma's name. It was exactly how he reacted when Emma said her name back in the Pilot episode.
We liked seeing more of Neverland and getting to see the squid ink tap from that maple tree. Hook cutting his shadow off might be what legitimizes his going to Neverland. Maybe Neverland is the only place where with magic like that, and the only place where a shadow can be cut from yourself. Although, the latter part may not be true since Pan's shadow ripped the Blue Fairy's in Storybrooke so the former could be more possible. It was also nice meeting Tiger Lily, as well as the throwback to the original animated Disney feature of Peter Pan when they referenced Skull Rock. It was also interesting how Tiger Lily said that she used to be a fairy that was closely associated with the Black Fairy but didn't do anything to stop the Black Fairy. A bit far-fetched of a connection, but nonetheless interesting.
Both the Black Fairy and Rumples could've done a mic drop by the end of the episode, which seems like this final battle isn't just between the Charming's versus the Black Fairy and the Stiltskin's, but between multiple people; a world war. Rumple has always been the wild card, you never know what side he's playing until he reveals his card, but the Black Fairy said very clearly that when the darkness comes he'll change his mind about being on her side. If it weren't for them building up the Savior being so involved, the final battle could be between the two of them.
The Savior Shakes are back and if it's coming back, could Emma's vision still happen? If the Savior Shakes are coming back, isn't it a hint that it could still happen, which will be a little odd but it could be that the battle is between, maybe, the Black Fairy and Emma, but it could also be that she's controlling Gideon and causes this final battle to happen again.
It was such a beautiful moment between Snow White and Charming when they realized that they would be changing Emma's fate as the "Savior" if they went and got her when she was a 10-year-old little girl. However, that flower appeared for a reason in Storybrooke, is that not also fate? Was it not fate for them to then break the curse for themselves in that moment? They were right in saying that she'll have a new destiny with them if they went and got her, but it as always interesting discourse when they bring in fate and destiny into it.
But, at least, everyone is there together thanks to the pretty ingenious idea of sharing the sleeping curse, which is a beautiful thing to see if you ignored the rest of the series. This reminded us of last season when they had to collectively put their wishes in the well. It is beautiful that they did it for Snow White and Charming who, at the same time, were seeing all the sacrifices that they have constantly made for those people, which Regina did a great little speech about that, encouraging everyone to break the curse together.
Seeing a lot of our core characters such as most of the dwarves, Granny, Archie and Pongo, feels as well as seeing a little bit of during the time of the dark curse when we thought that they were going to give us a flash sideways further confirming at the time that this is the final season. But knowing that it wasn't, still, seeing a lot of the our original core characters still feels like it's leading us to a final season in a way that they've written this season to be the final season. Nevertheless, it seems like they are giving us a good finale.
Want to join us for our finale party? Send in your responses and join us for our initial reactions or simply watch us record if you want! Stay tuned for more information about our finale party. We would love to meet you! Have any theories and other feedback about this episode? Send them in and join us this coming Wednesday for our in-depth discussion of "Awake" or simply head over the forum where you can share your favorite and least favorite moments of the episode, as well as other moments that stood out tonight!
What did you think?
Email Feedback@ONCEpodcast.com (audio files welcome)
Call (903) 231-2221
Comment on the shownotes
Visit any page on ONCEpodcast.com and click the "Send a voice message" link to record and send a message right from your computer.
Help us out!
Share this post in your social networks
Follow us
On Facebook:
On Twitter:  echo do_shortcode('[twitter follow="ONCEpodcast"]'); ?>
Daniel J. Lewis:  echo do_shortcode('[twitter follow="theDanielJLewis"]'); ?>
Jeremy Laughlin:  echo do_shortcode('[twitter follow="phlegon"]'); ?>
ErinJ:  echo do_shortcode('[twitter follow="erinjcruz"]'); ?>
Hunter Hathaway:  echo do_shortcode('[twitter follow="travelingpixie"]'); ?>
Jacquelyn / RumplesGirl:  echo do_shortcode('[twitter follow="punk_bunny_87"]'); ?>