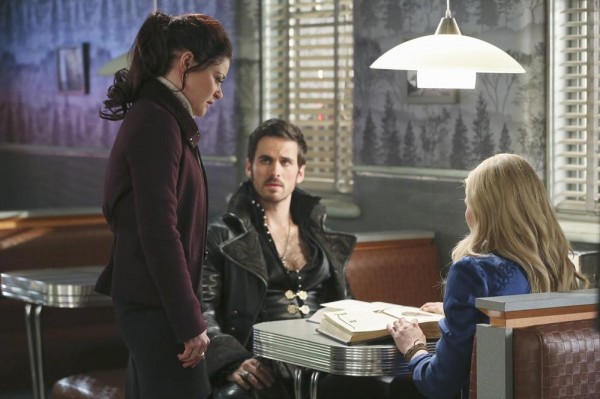 In order to move forward with her wicked plans, Zelena lets the Dark One off his leash to get what she wanted. Will they succeed or can Regina stop them before they can move on? Meanwhile, Regina uses an old relic to do a simple ritual that will hopefully give answers from the one person who really knows her past.
Podcast: Play in new window | Download | Embed
After Zelena steals Regina's heart, Regina casts a spell so that she can speak across the realms to her dead mother, Cora, to discover the truth about why she abandoned Zelena, and Belle stumbles across what Zelena's ultimate end game is. Meanwhile, in the Fairy Tale Land that was, young Cora is duped by a man claiming to be a prince and finds herself alone and pregnant. But a chance meeting with a real prince could lead Cora to the royal life she's always craved, but she must keep her pregnancy a secret or risk losing everything.
These are just our first thoughts about this Once Upon a Time episode. We'll share more about "Bleeding Through" in our upcoming full discussion live on Wednesday April 23, at 8:00 p.m. (EDT/GMT-4).
Thank You for Supporting Us!
Steve Johnson (subscriber)
David Neuland (subscriber)
Lisa Slack (subscriber)
George Ferro
You can sponsor an episode or more of ONCE podcast, too! Email Daniel@ONCEpodcast.com if you would like to arrange a corporate sponsorship of our podcast for the upcoming third season.
Initial Reactions
Remember, these are just our initial reactions regarding tonight's episode so please bear with us if we're a bit all over the place. If you have your own thoughts, feedbacks, or theories regarding tonight's episode, however, send them over to us and join our full discussion this Wednesday!
Joining us for our initial review tonight in place of Jeremy is the very beautiful, Jenny.
Rose McGowan is back as Young Cora and as usual, she did not disappoint. It was really cool to see young Cora again. We'd heard something before when Cora was killed about seeing her again someday, and we did. Now that we know how Cora gave Zelena up, how did the Wizard know about it since he claimed that he doesn't have any powers?
We also finally found out what Zelena really wants — change the past. This whole changing the past thing reminds us so much of (Once Upon a Time in) Wonderland. However, the laws of magic states that no one can change the past. Is Zelena powerful enough to cast this spell and succeed in it? With powerful, advanced enough magic, can it really be done?
Henry wasn't in this episode. Who's baby-sitting him?
Emma seems like she's getting really good at using magic. Hopefully, she won't turn out power-hungry like the villains.
Zelena states that she plans to reunite Rumple with his son, Baelfire. Zelena actually plans to change the past, time-changing spells have been written but never cast.
The flashbacks in this episode pretty much confirmed that this takes place before everything that happened in The Miller's Daughter.
Thank You for the iTunes Reviews!
Your reviews encourage us and help others find the podcast!
Please rate and especially write a review for us on Apple Podcasts.
Did baby Zelena actually caused that tornado? Remembering what she did with the tree after she dropped in Oz, there's a possibility that she might have caused it herself. Or did future Zelena caused it herself?
Back to the present, Zelena and Rumple being all over each other is uncomfortable. He's probably just buttering her up to get close to get the dagger but it worked!
It was really cool to see Regina protecting Snow from her mother. It was also nice to see Belle stand up to Regina, and later on see them make amends.
Finally, it was so great to see Regina and Robin's relationship level up. It was interesting since she doesn't even have her heart.
Speaking of Regina's heart, it was said that hers was resilient. Despite it being a black heart, it seems like Regina's heart is too precious and has a lot of resilience inside her with or without it.
Why is Charming drinking every tea that anyone gives him without even asking what's in it first?
How did Regina recognized Young Cora? Did she simply remember how her mother looks like when Cora was younger? Young Cora, on the other hand, reminded us of Peter Pan when she told Zelena that she has to give her away. It seemed so selfish of her to give the baby up. It was also interesting to see those lines reused but in another way.
Prince Jonathan, Zelena's real father, unfortunately, turned out to be a nobody. But why is Cora so hell-bent on essentially marry someone she just met? Didn't she learn a lesson from Frozen? She sure could use some lessons from Queen Elsa.
What do you think of this episode? With Regina's heart finally in Zelena's possession, what will she make her do? Is hope really isn't easy now that the Wicked Witch holds her heart, or is Regina's resilience enough to defeat her half-sister? Now that Zelena finally have everything that she needed, is there anything that they can still do to stop her even if they unite against her? Share your thoughts, theories and ideas by sending it over via email, commenting below, or joining us over the forum and join us this Wednesday for our full-discussion of tonight's episode, Bleeding Through.
What did you think?
Email Feedback@ONCEpodcast.com (audio files welcome)
Call (903) 231-2221
Comment on the shownotes
Visit any page on ONCEpodcast.com and click the "Send a voice message" link to record and send a message right from your computer.
Help us out!
Share this post in your social networks
Follow us
On Facebook:
On Twitter:  echo do_shortcode('[twitter follow="ONCEpodcast"]'); ?>
Daniel J. Lewis:  echo do_shortcode('[twitter follow="theDanielJLewis"]'); ?>
Jeremy Laughlin:  echo do_shortcode('[twitter follow="phlegon"]'); ?>
ErinJ:  echo do_shortcode('[twitter follow="erinjcruz"]'); ?>
Hunter Hathaway:  echo do_shortcode('[twitter follow="travelingpixie"]'); ?>
Jacquelyn / RumplesGirl:  echo do_shortcode('[twitter follow="punk_bunny_87"]'); ?>