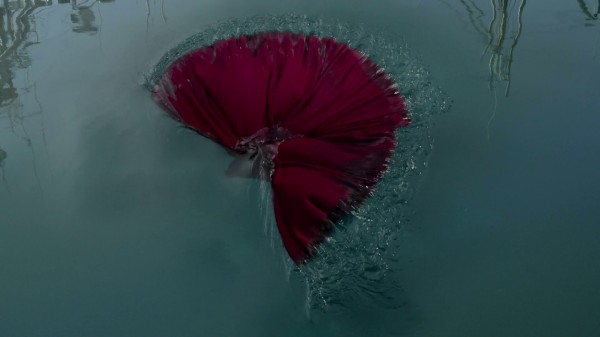 Eager to prove that they are just as fun as Hook, Snow and Charming taught their grandson how to drive as Regina teaches Emma how to swim to enhance her magical abilities. During the lost year, Hook agreed to help Ariel find her prince by reclaiming the Jolly Roger against a formidable foe.
Podcast: Play in new window | Download | Embed
By the way, we did a little math and have found out that we only have five episodes this season.
(Past) Enchanted Forest
At the start of the episode at the Enchanted Forest last year, some of us thought that it was going to be Robin Hood, only it wasn't him, but Hook instead. It was so unlike Hook but we liked how he was honorable to the harlot. Smee, on the other hand, was turned back to human from being a rat.
When Smee gifted Hook with a woman, we initially thought that he would jump on the opportunity to go back to his old self and fool around with the woman. Hook seems to love the Jolly Roger so much; even talking about it as if it was a girl. Should we start coming up with a ship name now? Cutthroat Ariel, on the other hand, was so interesting. She also kinda reminds us of Kira Knightly's character in Pirates of the Carribean when she talks about the rules.
As Hook, Smee and Ariel go trudge, trudge, trudge, Ariel was seen wearing Prince Eric's cape, which had the Ursula button in it. As they were walking through the forest, Ariel said, "Nothing more boring than land travel", which is very opposite to what Ariel said in the Disney animated version, which goes "Flippin' your fins you don't get too far."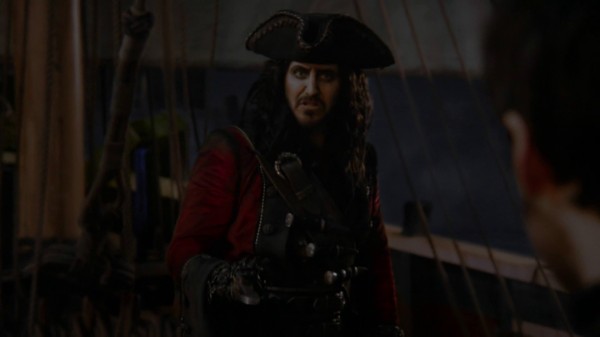 As they get to the Jolly Roger and the showdown between Hook and the Black Beard, he doesn't have much of a beard. Edward Teach (also Edward Thatch), AKA "Blackbeard," was a real pirate across the around the end of the 17th century.
Contrary to the modern-day picture of the traditional tyrannical pirate, he commanded his vessels with the permission of their crews and there is no known account of his ever having harmed or murdered those he held captive. He was romanticised after his death and became the inspiration for a number of pirate-themed works of fiction across a range of genres.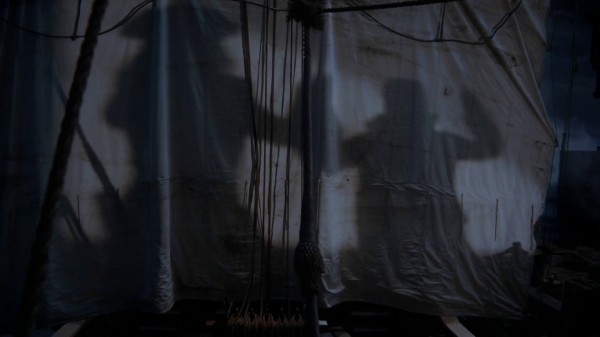 Their little scene where their shadows was shown on the sail while they were fighting in the ship was a nice homage to Steven Spielberg's fascination with action shadows, especially the shadows on the sail in Hook (1991).
I'm currently listening to the audiobook of Peter Pan and it mentions Hook being Blackbeard's bo'sun. So perhaps they just used BB because he was already mentioned in the original story.

— Ellemo78
Moreover, the Black Beard said that the only thing he wants was to prove that he was no longer a pirate. Is he still a pirate or is the Black Beard correct in saying that he's no longer a pirate? Hook was also asked by Ariel, "Isn't true love more important than a few planks of wood and a sail?" Is Hook still his old self contrary to what other people say about him being a hero?
Thank You for Supporting Us!
Steve Johnson (subscriber)
David Neuland (subscriber)
Lisa Slack (subscriber)
You can sponsor an episode or more of ONCE podcast, too! Email Daniel@ONCEpodcast.com if you would like to arrange a corporate sponsorship of our podcast for the upcoming third season.
(Present) Storybrooke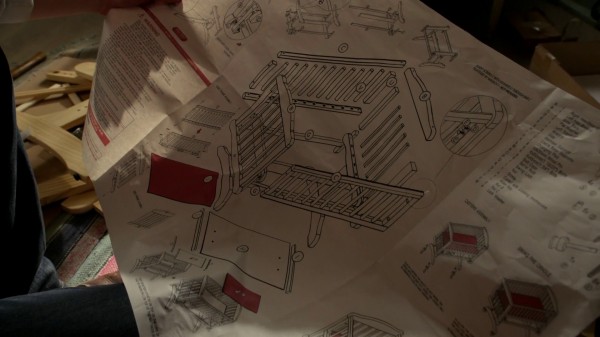 Starting off the present is with the Charming and Emma trying to build the crib. It was nice to reference Marco, though, Pinocchio's father. Speaking of words that don't go together, Regina told Snow that there are a number of spells involving baby parts. Is this why Zelena, or even Rumple was after Snow's baby?
Speaking of Snow's baby, it seems a bit redundant to place a protection spell on their apartment. Surely, Snow is going to deliver her baby in the hospital, isn't she? Are they going to have to put a protection spell in the hospital, too?
After Emma asked Regina to teach her magic, Regina told her that she has to fully commit to it, even calling it a way of life. Is Emma really fully committed to learning magic? How will that change her relationship with Henry and the story going forward if and when Henry finds out that she was using magic? Would he like it or look to it as evil?
In the dock with Hook and Smee, it seems like there's  still more story to where the Jolly Roger is, as Hook refused to tell as to where it could be, even to Smee. Did he traded his ship for magic so he could go retrieve Emma in New York and make her remember who she is?
Emma, on the other hand, looks conflicted whether she wants Henry to get his memory back. Are they making her sit on the fence until Henry's memory comes back? If Emma's planning to take Henry back to New York once everything is done as if nothing happened, does that mean that she's willing to leave her parents?
What happened to the Jolly Roger? Over the forum, one of the most popular theories is still that Hook gave it up to get back to Emma. However, it still doesn't answer where he got the message and memory potion from.
Moving along, as Snow and David walks along the beach is where the story started to feel to contrived and convenient just to get Ariel to be Zelena. How many spies Zelena have in Storybrooke aside from the flying monkeys? Nice Little Mermaid reference though when Ariel said that she has been 'under the sea.'
Back at Granny's Diner when Hook was looking after Henry, it seems as if Hook teaching Henry that all that matters is winning, even if you have to cheat. What would Emma and/or Regina say if they knew their son was getting this lesson? And what does this mean for "Reformed Pirate" Hook?
While Hook is teaching Henry how to cheat, Regina teaches Emma how to do magic. Coincidentally, the last time Regina tried teaching Emma magic was in the episode, "Ariel". In both episodes, David thought it was a bad idea. Regina also said in that episode that Emma was a waste of ability.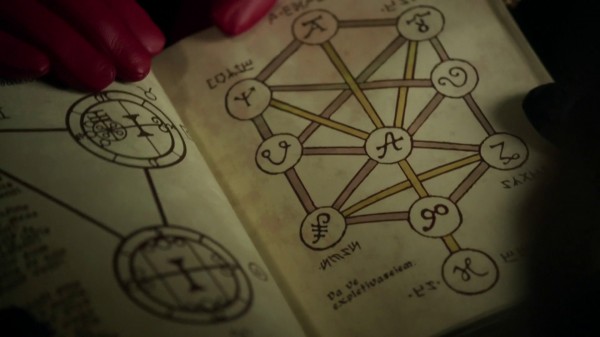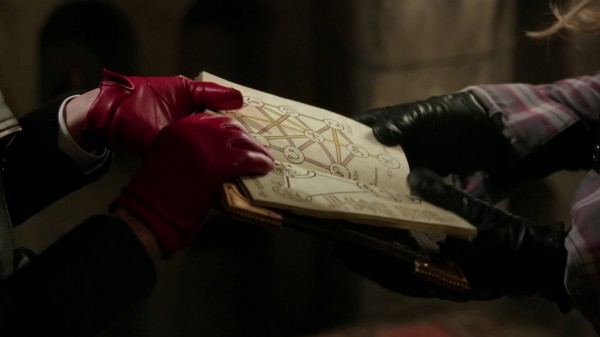 The spell book that Regina showed Emma, however, was the same  spell book as Cora used and Regina almost destroyed in the second season.
Did a little digging into the page Regina shows to Emma from the spell book.

There are two completely unrelated elements to what is going on here:

First, the design. The design comes from old Jewish Kabbalah teachings and is what's called the Sephirot meaning the ten emanations and attributes of God with which he continually sustains the universe in existence. Here are the different attributes:

Category:    Sephirah: Above-consciousness

1 Keter-"Crown" Conscious intellect

2 Chokhmah-"Wisdom"

3 Binah-"Understanding"

Conscious emotions    (Primary emotions:)

4 Chesed-"Kindness"

5 Gevurah-"Severity"

6 Tiferet-"Beauty" (Secondary emotions:)

7 Netzach-"Eternity"

8 Hod-"Splendour"

9 Yesod-"Foundation" (Vessel to bring action:)

10 Malkuth-"Kingship"

The second, and unrelated, element are the symbols. The symbols are not from Jewish Kabbalah but rather they are symbols which represent the alchemical process of transformation. Alchemy, is an influential philosophical tradition whose practitioners have claimed it to be the precursor to profound powers. The defining objectives of alchemy are varied, but historically have typically included one or more of the following goals: the creation of the fabled philosopher's stone; the ability to transform base metals into the noble metals (gold or silver); and development of an elixir of life, which would confer youth and longevity. The symbols used in Regina's book represent different phases in transformation: Abstraction, Putrefication, Digestion, Purification, Pulverise, Coagulation, Reverberation. Here's a chart I found with all the symbols:

The only thing I can really gather from all of this is that both the Jewish Kabbalah and the practice of alchemy are both deeply rooted in mysticism and transformation. Maybe it a simple representation of the transformation Emma is making into a powerful witch but all in all I think it's there because it does look good in a book of spells.

— Joel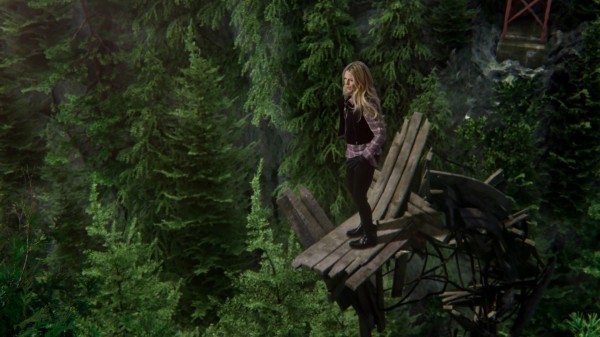 Is Emma slowly transforming into being a powerful witch? Just then, Regina poofed herself and Emma in the middle of the bridge to teach her 'how to swim.' Apparently, it was one of the ways Rumple taught her magic. Emma, on the other hand, fortunately did save the bridge by floating herself up. It also looks like she got all the pieces.
Regina's expression when Emma fell looked genuinely concern, though. But was she going to let Emma die? Emma learned so quickly. Does this hint that Emma is more powerful than anyone else, probably more so than Regina or Zelena?
I think that Emma's magic will prove strong enough to give Henry back his old memories. I think she is kidding herself when she says that she wants him kept in the dark.

— Jeff
Is Emma's magic strong enough to bring Henry's memory back even without making him drink a potion? If all magic come with a price, what does Emma have to pay for her magic?
As Hook finds his telescope inside Mr. Gold's shop, there was a photo of a woman that was shown. We tried researching who the woman could be, but was unfortunate to find anything. Is the woman in the photo at all significant?
The locator spell that Belle used in Prince Eric's cloak was the same as the spell David used in "We Are Both." It was also similar to how Gold enchanted Charming's ring in "A Land Without Magic," and maybe even the "Lost and Found" compass in Once Upon a Time in Wonderland. Belle said the cloak will return to its rightful owner but the cloak went into the water, where did it go? Does the cloak really belong to Eric?
As Hook and "Ariel" chases the cape and it went into the water, why didn't Ariel jumped in and went after the cape? New listener Jeremy thought Hook should've encouraged Ariel to jump in and find Eric. What "Ariel" said to Hook was great and reaffirming, but horrible that it was actually Zelena this whole time.
Eager to prove that they weren't boring grandparents, David decided to teach his grandson how to drive. It wasn't probably the most amusing thing to teach a 12-year old kid how to drive, but perhaps it was because they've made the Charmings boring by the show's own admission?
A lot of the CaptainSwan have probably rejoiced when Hook made quite a confession that he still believed in love. When Ariel turned out to be Zelena, though, Zelena acted exactly just like Cora. Moreover, Zelena told Hook that Ariel found Eric at Hangman's Island. Apparently, "Hangman's Island" was an episode of a 1960 TV show "Adventures in Paradise", which aired on November 21, 1960 on ABC.
Zelena then threatened to kill Emma's loved ones if Hook didn't obey her.
I think Hook will hold off on kissing Emma, but he also won't tell her why he is staying away; Zelena will become angry and kill one person who is close to Emma; I don't know if we're talking one of the Charmings or something, but I think it would end up being a somewhat regular character; Hook will finally come clean about Zelena's plan; Zelena will go after Henry, and that's when we will see the true wrath of Emma's powers against Zelena; because clearly Good has to win over Wicked, right?

— Jeff
This will probably sound too easy to happen, but considering that we all know True Love's Kiss can break any curse, I want to say that Emma will eventually reciprocate Hook's feelings (because we all know it is going to happen). Once both of their feelings are mutually exclusive, the curse Zelena placed upon Hook's lips probably would not work due to the strong love between him and Emma.

— Bryant Banh
Hi, René from Denmark here. First off, thanks for a great podcast.

As I watched … [this scene], I was practically screaming at the screen: Kiss her! (her being Zelena). If the spell will take away magical powers it might even work on Zelena. It probably only work on Emma since the whole him loving her but I think it was worth a try and she wouldn't have seen it coming.

— René
Why aren't everyone trying to do something when Zelena is around? Hook could have tried to stab her with his Hook, Regina could have taken her heart the last episode, but everyone seemed taken aback when faced with the Wicked Witch. Rebecca Mader, the actor that plays Zelena, however, continues to get better at playing the Wicked Witch.
Thank You for the iTunes Reviews!
glenn san judas from the Philippines
Your reviews encourage us and help others find the podcast!
Please rate and especially write a review for us on Apple Podcasts.
As Hook visits Regina and Emma back at their apartment, Hook told them about Ariel being safe together with Prince Eric. To see if the pirate was telling the truth, Regina asked Emma to check using mirror magic. Apparently, Emma and Regina together are powerful enough to use mirror magic even between worlds. This reminds us of Regina and Rumple's teaming up to attempt preventing Cora's arrival through the well. Seeing Emma do magic, Hook looked a little disturbed that Emma was willing to do something in "bad form". Regina, on the other hand, seemed hurt by seeing yet someone else enjoying a happy ending. Is she still feeling a bit jealous that someone else finally got their happy ending and she hasn't?
When Charming, Henry and Snow arrived, Hook instantly hid his hook behind his back. As he left when the Charmings go to have a dinner, Hook walks along the street all by himself, almost as if he was yearning Emma.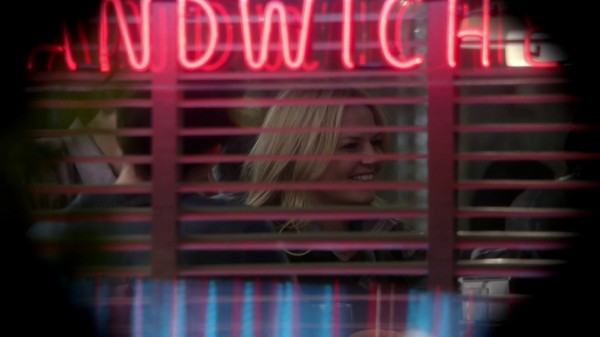 This is at the end of the episode when Hook is looking at Emma while she is in the diner. This could just be a coincidence (though most things aren't on this show), but the word sandwich is printed on the window of Granny's. This wouldn't be weird if the 'wich' part wasn't perfectly visible over Emma's head while Hook looks at her.

This leads me to believe that Emma might be one of the 'Good Witches'. I've been playing around with the idea since I found out they were doing Oz, but this last episode really cemented the idea in my head.

— Erin
Can Emma be one of the good witches in Oz, especially if she might be more powerful than Regina and/or Zelena?
How will Hook's kiss affect the story moving forward? To kiss or not to kiss?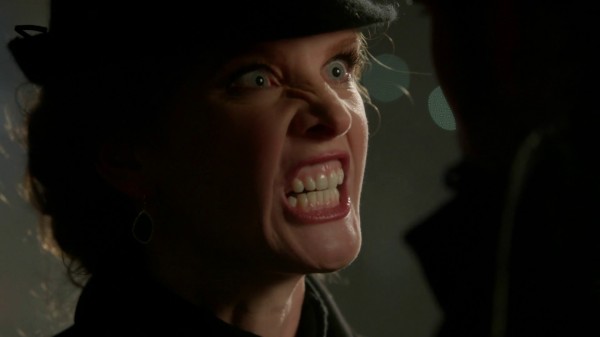 I could see Emma getting addicted to magic for a time. Perhaps Zelena's plan will backfire and Hook kissing Emma and taking away her powers will be the best thing to ever happen – if her powers get out of control or if she starts going dark or whatever. I think Emma's power will be involved in defeating Zelena but nothing as simple as Regina and Emma joining together to create a magic lightning bolt to kill her.

— Gareth
If this happens, it can be an interesting twist. What if the effect will actually turn out to be good. Is Zelena underestimating Emma's capabilities? She has been saying that she doesn't dance with amateurs, but why can't she defeat Emma? Why the need to corrupt Hook's love?
Should Hook tell them about what Zelena told him? Will he even tell them?
I think the only reason he didn't just tell Regina and Emma when he got to the Snowing's apt is because he's conflicted.  He's not going to blurt out what happened to everyone and their mother and place them in danger – he went to Snowing's apt, not realizing Emma was there, to do the exact same thing he did in NL – tell Snowing and seek their advice. And really, look at it from his perspective – he knows he's in love with Emma.  Everyone else knows he's in love with Emma.  But as it's been clearly pointed out, we don't know what Emma's feelings are for Hook…general consensus appears to be it's anywhere from she doesn't like him/isn't interested in him romantically to in love with him as well.  So…Hook's supposed to go to her, 1) declare his love to her – out loud, with the words (again, we all know how he feels but he hasn't actually dropped the love bomb on the girl), 2) not only tell Emma but whomever she's with and everyone else, and then 3) see if it's even really that much of a biggie because hey, if Emma ain't planning on kissing Hook anytime soon, who gives a hooey about Hook being unable to kiss her?  Maybe it's me, but I'd want to knock the idea off a buddy or two before I tell the admittedly closed off, emotionally tattered girl who just learned how to use her magic in the first place too.

— Jenna_B
Would Emma feel her magic being taken away if Hook kisses her?
With only five episodes left, where could the story go? Should Hook follow the Wicked Witch and kiss Emma to remove her powers and everything that makes Emma special? Or should he keep it to himself and let Emma's family and loved ones suffer? Let us know your thoughts by sharing it to us below, sending us an email or joining us over the forum.
What did you think?
Email Feedback@ONCEpodcast.com (audio files welcome)
Call (903) 231-2221
Comment on the shownotes
Visit any page on ONCEpodcast.com and click the "Send a voice message" link to record and send a message right from your computer.
Help us out!
Share this post in your social networks
Follow us
On Facebook:
On Twitter:  echo do_shortcode('[twitter follow="ONCEpodcast"]'); ?>
Daniel J. Lewis:  echo do_shortcode('[twitter follow="theDanielJLewis"]'); ?>
Jeremy Laughlin:  echo do_shortcode('[twitter follow="phlegon"]'); ?>
ErinJ:  echo do_shortcode('[twitter follow="erinjcruz"]'); ?>
Hunter Hathaway:  echo do_shortcode('[twitter follow="travelingpixie"]'); ?>
Jacquelyn / RumplesGirl:  echo do_shortcode('[twitter follow="punk_bunny_87"]'); ?>
Spoilers
3×18 "Bleeding Through" was written by Daniel T. Thomsen & Jane Espenson and directed by Romeo Tirone.
Rose McGowan ("Charmed") reprises her role as Young Cora
Other guest stars include David De Lautour as Jonathan, Eric Lange as Prince Leopold, Eva Bourne as Princess Eva, Steve Elliott as drunk, Yvette Dudley-Neuman as mid-wife, Brian Knox McGugan as drunk Charlie's friend, Raphael Alejandro as Roland, Michael P. Northey as Friar Tuck and Gabrielle Giraud as royal aide.
Prince Leopold is probably not Zelena's father but the character named Jonathan just might be.
There's a photo of Rumple and Zelena kissing, her legs are even around him, and her dress hiked up.
Zelena's all dressed up and wants a romantic evening with Rumple.
There are also some photos of Young Cora kissing Leopold and being thrown out, which is really strange.
Emma is at Granny's reading the spellbook
The Canadian promo shows the Wicked Witch holding a heart. Regina's heart?
Rumple and Robin Hood are seen in the woods, Rumple asking for Regina's heart, sees Roland and asks who he is.
Another twister. Is it the same twister that brought baby Zelena in Oz?
Belle knows what the Wicked Witch wants.
Emma, Regina and Hook does the séance using the candle
At Regina's house, looks like something spooky is about to happen. Looks like it was going to be another episode just like The Tower.
Belle seemed like she doesn't want to help Regina.
Adam Horrowitz, Edward Kitsis, Josh Dallas and Rebecca Mader will be at Wondercon on Saturday and going to preview Bleeding Through.
Big congratulations to Ginny Goodwin and Josh Dallas for finally tying the knot last weekend!