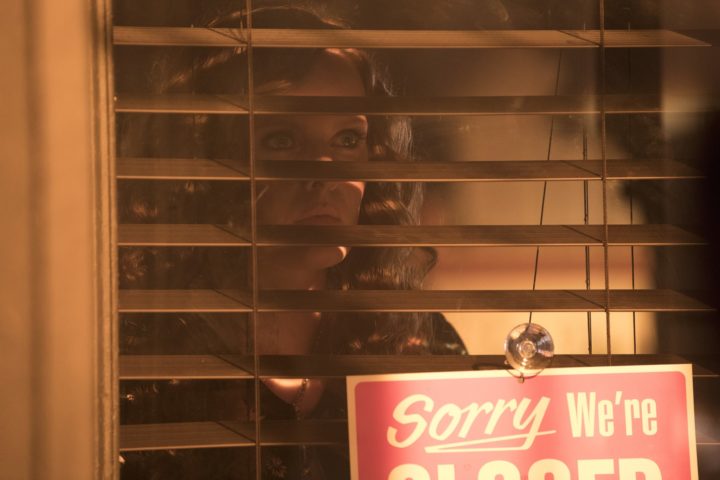 Kelly's conundrum, Dr. Facilier's game, and more as we dig into the 150th episode directed by none other than Lana Parrilla. Plus, some Easter Eggs, how the flashbacks fit in the timeline, storytellers and sociopaths in this full-discussion of 7×17 "Chosen"!
Podcast: Play in new window | Download | Embed
We really liked this episode. It's not what we expected at all.
I was kinda hoping for a more show spanning 150th episode but with not that many episodes left in the series it makes sense to keep moving the show forward.

— Melanie
Since Zelena is off to San Francisco with Chad, will we see her again for the finale? If this isn't the last time we'll see her, how will her story wrap up?
It was ashamed that majority of the East Coast didn't get to see the last few minutes of the episode due to the breaking news that was shown towards the final scene of the episode. Apparently, Dr. Facilier took out the little dust and sprinkled some trust dust on it, stuck a pin in it, killing Nick. At first, we thought it was Gothel who is going to walk in but it was Dr. Facilier. Where is Gothel? It has been two episodes since we last saw her.
Gingerbread House Flashback
The way "Chosen" started was sort of disorienting. It felt like it was a mid-scene; they should've focused on the sky or a tree for just a second or two, and then zoomed out. However, we did get an interesting feedback about a couple of Easter Eggs from the episode:
This was honestly one of the best, if not, the best episodes of Once Upon a Time this season. Where have these writers been all this time?

Hansel's address on his apartment door is 1812, the date the Grimms brothers released the first edition of Hansel and Gretel.

I'm sure many people are confused as to when the flashbacks could have taken place, but judging by the age of Hansel and Gretel 2.0 and with them being the same age as Henry, this could place this around the time of season two, but no later than the Neverland arc of season three as we first met Zelena during the second half after the curse was broken in 3×11 Going Home and everyone was taken back to the Enchanted Forest.

Apart of me was rooting for Hansel to be redeemed so I was kind of sad to see him go.

I find it interesting that Henry's first friends in the entire series were Hansel and Gretel back in 1×09 True North and the first friend he makes in Enchanted Forest 2.0 is Jack who turns out to be Hansel.

— DeAndre
What is in Henry's books exactly? Isn't his book in Hyperion Heights just the story of his life in Storybrooke? Did he include all the stories in the other Once Upon a Time book along with his stories? Henry spoke, when he was trying to relate to Hansel but thinking Hansel's crazy, of things that he would remember if he were awake, which means that they have to be in his book, which means that his book has to include stuff from wherever he was. Perhaps he knew, when he was writing about Hansel in the book, it's the other Hansel and he would've written only about Jack? If the book ended with him meeting Cinderella, then all of that previous stuff with Jack would still be in the book, because that was when he was younger and anything after meeting Ella was not in the book.
Why are Hansel and Gretel from Oz? If not, what are they doing in Oz? On the other hand, Zelena seems greener than previous episodes. These flashbacks, while they seemed to just poofed into existence to make the story work, we liked this story as we haven't seen a lot of good vs evil conflict from Zelena from during that time. We have previously when Rumplestiltskin was training her. But why the title for? It doesn't really make sense with whatever happened in the episode.
Apparently, Hansel and Gretel are destined to have a good father. We also enjoyed the acting of the actor who played their father. He seems more than what we was probably written as. That being said, Ivo probably helped set in motion every terrible thing that came at Zelena's hands afterward. Zelena told him that he wanted a second chance, and you could even see the guilt in her eyes, but he simply screamed at her. She did go to save them and said all the right things, yet he still screamed and rejected her. Hansel, on the other hand, was a little psychopath before Zelena burned him. He was already pretty far gone even before the witch got him.
The Blind Witch was a bit scary, who we didn't realize wasn't blind until Zelena stole her eyesight. However, she had a pretty good smack down with Zelena, given that Zelena is the current ruler of Oz when this happened. But why didn't Zelena's magic work when she was trying to use it for good to start a fire, but worked wonders when she was using it in her candy crush battle with the Blind Witch?
We Are Both
We've always loved Rumple's banters, first with Regina and now with Zelena. However displeasing it was for him to help Zelena, he still gave her some good advice, even telling her how strong she is and how she has found a way to survive even if it killed her. The flashbacks, on the other hand, gave us a really good look at what they are trying to show us in present day with Zelena, which is her internal battle for being both (Zelena and Kelly). She seemed like she's turned over some leaves before with raising Robin, but as Kelly she seemed to be completely unburdened.
When Kelly was talking to Nick about Hansel and Gretel, she said, "I didn't force her to make those choices. And neither did you", talking about Gretel and it was true. Nobody forced anybody to make any choices; Jack is killing all the people because he wants to.
Did anyone half-expected Nick to get up again as Zelena was talking to Chad? How did Chat get at Roni's basement without anyone knowing? Chad's speech at the end, however, was so good.
When Rumple was taking Zelena into the evidence room, which was basically just Mr. Gold's Shop 2.0, it was shown that his code is 4632. Any significance to it? Zelena is actually repentant at this point in her life, talking about all these things.
It was great that Regina wants Zelena to be happy, however, they are talking about saving her son's life. The stakes are a little higher, doesn't she need Zelena more on her side? It's not just Henry, after all, it's Gothel. Plus, she also knows that Facilier is after the Dark One dagger.
When Henry went to the apartment after he was saved, our hearts did skip a beat when he and Jacinda hugged, we thought they were going to kiss. On the other hand, we were totally right about Rogers asking Jacinda about Nick. Did anyone noticed the Mickey Mouse shaped pancakes that Jacinda was making when she received the text from Nick-pretending-to-be-Henry? Did anyone also realize that only Sabine calls Jacinda "J"? We surely didn't.
Henry and Nick's banter was cute. What with Henry knowing what to say to Nick to hopefully make Nick untie him was adorable. However, we did learn that Nick was legit when we met him, and was just woken up the day they took a blood test, which was when he started killing witches, starting with Dr. Sage.
Facilier's Game
As it turns out, Drew/Naveen is awake, too. Dr. Facilier said that broken trust is magic, how? Or just when combined with beignets? At least beignets are a pretty central character at this point. Dr. Facilier, on the other hand, hasn't been around long enough to look like a central character.
Apparently, Dr. Facilier can go around waking people up. Why won't he just wake Rogers up?
It seems that it took a lot of doing for Gothel to wake people up, whereas Facilier is just going around waking people up. How does he wake people up? The "I'm a witch doctor" story was lame.
One detail that we noticed is Zelena giving her necklace to Margot. Isn't the necklace evil, and where she gets her power? Why did she want her daughter to wear it on her wedding? Will they use the necklace in a later episode? Did she put a protection spell on it?
This is a very confusing season, even the ones who aren't both. Nick, for one, who is actually Hansel pretending to be Jack, who we thought was a new Jack. Zelena should've cleaned some of the mess up before riding off the bicycle with Chad.
I hope we get returning characters before the show is over. I'd really like to see the Charmings and find out how many kids they had. I feel like they would have had others besides Neal.

I'm kind of hoping Regina's happy ending isn't romantic. Not everyone needs romance to be their happy ending and I can see Regina being happy with the family she has.

I'm also hoping the podcast has a long discussion of the finale or of the show in general with all of the hosts past and present (or at least as many as possible. I know the larger the group gets the harder it is to schedule).

Thanks for hosting the podcast,
Melanie

P.S.
Filed under "your questions are pointless"
How did Hansel and Gretel make it from OZ to the Other Enchanted Forest and why?

— Melanie
With only final 5 episodes left, how are things going to wrap up? For a novice director, Lana Parrilla did a great job directing this episode. It would've been nice to see her direct more episodes, but sadly the series has come to its final 5 episodes ever. Did you notice anything from this episode that we missed? Tell us all about it by filling in the comment section below or by simply heading over the forum, where you can share you favorite and least favorite moments from "Chosen", as well as theories, spoilers and other information about all things Once Upon a Time!
What did you think?
Email Feedback@ONCEpodcast.com (audio files welcome)
Call (903) 231-2221
Comment on the shownotes
Visit any page on ONCEpodcast.com and click the "Send a voice message" link to record and send a message right from your computer.
Help us out!
Share this post in your social networks
Follow us
On Facebook:
On Twitter:  echo do_shortcode('[twitter follow="ONCEpodcast"]'); ?>
Daniel J. Lewis:  echo do_shortcode('[twitter follow="theDanielJLewis"]'); ?>
Jeremy Laughlin:  echo do_shortcode('[twitter follow="phlegon"]'); ?>
ErinJ:  echo do_shortcode('[twitter follow="erinjcruz"]'); ?>
Hunter Hathaway:  echo do_shortcode('[twitter follow="travelingpixie"]'); ?>
Jacquelyn / RumplesGirl:  echo do_shortcode('[twitter follow="punk_bunny_87"]'); ?>