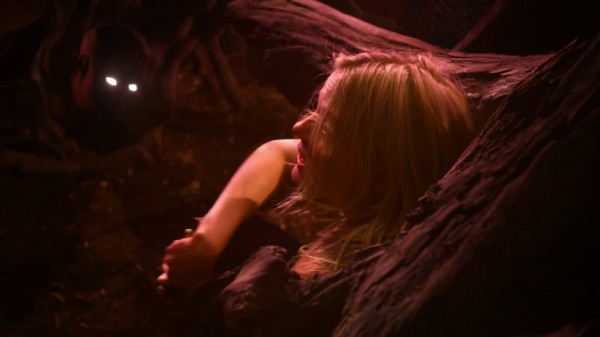 Podcast: Play in new window | Download | Embed
Using the bracelet Regina gave her, Ariel swam across realms to Storybrooke, Maine to retrieve an object that can help defeat Pan. Meanwhile, Emma, Neal and Hook take on the Shadow duty, as Peter Pan speeds up his game by using his other prisoner to come out and play.
This episode's title was somewhat cryptic compared to the past episodes, which was good because it makes us want to tune in more.
Storybrooke
It was nice to pick up where we left off, five days ago to be exact. Although it seems that so much time has passed, it's just five days ago. In the end, When Ariel made it back to Neverland she apologized for being late; how long were Rumple and Regina waiting? How does time works differently in Neverland? Surely, it wasn't an exact equation as in Storybrooke.
What we've seen last season finale was so different from how Belle felt when she was left alone in Storybrooke. Brilliant music directing by Mark Isham.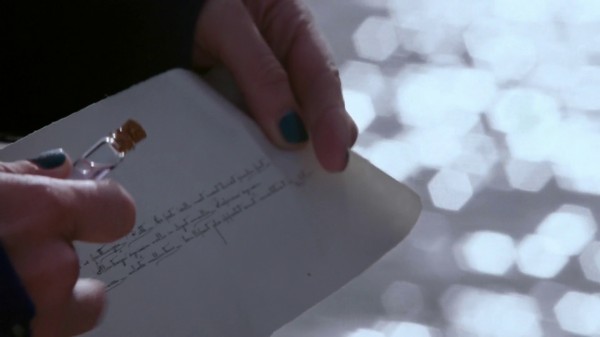 During the second season finale, Belle was left with a task to hide Storybrooke from other people that are coming. Rumple then handed Belle a mini scroll in a vial containing the Cloaking spell. Although Belle thought that the Blue Fairy could be more appropriate to perform the cloaking spell, Blue said that Belle should do it as Mr. Gold entrusted her to. When Belle poured the potion to the rock and nothing happened, Grumpy said that maybe she should believe more, which took some time for it to activate. Did Belle really have to believe or does she also have some power within her? How much of Mr. Gold's stuff were left behind that Belle can activate and use?
By the way, the cloaking spell dome reminded us of how Cora protected that part of the Enchanted Forest where Mulan, Aurora and Philip were in.
As the cloaking spell is about to be done, two men who almost look villainous made it to Storybrooke before the spell was done. And before it was even revealed who they were, the car they were using gave us a hint.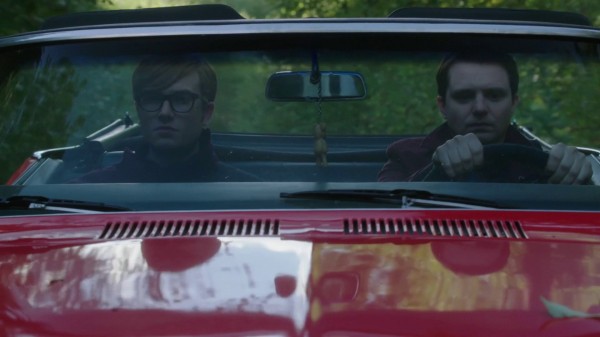 The dwarves have a good point about having no big, bad things happening since Snow and Charming left, but Leroy is positive that Snow and Charming will come back and everything will be normal again. Looking from afar, however, the two stranger said that they had to make sure that Ariel wouldn't never leave Storybrooke again. How is the Home Office communicating with people on the ground?
Meanwhile, in Granny's Diner, Belle looked sad for being left by Mr. Gold. Belle have always wanted to do something adventurous. Does she wanted to become a hero as well? Also, with Belle just finding out about Rumpelstiltskin being alive, confirms that she's had no dream contact whatsoever with Rumple in Neverland, just like we've theorized in the past.
It was nice to see other characters that we have known such as Granny, the dwarves, Archie, the Blue Fairy, and of course, Belle. It was also great to hear Red/Ruby being mentioned, even if the actress, Meghan Ory is doing another show right now.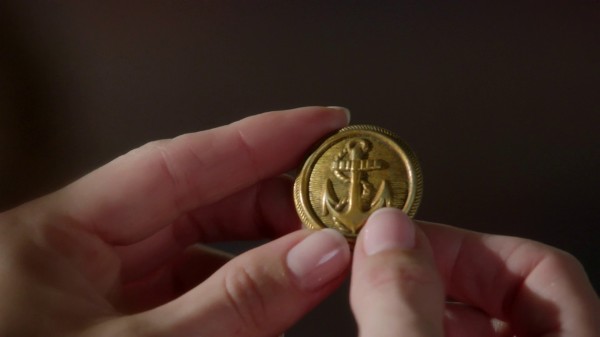 Ariel giving the Sand Dollar made Belle excited; finally having that chance to help save Rumple and everyone else in Neverland. Ariel, on the other hand, also seemed happy to see all the thingamabobs in Mr. Gold's shop; it appears they have a lot in common with collecting seemingly meaningless items. Ariel also recognized the button that she saw from Prince Eric when she rescued him. Is it how we are going to meet Eric in the future?
When Belle found Pandora's Box, she said that the box contains the world's darkest evil, almost with glee. What's up with that?
Here's a suggestion as to the box. It is P-A-N-dora's box — a box which contains the most evil. Hence it is not a weapon to fight Pan but to entrap Pan with all the other evil already within it. I do not think Rumple will be releasing what's within it but adding to it. He will trick Pan into it.

— Leslie
Is it really a box that can defeat Peter Pan? Can it trap him, along with other darkest evil inside?
Listener Tobias recognized the symbols on Pandora's Box to be Alpha and Omega.
I just wanted to tell, that I recognized the writing on Pandora's box. But also the forum user storyteller recognized and translate it.

"ΛΕΙΤΟΥΡΓΕΙ ΜΕ = LEITOURGEI ME which in English means "Open With" if my translation is right."Well, I also did some research. As far as I can say storyteller's translation is right. But just if you think that it's modern Greek. In Ancient Greek words which begin with ΛΕΙΤΟΥΡΓ- have always something to do with serving. Like an official who serves the public/state or a priest. So probably it can have something to do with that.

— Tobias
By the way, Phoenix815 pointed us to a Hidden Mickey on Once Upon a Time!
Thanks to @DarkDearieMauri for pointing out this #HiddenMickey on #OnceUponATime ! pic.twitter.com/y4t70QHqrO

— Zach V (@TheZachVan) November 13, 2013
Belle told Ariel that they can get out of being tied by Ariel stretching her fin. How did they manage to get out when the ropes weren't even around her tail?
When the two stranger, who turned out to be the Darling brothers — John and Michael — was about to destroy Pandora's Box, John used Happy's pick axe. But with Belle's intelligence, she was able to stop them from doing so. John and Michael then admitted that they are only doing it to rescue their sister — Wendy — who has been Pan's prisoner for over a century. They also indicated that they tried to be heroes once, probably to try and save Baelfire, but they eventually failed, leading to Wendy's captivity. How did the Darlings try to defeat Pan before? By the looks of Wendy today, it looks like they attempted to be a hero when they were kids.
During the initial reactions, we were wondering how old the Darling brothers were and they said that Pan kept them alive. How old is John and Michael exactly? Why is Pan holding Wendy hostage? What exactly does John and Michael have to do to get their sister back? More importantly, what else have they done prior to that moment?
Thank You for Supporting Us!
David Neuland (subscriber)
You can sponsor an episode or more of ONCE podcast, too! Email Daniel@ONCEpodcast.com if you would like to arrange a corporate sponsorship of our podcast for the upcoming third season.
Neverland
Before Ariel journeys to Storybrooke, it was shown that Rumple was drawing something in the sand that looks like a map. What could it be? Is it a realm map to Storybrooke? Or a map where his shop could be found or where Belle might be?
Ariel was also told to cross the barrier. Does that mean that anything or anyone can enter Storybrooke by simply entering the barrier? When does the barrier stops?
Pan told Felix that he felt that someone is leaving Neverland. Can he also tell where is Ariel were heading to? Also, how did he know? When Ariel left and the way Pan said it, he seemed a bit jealous. Is Pan stuck at Neverland, which is why he needed someone else to do his dirty deeds for him? Why did Pan not stop Ariel when she left? Is Ariel just too quick for him or does that mean that Pan doesn't really have much control over who comes and goes off Neverland like he claims?
I'm thinkin Pan has sought enough magical battery power to be able to leave the island (same poison as david?) and cross realms

— Bill (Twitter)
Did something happen when Peter Pan took the lost boys back to Neverland? In addition, Pan referred to "friends on the ground," as if Neverland is in the sky.
Pan said that they need to move up their time table and get Henry ready. Seems like everything with Wendy was in Pan's plan originally.
By the way Neal describes the Shadow, it appears that the Shadow is an entity to itself and can carryout Pan's will from a distance. Can Pan's shadow and him communicate telepathically?
Although Henry told Pan that he lied to him about his family being in Neverland, it was good that Henry didn't mention the mirror. At least he believes that his family really is in Neverland.
Neal referred to the coconut that they used to trap the shadow as a magic coconut. What made it magical? Did Tinkerbell made it so?
As Pan instructed Felix to head to the other island and deliver the supplies, he said "Be certain Henry doesn't find out what you're up to." Judging his tone of voice, it seemed like they definitely knew Henry was listening.
Charming and Snow, on the other hand, does have something to sort through. Ginnifer Goodwin and Josh Dallas's acting is incredible, as do the other actors this season, which is stellar. Anyway, David seemed willing to build a home in Neverland, noting it loudly to his wife. But when Mary Margaret doesn't want to turn around and talk to him, he finally calls her Snow. Snow, on the other hand, looks that she may be willing to stay with David in Neverland, so they could still be together. After all, Snow dd say that Love means being together. Either way, it was nice that Snow is insisting that Charming should have told her something as important as him nearly dying.
Snow also told his husband that he needs to "believe in us." Is that hope enough to help David leave Neverland?
When Henry found Wendy in the tree, she said a lot of things to him, including that he looked like his father. How much of what Wendy said is true? She also said that the power of the island is fading. After Henry left, Pan praised Wendy for a job well-done, telling her that with Henry being the truest believer, he need to control that belief; in him. Why does Pan need Henry to believe in him?
Ariel triumphantly went back to Neverland with Pandora's Box in hand. Regina, on the other hand, fulfilled her other part of the bargain, giving Ariel the opportunity to have legs or fins now whenever she wants.
It was nice to see Regina actually honor her deal with Ariel and her and Rumple semi-encouraging her to pursue him. Good character development for them, it felt more anti-heroish than straight out villain, which is presumably where both characters are firmly going as the show progresses, but their snarkiness and banter also felt in-character and consistent with what we've seen of their relationship. I also think the two of them knowing about Wendy being held captive will tie back into when they inevitably circle back around to the rest of the group and mention it. Since Neal thought of the Darlings as his "real" family, he will definitely want to rescue Wendy and then she can let the group in on Peter's plan, or what she knows of it. I thought Belle, the woman who loves the father of the man the Darling boys considered a brother being the one to give them hope again was a nice little tie-in. Maybe Rumple swinging the bat for Wendy, encouraging the group to find her without knowing how much she means to his son could help repair some of the horrible damage between them.

— Isabelle
Ariel asked Rumple and Regina to save Wendy as well. Will Rumple and Regina try to save Wendy? Rumple seems more willing to do the right thing than Regina. With Regina currently having a one track mind in saving Henry and her son alone, is she going to be willing to save someone else other than her son?
Thank You for the iTunes Reviews!
Danieiielee from the USA
Your best lover from the USA
Your reviews encourage us and help others find the podcast!
Please rate and especially write a review for us on Apple Podcasts.
Dark Hollow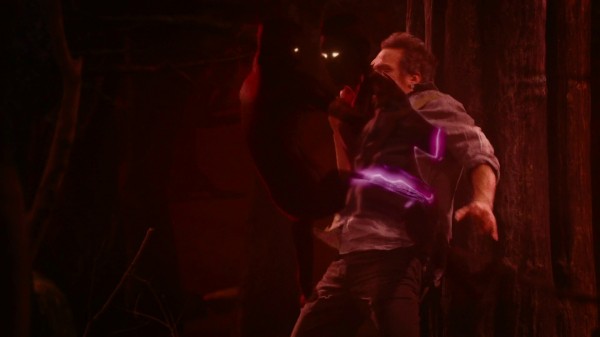 Emma confirmed to Hook that the kiss doesn't mean anything, but Hook, assuming that it meant something, is not one to give up easily, telling Emma that if and when she won Emma over, it will be because she chose her and not because of any trickery. Emma, on the other hand, doesn't want competition and is just focused on getting her son back. Anyway, it was still honorable that Hook chose to tell Emma, Snow and Charming about Neal.
When Emma lit the candle, thanks to Regina, the Shadow were drawn to the light, then the candle sucks them in. Can Pan control other shadows, such as Rumple's? Whose Shadows was the other two, by the way? Was one of them Greg's shadow?
While Neal and Hook were getting attacked by the other two shadows, the last shadow was trying to attack Emma with little success. Is she somehow immune to it? Tamara was killed by Felix's arrow, and not by getting her shadow ripped. Does the shadow only pick boy's shadows or is Emma simply protected by her magic? In the last episode, Regina instructed her to find her anger and focus on it. Did Emma channel her anger to light the candle or did she think about her love, possibly of Neal and/or Hook and Henry?
I was wondering about your thoughts on how Emma's magical abilities will affect Neal's relationship with her? It seems pretty ironic that he'd spend so much of his life running from magic and fairytales only to wind up pursuing the magical princess of the Enchanted Forest.

— Anthony
Neal was kind of surprised when Emma told her that Regina was teaching her magic. Young Baelfire hated magic. Will it affect his relationship with Emma?
There are some things that I would like to touch on with this episode.
1.First, I thought it was really funny that the Darling brothers were from Minnesota (as it said on the license plate). I want to know the writers connection to Minnesota because they kind of focused on the license plate.
2. Secondly, on the topic of Emma and Hook/Neal, I would really like to see someone just mention Graham and Emma and just see Hook and Neal just be dumbfounded at hearing Emma had feelings for someone other than them.
3. Lastly, I was kind of confused with the topic of Pan's shadow. In "Second Star to the Right" Bae got away from the shadow by using fire, so why would the shadow be attracted to the fire in Dark Hollow?
Thanks for the great podcast!

— Maddi
During the initial reaction, we talked about the possibility of Tinkerbell liking Neal. From how Tink looks at Neal, is she interested in Neal in a romantic kind of way?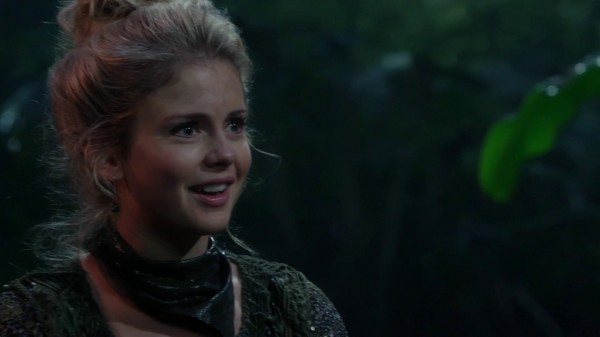 Some of the shipping names we have come up includes TinkerBael, TinkerFire, TinkleFire, and BaeBelle.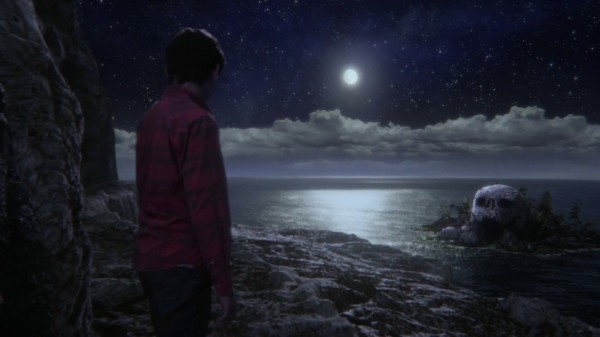 In the end, Pan showed Henry the Skull Rock where, apparently, their salvation awaits; where what lies ahead for the truest believer. He also said that it requires heroism and sacrifice. What sacrifice is he referring to?
After watching tonights episode I had an idea. What if it isn't all magic that is dying, but Pan's magic is dying and he needs Henry to either stay young, stay magical, and stay alive? What if the heart of the truest believer is not a beating heart, but the soul. And what if the Shadow is the soul, the essence of who you are. You need the flesh but you also need the spirit, and maybe when they are torn asunder, they both turn bad. Perhaps he thinks that with the heart/soul of Henry, the truest believer, he can gain even more power or save himself. And that Skull Rock is the place where shadows are torn asunder. Henry might not die but he may become evil and wicked, a fate worse than death.

— Max
Wendy did say that the magic of the island is slipping away. Is it really? Is Pan dying and needed Henry to save his own life? Or is it something much bigger than that? Let us know your thoughts about last Sunday's episode and our full discussion using the comment section below.
Please help the Philippines typhoon relief
Last week, the Philippines was struck with super typhoon Haiyan, affecting thousands of families and causing a lot of lives. If you want to help, you can go to NBCNews.com; they have an official list of organizations where you can donate and send relief goods to the victims. However, aside from cash and kinds, the victims (both who lost their lives and the bereaved) also need prayers.
What did you think?
Email Feedback@ONCEpodcast.com (audio files welcome)
Call (903) 231-2221
Comment on the shownotes
Visit any page on ONCEpodcast.com and click the "Send a voice message" link to record and send a message right from your computer.
Help us out!
Share this post in your social networks
Follow us
On Facebook:
On Twitter:  echo do_shortcode('[twitter follow="ONCEpodcast"]'); ?>
Daniel J. Lewis:  echo do_shortcode('[twitter follow="theDanielJLewis"]'); ?>
Jeremy Laughlin:  echo do_shortcode('[twitter follow="phlegon"]'); ?>
ErinJ:  echo do_shortcode('[twitter follow="erinjcruz"]'); ?>
Hunter Hathaway:  echo do_shortcode('[twitter follow="travelingpixie"]'); ?>
Jacquelyn / RumplesGirl:  echo do_shortcode('[twitter follow="punk_bunny_87"]'); ?>
Spoilers
Episode 8 synopsis
Episode 8 guest stars
Promo breakdown
Set photos
Episode 11 title