The long wait is finally over! Following the reveal of the new Maleficent poster, Walt Disney Pictures also release the first official trailer of the movie adaptation.
Looks like this version of Maleficent is far from what we know of this villain from the Sleeping Beauty. Elle Fanning, who plays Princess Aurora, looks ethereal in her porcelain skin and golden hair. We've also seen a glimpse of the Jolie-Pitt's youngest daughter, Vivienne, running through the meadow as a young Aurora. But despite the darkness it entails, it seems that this version is filled with magic, suspense, and a whole new way of retelling the story of one of the most popular villains in the fairytale history.
But being such Once Upon a Time fans that we are, we can't help but notice one tiny similarity from the trailer: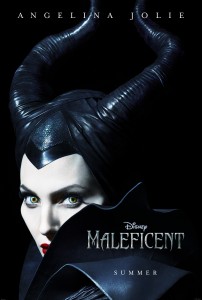 In the movie, Princess Aurora was drawn to a shiny needle, where only one prick is needed for her to fall under the spell of Maleficent who has, apparently, been watching over her since she was a little girl. In Once Upon a Time, on the other hand, the same shiny needle was used to make David/Charming fall under the Evil Queen's sleeping curse in order to make contact with Snow in one of the early episodes in second season.
Angelina Jolie as Maleficent looks, well, magnificent. Although we kinda miss Once Upon a Time's purple outfits, her version of Maleficent looks like any kid will have nightmares just by hearing her voice and looking at her greenish eyes. Just take a look at her at the poster that Disney recently released:
Judging from the trailer alone, looks like this movie is going to be bewitching, spellbinding, and magical! What do you think?
---
ONCE podcast is the #1 unofficial podcast for ABC's TV show Once Upon a Time. The podcast is hosted by Daniel J. Lewis, his wife Jenny, and Jeremy Laughlin. ONCE podcast was a finalist for best TV/Film podcast in 2012.
For more in-depth reviews, theories, easter eggs, and talk about Once Upon a Time, subscribe to ONCE podcast for free in iTunes or your favorite podcast directory; visit the ONCE podcast website for screenshots, shownotes, and blog posts; and join the Once Upon a Time forums to talk with other fans.
Maleficent is set to hit the cinemas on May 30, 2014 and is directed by Robert Stromberg.